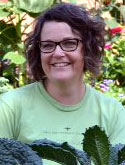 Angela Mason
Associate Vice President, urban agriculture/Windy City Harvest

Angela Mason oversees the Youth Farm and directly manages Windy City Harvest. In 11 years with the Garden, she has grown the Youth Farm from one farm and 13 students to 90 students at four sites. She has managed Windy City Harvest from its second year through the development of the certificate program, developed a transitional jobs program and a partnership with the Illinois Department of Juvenile Justice, and also developed the incubator farm program. Mason administers the sustainable urban agriculture training and production programs, manages federal and state funding for these programs, and directs a staff of 15 full-time and 64 seasonal and part-time employees, including interns and justice-involved youth participants. She regularly evaluates and enhances programs, adapts curricula, pursues expanded partnerships, develops job opportunities, investigates new marketing and business opportunities, and works with allies in urban agriculture to address food security issues within Chicago and beyond. Mason is a certified National Foundation for Teaching Young Entrepreneurs instructor and has served as an adjunct faculty member at Harold Washington College. She has been honored as an Environmental Hero by the Lieutenant Governor of Illinois. Mason graduated from Southern Illinois University with a B.S. in plant and soil science and an M.S. in plant, soil, and general agriculture.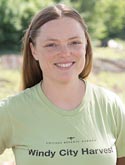 Kelly Larsen
Manager, Windy City Harvest Apprentice and Corps

Kelly Larsen joined the team in 2008. She oversees the nine-month Sustainable Urban Agriculture certificate program in partnership with the City Colleges of Chicago as well as the Windy City Harvest Corps transitional jobs program. Before joining the Chicago Botanic Garden, Larsen worked for six years as the manager of the herb and vegetable departments at Gethsemane Garden Center and for one season with the Talking Farm in Evanston. She has a degree in environmental studies from Northeastern Illinois University in Chicago and is a certified Roots of Success Environmental Literacy instructor. Larsen is honored to be a part of creating access to sustainable food-system employment and seeing the amazing work Windy City Harvest Apprentice and Corps graduates continue to do after completing their programs.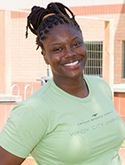 Joan Hopkins
Coordinator, Windy City Harvest Corps

Joan Hopkins was born and raised in the North Lawndale neighborhood of Chicago. She is a certified carpenter and worked in carpentry, sales, and housekeeping before working for Windy City Harvest. She enrolled in the pilot Windy City Harvest class, joined the staff as a grower after graduating in 2007, and was promoted to her current position as the Windy City Harvest Corps coordinator; previously, beginning in 2009, she ran the Vocational Rehabilitation Impact Center. A certified Roots of Success instructor, Hopkins teaches the environmental literacy curriculum to all Windy City Harvest participants. As coordinator, she leads crew leaders and transitional jobs participants on farm tasks and still leads all Windy City Harvest hoophouse construction projects.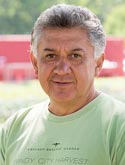 Rafael Arredondo
Lab Coordinator, Rodeo Farm
Rafael Arredondo completed the Windy City Harvest Apprenticeship program in 2010; previously, he had worked in the steel industry. Arredondo completed his internship maintaining the Arturo Velasquez Institute farm and running the Windy City Harvest farmstand at the Pilsen Community Market. In winter 2010, as a grower apprentice, he focused on practicing season extension methods and crop planning. Arredondo officially joined the team as a staff member in 2011 to install the Kraft Corporate Campus garden, growing food for the Women, Infants, and Children (WIC) program and training Windy City Harvest Corps members in urban agriculture job skills. He can be found running lab days at Arturo Velasquez Institute, turning compost, and whistling at early hours in the greenhouse to classic rock. He also runs community farms with Enlace in Little Village.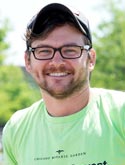 Chris Prochot
Incubator Farm Coordinator, Windy City Harvest Apprenticeship
Chris Prochot first cultivated his passion for urban agriculture by transforming his quaint backyard in Chicago's Ukrainian Village into a four-season farm. Looking to pursue a career in the field, he enrolled in the Windy City Harvest class of 2010, interning and apprenticing at the Cook County Boot Camp farm site. The following year, he was hired on full-time as a grower; he became a coordinator in 2013. At the boot camp, Prochot trained 80 inmates a year in sustainable farming practices; the farm provided enough produce to fill 1,200 boxes for the Women, Infants, and Children (WIC) program. In 2014, he became coordinator of Windy City Harvest's two-acre incubator farm site in Bronzeville, where he helps facilitate the urban farming business aspirations of Windy City Harvest graduates.
Photo credit: Bob Stefko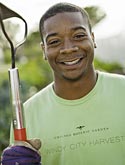 Darius Jones
Coordinator, McCormick Place Rooftop
Darius Jones was born and raised in Chicago's east Garfield Park neighborhood on the city's west side. He first became interested in urban agriculture while serving a five-month sentence in the Vocational Rehabilitation Impact Center's garden program in 2010. In 2011, he enrolled in the nine-month Windy City Harvest Apprenticeship program and received his certificate in October of that year. He began working as the sales coordinator for the program, increasing sales by 100 percent for each of the two years that he had that role. Today he is the coordinator of the McCormick Place Rooftop Farm. In 2013, WBEZ Radio named Darius an "Eco-Hero" for his work with urban agriculture ventures in Chicago. In 2014, he was named one of the Chicago Botanic Garden's Employees of Distinction, and was also awarded one of six "Golden Beet Awards" by the Illinois Stewardship Alliance for the "other varieties" category. 
Photo credit: Bob Stefko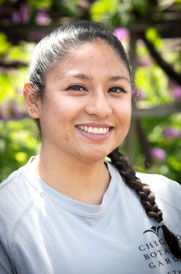 Rosario Maldonado
Sales Coordinator, Windy City Harvest Apprenticeship

Rosario Maldonado graduated from Windy City Harvest's nine-month Apprenticeship program in the class of 2013. She enjoys scouting for bugs, serving local communities, working outdoors, and practicing the best food safety standards. You can find her in the fields of our sites and at the Pilsen Community Farmers' Market on Sundays.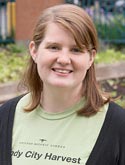 Kate Gannon
Program Support, Windy City Harvest
Kate Gannon joined Windy City Harvest in September 2012 as an intern through Loyola University Chicago's School of Social Work, and she was hired as the program assistant in 2013. Gannon helped Windy City Harvest develop both a resource tool kit for the transitional jobs program and a referral network that Windy City Harvest can use for transitional employees and students. She is a licensed social worker and works with the Corps crews, referring them to community-based services as needed. She works with the Corps and Apprenticeship students during Roots of Success, teaching and leading job-development activities such as resumé and cover-letter writing, and mock interviews.
Fernando Orozco
Corporate Campus Crew Leader, Windy City Harvest Corps
Fernando Orozco was born and raised in Chicago. He first gained interest in urban agriculture while volunteering in the Vocational Rehabilitation Institute Center's garden program. He later enrolled in the 2013 Windy City Harvest Apprenticeship program. During that time, he interned at chef Rick Bayless's garden and the Big Delicious Planet Catering Company's culinary garden. He later graduated and received a certificate in sustainable urban agriculture. He also received a certificate in environmental literacy from Roots of Success. Orozco went on to work at Uncommon Ground as an assistant farm director. As corporate campus crew leader, he maintains an 8,000-square-foot garden on the Kraft Corporate Campus garden and leads Windy City Harvest Corps participants in sustainable farming techniques while growing produce for the Women, Infant, and Children (WIC) farmers' market program.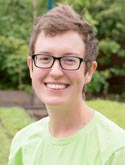 Erin Matson
Instructor, Windy City Harvest Apprenticeship

Erin Matson coordinates and instructs the Apprenticeship program, guiding students through nine months of hands-on learning and job training. She joined Windy City Harvest in March 2013 as the coordinator for the Rodeo Farm site, which produced 26,000 pounds of produce that year for wholesale to Midwest Foods. In 2014, she served as farm operations crew leader for the Windy City Harvest Corps program. Before joining Windy City Harvest, Matson worked as post-harvest coordinator for Radical Root Organic Farm, in the kitchen at City Provisions and as an intern at Growing Home's rural Les Brown Farm. Matson earned a degree in South Asian languages and literature with a minor in environmental studies from the University of Chicago in 2010.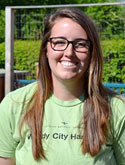 BRITT CALENDO
PCC Wellness Community Farm Coordinator, Windy City Harvest Apprenticeship
Britt Calendo joined the Chicago Botanic Garden for the 2014 growing season. She started working in Harvest Corp as the compost crew leader. Calendo currently coordinates an 8,000-square-foot community farm in the Austin neighborhood in collaboration with PCC Wellness Family Health Center. PCC Community Farm's goal is to increase access to affordable and naturally grown produce in Austin through a weekly farm stand, health education, and an allotment garden. In her role, she leads her crew in managing, creating, and learning about compost. Before working at Windy City Harvest, Calendo interned with Gateway Greening-City Seeds Urban Farm with their therapeutic horticulture program. Also, she earned her master's degree in social work from St. Louis University in 2014. She is passionate about mixing her background in social work and public health with sustainable urban agriculture.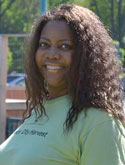 Desiree Sanders
Legends South Community Garden Coordinator, Windy City Harvest Apprenticeship
Desiree Sanders was born and raised in the South Shore neighborhood of Chicago. She enrolled in the Windy City Harvest class of 2011 at the suggestion of her parents, who own Sanders Landscaping, Inc., and after closing Afrocentric Bookstore, which she owned and operated for 20 years. Her internship at Mercy Hospital helped her cultivate her love of working with residents of the Bronzeville community. As garden coordinator for Legends South, her responsibilities include planning and overseeing sustainable growing methods, and developing and fostering good working relationships with Legends South residents.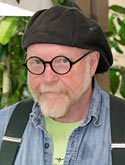 Andy McGhee
Aquaponic Specialist, Windy City Harvest
Andy McGhee had retired before joining Windy City Harvest in late 2011. His professional background includes many years of working in historic and landmark restoration construction management. With a lifelong interest in biology and natural systems, and an interest in alternative repurposing of resources within the modern urban environment, he now focuses on alternative and experimental growing technologies, which may be adapted to future urban agriculture enterprises. He designs, builds, and manages the daily operation of aquaponics systems for the Windy City Harvest program, and teaches classes and regular seminars in the theory, design, and practical management of aquaponics systems. McGhee instructs the Windy City Harvest 14-week Aquaponic Production certificate course offered Saturdays in the Spring and Fall.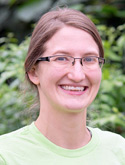 Lynne Haynor
Assistant Horticulturist, Chicago Botanic Garden
Lynne Haynor is the instructor for the 14-week Edible Landscaping and Rooftop Farming course. Her experience in sustainable agriculture includes coordinating one of the Chicago Botanic Garden Youth Farm sites, working on various farms, various beekeeping adventures, co-managing her own market garden and working as an organic farm inspector and certification specialist. She is currently the Assistant Horticulturist for the Chicago Botanic Garden's Fruit and Vegetable Garden. She has also worked in environmental education and loves to teach. She has a BA from Beloit College and an MS in Agroecology from UW-Madison. She is excited to help spread the word about growing food sustainably through the Edible Landscaping and Rooftop Farming course!