Windy City Harvest Apprenticeship
Program Components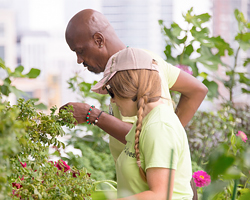 In addition to the Apprenticeship program, Windy City Harvest offers Short Courses in Urban Agriculture for the general public on a fee basis.
Core Curriculum
The Windy City Harvest Apprenticeship program is a 12 to 16 hour/week classroom, lab, and field experience, complemented by a 14-week paid internship. Students receive a combination of classroom instruction and hands-on training at the Arturo Velasquez Institute (AVI) greenhouse and at Windy City Harvest farm sites. Instructors are qualified educators and guest speakers, including full-time Windy City Harvest staff members who have deep experience in particular aspects of sustainable growing and marketing.
The basic curriculum for Windy City Harvest Apprenticeship is based on the following:
The core curriculum focuses on compost and soil ecology, plant propagation, outdoor production and planning, greenhouse production, post-harvest handling and food safety, good agricultural practices (GAP) training from the University of Illinois Extension, production planning, irrigation, plant healthcare/pest and disease management, ecological weed management, urban farm reports, crop planning, and basic business plan development.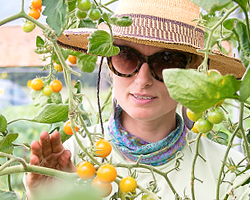 Roots of Success
In addition to their core curriculum, Apprenticeship students students also utilize the Roots of Success Environmental Literacy program. This course is particularly useful for training young people and adults who need additional information and work readiness skills. Developed by Dr. Raquel Pinderhughes (San Francisco State University) for people coming out of incarceration and unemployment, the award-winning curriculum engages students by making learning relevant, building on prior knowledge and experience, and connecting education to employment and further learning in green career fields.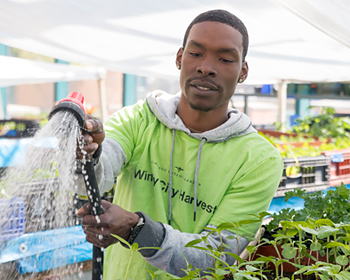 Internship
After four months of classroom and growing instruction, Apprentices are each assigned to a 14-week paid internship, starting the first week of June at a farm site where they get relevant experience and close supervision. Internship placements have included the Chicago Botanic Garden's Regenstein Fruit & Vegetable Garden, Big Delicious Planet restaurant, Resource Center's City Farm operation, Growing Solutions Urban Farm, Heartland Alliance's Farmworks, Growing Home, and Gary Comer Youth Center, as well as various Windy City Harvest production sites. Apprentices are paid hourly for 37.5 hours per week and get regular check-ins from Windy City Harvest staff. The paid internship is a critical part of the program model and allows Windy City Harvest to develop and strengthen working relationships with many local commercial and nonprofit operations that are part of the Chicago-area food hub.
For More Information
If you are interested in more information about the program, contact Luanne Janikowski at ljanikow@chicagobotanic.org