Windy City Harvest Apprenticeship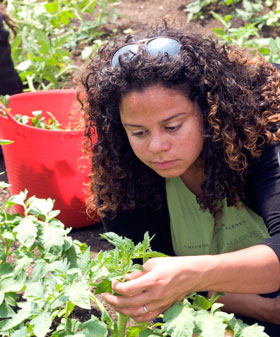 Program Components
In addition to the core Apprenticeship program, Windy City Harvest operates related learning opportunities for the general public on a fee basis.
Core Curriculum
The Windy City Harvest Apprenticeship program is a four-day-a week, four-hours-per-day training and experience complemented by a 14-week paid internship. Students come Monday through Thursday for a combination of classroom instruction and hands-on training in the Arturo Velasquez Institute (AVI) greenhouse and at work sites. The emphasis is on field-based learning because that is how most people—especially individuals who may have lower literacy and numeracy skills—learn best. Instructors are qualified educators and guest speakers, including full-time Windy City Harvest staff members who have deep experience in particular aspects of sustainable growing and marketing.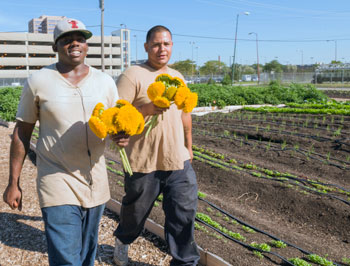 The basic curriculum for Windy City Harvest has been adapted from two major sources: the University of California Santa Cruz Center for Agroecology & Sustainable Food Systems (Teaching Organic Farming and Gardening, and Teaching Direct Marketing & Small Farm Viability) and also from Eliot Coleman's four season and organic gardening publications. Content and practices have been adapted and customized to conditions in the Upper Midwest and to the urban environment. Additionally, management protocols have been developed—some adapted from the Windy City Harvest Youth Farm program—to round out a curriculum package that emphasizes experiential learning, teamwork and continuous feedback, adherence to strict food and human safety precautions, and meticulous record keeping.
The core curriculum focuses on compost and soil ecology, plant propagation, outdoor production and planning, greenhouse production, post-harvest handling and food safety, good agricultural practices (GAP) training from the University of Illinois Extension, production planning, irrigation, plant healthcare/pest and disease management, ecological weed management, urban farm reports, crop planning, and basic business plan development.
Roots of Success
In addition to their core curriculum, Apprenticeship students now take the Roots of Success Environmental Literacy program rootsofsuccess.org. This course is particularly useful for training young people and adults who need additional information and work readiness skills. Developed by Dr. Raquel Pinderhughes (San Francisco State University) for people coming out of incarceration and unemployment, the award-winning curriculum engages students by making learning relevant, building on prior knowledge and experience, and connecting education to employment and further learning in green career fields.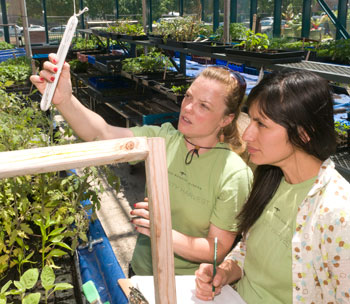 Internship
After four months of classroom and growing instruction, Apprentices are each assigned to a 14-week paid internship starting the first week of June at a farm site where they get relevant experience and close supervision. Assignments include the Chicago Botanic Garden's Regenstein Fruit & Vegetable Garden, chef Rick Bayless's home garden, Big Delicious Planet restaurant, Sacred Keepers Sustainability Lab, Resource Center's City Farm operation, Christy Webber landscaping, and various Windy City Harvest production sites. Apprentices are paid $9 per hour for 37.5 hours per week and get regular check-ins from Windy City Harvest staff. The paid internship is a critical part of the program model and allows Windy City Harvest to develop and strengthen working relationships with many local commercial and nonprofit operations that are part of the Chicago-area food hub.
Optional Industry-Specific Courses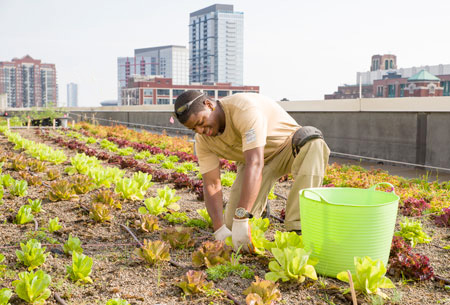 As part of its Begnning Farmers and Ranchers Development program grant from the USDA National Institute of Food and Agriculture, Windy City Harvest is creating six 14-week courses that program graduates and others can take to build their knowledge in key emerging agricultural areas. The first course, Business and Entrepreneurship for Local Foods, was developed with help from faculty and students from DePaul University's master's degree program in social enterprise, and premiered in fall 2013. Lessons focused on business management skills: financial accounting, market research, crop planning, budgeting, and distribution—all in the context of production for commercial markets. As a culminating project, students developed and wrote a business plan for a sustainable urban agriculture project or local foods start-up.
Additional industry-specific courses to be launched in the next 12 months include season extension farming, aquaponics and vertical farming, and rooftop gardening. The rooftop gardening course will take place in a new Windy City Harvest vegetable garden on the rooftop of McCormick Place, the largest convention center in North America. Courses on composting and cottage foods will be rolled out in 2015. All these courses are offered in the afternoon and evening through a partnership with Daley College/AVI and are open to fee-paying students. Some financial aid is available to qualified applicants.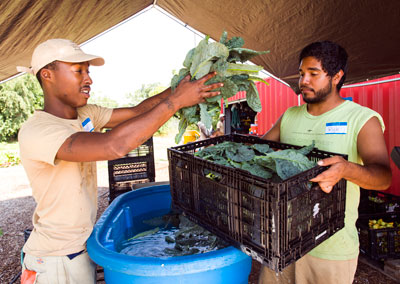 Incubator Farming
Through support from the USDA NIFA Beginning Farmers and Ranchers Development Program grant and the site developer, Brinshore-Michaels, Windy City Harvest has also established an incubator site for new farmers at Legends Farm. The two-acre production and incubator site, 4500 S. Dearborn St., is on land that was once part of the Chicago Housing Authority's Robert Taylor complex, and is now being redeveloped into low-rise, mixed-income housing. The Windy City Harvest incubator program, which is now hosting three new start-up businesses, is open to graduates of the WCH Apprenticeship program who have also completed the Business and Entrepreneurship for Local Foods course. The two-year incubator period gives starting farmers the following:
One-eighth to one-quarter of an acre of secured, ready-to-farm land
Mentoring support and technical assistance
Access to tools and equipment
Shared access to markets until they secure a Chicago business license
Saturday Workshops
Windy City Harvest offers a series of monthly Saturday workshops on organic vegetable production and post-harvest food preservation. The courses are offered at Arturo Velasquez Institute. These workshops help gardeners—of backyard, community plot, rooftop, and school gardens—get the most production out of available space using sustainable techniques. Classes are open to the general public and have a maximum registration of 15 students.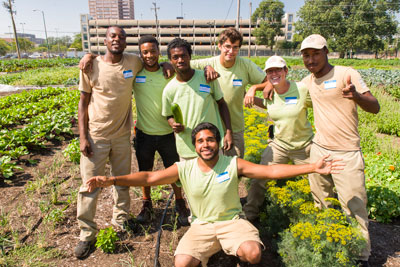 Farm Tours
As a way of sharing the program model and earning revenue to support Windy City Harvest's operations, staff members offer fee-based tours at a number of the work sites. These include the Windy City Harvest training and production headquarters (on the AVI campus), Rodeo Farm (26th St. and S. Washtenaw Ave., near the AVI campus), the Legends Farm incubator site (45thAve. and Dearborn St.), and the McCormick Place rooftop garden (Cermak Road and Michigan Avenue). See the section below for additional detail.

For More Information
If you are interested in a tour, a related Windy City Harvest site event, or other information about the program, contact Angela Mason at amason@chicagobotanic.org.