Windy City Harvest Apprenticeship
Farm Locations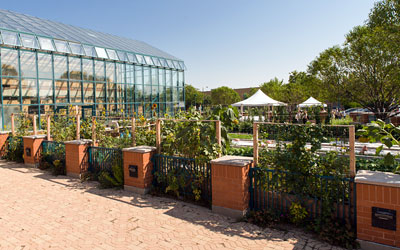 Windy City Harvest Training
and Production Headquarters
Chicago
Windy City Harvest's main operations site is located at Arturo Velasquez Institute, a satellite campus of Daley College. A greenhouse, hoophouse, and outdoor growing beds are complemented by a headhouse with aquaponics system, office space, and instructional classroom.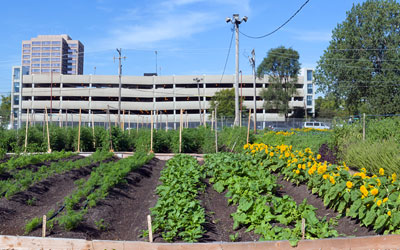 Located at 2600 S. Washtenaw Avenue, very near Arturo Velasquez Institute, this nearly two-acre site is owned by Cook County. It is a major training, commercial crop, and composting production site for Windy City Harvest, which sells the produce grown here to Midwest Foods. Rodeo Farm is a training site for Apprentices and Windy City Harvest Corps employees.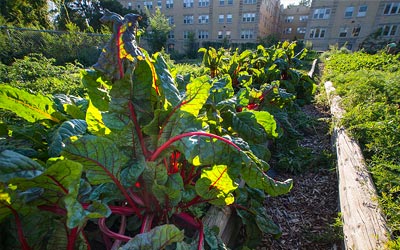 Kenneth Street Farm
Chicago
This 10,000-square-foot NeighborSpace lot in West Garfield Park is used as a production and training site by Windy City Harvest. Produce grown here is sold through commercial and government-subsidized market channels.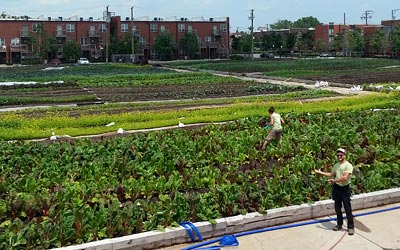 Legends Farm
Chicago
Windy City Harvest's largest farm, Legends South, at 4431 S. Federal Street, is a 2-plus acre site that serves as an incubator for small farm businesses independently run by graduates of both the Apprenticeship Program and Business and Entrepreneurship for Local Foods course. The site, formally part of the Robert Taylor housing complex, was constructed in 2013 through support from the USDA-NIFA (U.S. Department of Agriculture–National Institute of Food and Agriculture), a Beginning Farmer and Rancher Development Program grant, and the land developer, Brinshore-Michaels.
It consists of eight, ⅛-acre raised beds, three hoop houses, a ¼-acre production training farm, a 40-foot wash-pack station, and a community allotment garden with 35 raised beds for surrounding residents. Accepted farm businesses receive a two-year maximum term lease, ready-to-farm land, mentoring support and technical assistance, access to tools and equipment, and shared access to markets.
Since 2015, 14 businesses have gone through the Legends incubator program. The incubators at Legends South generated more than $280,000 in sales, 100,000 pounds of produce, and provided 1,225 WIC (Women, Infants, and Children) boxes to Chicago communities. This year, Legends is hosting three new businesses and supporting two continuing businesses.
Learn more about Legends Farm and current and past Windy City Harvest Incubator Farmers at chicagobotanic.org/urbanagriculture/careers/incubator or contact Paul Krysik at pkrysik@chicagobotanic.org.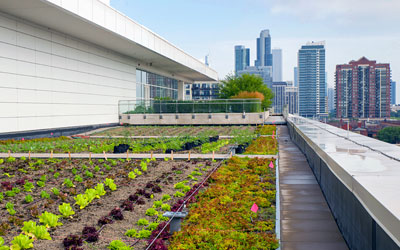 McCormick Place Rooftop Farm
Chicago
Windy City Harvest runs the 20,000-square-foot rooftop garden at McCormick Place in collaboration with Savor…Chicago, the food service operation for McCormick Place. This experimental and commercial production location is testing the feasibility of growing herbs and greens in raised beds with a lightweight soil mix that formerly supported only sedum plants. The farm includes a microgreens operation, beekeeping, and vermicomposting. If the rooftop garden is as successful as expected, this project can be proof-of-concept for a whole new dimension of rooftop food growing. Produce grown on this site is sold directly to Savor…Chicago's chef for convention food service.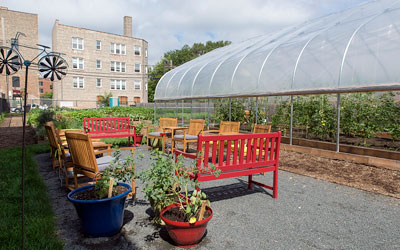 PCC Austin Farm
Chicago
When medical providers at PCC Austin Family Health Center discuss nutrition with their patients, there is a new option for them: They may prescribe access to fresh produce that can be filled just around the corner at the PCC Austin Farm. The farm began with a partnership between PCC Community Wellness Center and the Chicago Botanic Garden's Windy City Harvest. Both organizations share the belief that food is medicine. Access to fresh fruits and vegetables can transform individual and community health.