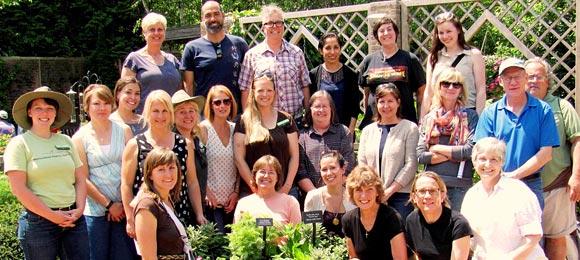 Add a powerful skill set to your resumé by pursuing a Certificate of Merit in Healthcare Garden Design or Horticultural Therapy. These multiple-course programs review research-based theories and provide practical training in the therapeutic uses of horticulture.
Horticultural Therapy Certificate of Merit
Horticultural therapy uses plants and gardens to help clients reduce stress and engage in therapy. Horticultural therapists practice in hospitals, rehabilitation and vocational facilities, nursing homes, senior centers, community gardens, and other settings.

The American Horticultural Therapy Association has designated the HTC program at the Garden as qualifying graduates to apply for voluntary registration. This will expedite the process for graduates applying for AHTA voluntary registration significantly and is an affirmation of the quality of the hybrid onsite/online curriculum. Applications for the program are accepted each fall.

The Horticultural Therapy Certificate program is a professional-development opportunity, enabling you to integrate horticultural therapy effectively into your therapeutic practice or educational program. This program uses a hybrid format: most work is done via distance learning, and weeklong immersion experiences at the Chicago Botanic Garden are required for two of the classes.

Upon completion of this innovative program, you will be able to develop, implement, and evaluate horticultural therapy activities that contribute to the health and wellness of your clients. The certificate earns 12 credit hours through Oakton Community College.

Healthcare Garden Design Certificate of Merit
Healthcare garden design is an emerging area of specialization in which several professions converge to create environments of care. In this eight-day professional-development program, discover effective ways to apply current research in evidence-based design to achieve patient health outcomes.

Learn to design garden environments of care that maximize the effectiveness of clinical treatments for illness and disabilities, and to create passive garden experiences that significantly reduce staff stress and absenteeism, improve patient health, increase client satisfaction, and strengthen the bottom line.