Inspiring Nature Play: Innovations
Wednesday, May 2, 2018
9 a.m. – 3:30 p.m.
Regenstein Center
$52 nonmember/member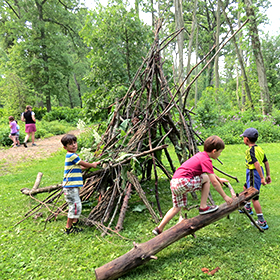 Our fifth annual professional development event geared towards enabling access to developmentally appropriate nature play experiences for early childhood (birth through age 8).
Keynote speaker David Sobel, Senior Faculty in the Education Department at Antioch University New England, will address innovations in nature play for early childhood and early elementary age groups. Come away with practical and effective ideas for incorporating nature play into your early childhood programs and curriculum. Sessions will be led by a variety of early childhood and environmental experts.
Inspiring Nature Play is possible because of the collaborative effort between Chicago Botanic Garden, The Alliance for Early Childhood, BackYard Nature Center, Greeley Elementary School, Forest Preserves of Cook County, Kohl Children's Museum, Natural Start Alliance (a project of the North American Association for Environmental Education), and Northfield Community Nursery School.
TIME
TOPICS AND SPEAKERS


8:30 a.m.

Check-in and Registration

9 – 9:20 a.m.

Welcome and Overview

9:20 – 10:30 a.m.

Keynote Address

Innovations in Nature Play: Early Childhood and Elementary
David Sobel, senior faculty, education department, Antioch University New England

The original kindergarten — the children's garden —conceived by German educator Friedrich Froebel in the 19th century, was a place where children learned through play, often in nature. That idea is fast eroding. Children aren't playing in the garden anymore, both in and out of school; instead they're filling in bubbles on worksheets. The new movement of nature-based early childhood education can reverse that trend. There are thousands of forest kindergartens throughout Europe and new programs opening every month in North America. Let's examine the promise of this healthy approach towards living and learning outdoors with young children, across a variety of settings and the span of childhood.


David Sobel consults and speaks widely on child development and place-based education. He has authored eight books and more than 70 articles focused on children and nature for educators, parents, environmentalists and school administrators in the last 30 years. His most recent book is Nature Preschools and Forest Kindergartens: The Handbook for Outdoor Learning published by Redleaf Press.

10:40 – 11:25 a.m.

Concurrent Sessions

Caterpillars and Ladybugs: Nature Around Us
Colleen McVeigh, Field Museum


Playing Care/Caring Play: How a Chicago Urban Community-led Nature Play Site Stewards Nature Play
Robin Cline, NeighborSpace
Jessica Fong, Spry Community Elementary School, Chicago Public Schools


Safe Tools and Techniques to Empower Kids
Sean Shaffer, North Park Village Nature Center, Chicago Park District
Sarah Sheldon, Chicago Botanic Garden and Northern Illinois Nature Preschool Association


Writers in the Woods
Liza Fischel, North Park Village Nature Center, Chicago Park District
Rosa Younan, North Park Village Nature Center, Chicago Park District

 

11:40 a.m. – 12:25 p.m.

Concurrent Sessions

Art, Music, and Nature: Finding Inspiration in the Forest Preserves
Adam Kessel, Forest Preserves of Cook County
Rob Klamczynski, Forest Preserves of Cook County


Best New Nature Books for Your Classroom
Jessica Hesselberg, Wilder Elementary School, Littleton CO Public Schools
Martha Meyer, Evanston Public Library

 

Experiential, Environmental Education
Ed Caplan, Keeler Gardens


Squish, Roll, Build, and Explore: Ideas for Hands-On Nature Play
Becky Lyons, Lincoln Park Zoo
Emily Van Laan, Lincoln Park Zoo

 

12:35 – 1:35 p.m.

Lunch, Networking, and Hands-on Nature Play Activities

Activities

Chicks in the Classroom
Tracy Aiden, Baker Demonstration School
Jessy Zich, Baker Demonstration School

 

How to Make Natural Dyes
Lorin Ottlinger, The Grove National Historic Landmark
Judy Picicco, The Grove National Historic Landmark

 

Life Above Us
Daniel Kielson, BackYard Nature Center
Gary Morrissey, BackYard Nature Center

 

Looking Out the Classroom Window
Mila Love, Chicago Botanic Garden

 

Mighty Miniature Nature Scenes
George Klut, Forest Preserves of Cook County
Julie Vandervort, Forest Preserves of Cook County

 

Observational Drawing: Learning to Draw What You See
Cori Paulsrud, Kohl Children's Museum
Amelia Troutman, Kohl Children's Museum

 

Pop-up Adventure Playground
Yulia Borisova, Purple Line Adventure Play

 

Upcycled: DIY Nature Play Ideas
Laura Hall, Jurica-Suchy Nature Museum, Benedictine University
Karly Tumminello, Jurica-Suchy Nature Museum, Benedictine University

 

Wee Wigglers
Charlotte Brown, Forest Preserves of Cook County
Lisa Schwarz, Forest Preserves of Cook County

 

Zoom In, Zoom Out
Liz Hilt, Kohl Children's Museum

 

1:45 – 2:30 p.m.

Concurrent Sessions

Avoiding Ecophobia: How to Help Children Love Nature Before Asking Them to Save It
Katie Slivovsky, Chicago Children's Museum

 

Bringing Nature to Your Neighborhood Preschool
Allison Ashley, Covenant Nursery School
Karen Dinelli, Covenant Nursery School
Elizabeth Goodbody, Covenant Nursery School
Tina Vanderwarker, Covenant Nursery School
Kim Stanton, Covenant Nursery School

 

Integrating Museum Resources to Support Nature Play
Kyla Cook, Field Museum
Jennifer Flowers, Field Museum
Sarah Wehlage, Chicago Academy of Sciences/Peggy Notebaert Nature Museum

 

Yoga and Mindfulness Techniques to Integrate Nature in the Classroom
Lani Gersonovitz, Banner Day Camp  

 

2:45 – 3:30 p.m.

Concurrent Sessions

Embracing Nature
Molly Babu, early childhood consultant

 

Knives, Fires, and Civilizations: Outdoor Play with Youth Ages 6 to 12
Kathleen Soler, Fraternal Forest
Sol Hinami, Fraternal Forest
Alex Enarson, Fraternal Forest

 

Nature Buddies: An Inclusive Nature Education Pilot Program
Ann Halley, Chicago Botanic Garden
Kay Knight, Chicago Botanic Garden

 

When Plundering Pirates Take Over Your Class: How to Effectively Foster and Document Emergent Curriculum in a Nature-based Program
Megan Gessler, Natural Beginnings Early Learning Program and Northern Illinois Nature Preschool Association
Sarah Sheldon, Chicago Botanic Garden and Northern Illinois Nature Preschool Association

 

3:30 p.m.

Evaluation and CPDU Form Completion