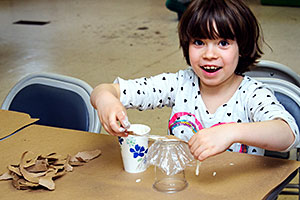 Become a Garden Plus member today, and enjoy a special discount.
Children will participate in high-quality learning activities with experienced teachers who use inquiry-based, hands-on activities.
Programming connects nature to a range of themes including art, cuisine, and conservation. This spring, children will have the opportunity to dissect and plant seeds, explore fragrant herbs and flowers, search for birds and early spring plants on nature hikes, take a trolley ride around the Garden, create take-home, science-themed projects, and much more!
Each day offers a different adventure, and for the first time, parents have the flexibility to register by the day.
Check back this summer for Spring 2018 dates.
Monday, March 27, 2017 – Whooooo lives in the Woods? FULL
Tuesday, March 28, 2017 – Insects, Bugs, Spiders FULL
Wednesday, March 29, 2017 – The Garden at Night FULL
Thursday, March 30, 2017 – The ART of cooking FULL
Friday, March 31, 2017 – Gardens & Greenhouses FULL
Rave reviews from parents of campers
"My daughter loved the projects and outside activities."
"We enjoyed the variety of activities. Your camp staff were top-notch and made the whole experience so wonderful."
"My camper enjoyed every aspect of Spring Break Camp!"