Restoration of the North Lake shoreline
The Chicago Botanic Garden and the U.S. Army Corps of Engineers' Ecosystem Restoration Program completed a ten-month Section 206 Ecosystem Restoration Project on 1 1/4 miles of shoreline around the Garden's North Lake in summer 2012. The restored area includes the entire perimeter of the Regenstein Fruit & Vegetable Garden, as well as the North Lake's western and northern shorelines.
Miles of Stability and beauty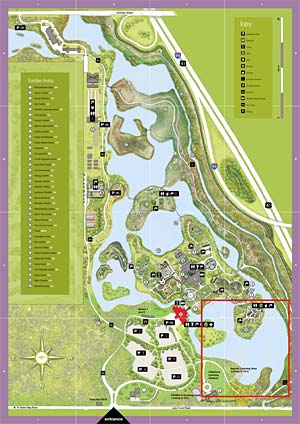 Garden Map with shoreline restoration area outlined in red. Mouseover image for detail.
More than three-fourths of the Garden's shoreline has been restored since the shoreline enhancement program began in 1999. The renovated North Lake allows visitors to enjoy new, scenic vistas and creates important wildlife habitat.
"The North Lake's transformation is remarkable from both ecological and aesthetic perspectives," said Bob Kirschner, the Garden's director of restoration ecology and the Woman's Board Curator of Aquatic Plant and Urban Lake Studies.
Going Native
When renovation began in November 2011, the North Lake was drained of some 54 million gallons of water to allow the shoreline to be rejuvenated with shallow water planting "shelves."

In the following months, more than 120,000 native plants and shrubs were added to stabilize shoreline soils. Plants were installed in drifts, demonstrating how native shoreline plantings can be attractively integrated within more traditional ornamental landscapes.
Enhancing water quality and habitat
Representing 197 native taxa, these plants, some with roots more than 6 feet deep, are able to anchor eroding shoreline soils and withstand the environmental stresses inherent to urban waterways, such as flooding. They provide form and function, while filtering excess nutrients and enhancing habitat for frogs, turtles, fish, mussels, aquatic insects, and birds. Specialized plastic mesh and webbing materials further stabilize the shoreline and protect the newly installed aquatic plantings.
visitor highlights
The restored shoreline allows visitors to enjoy newly created views. In particular, a terrace at the Regenstein Fruit & Vegetable Garden now offers pedestrians close views of the water and shoreline planting techniques.
"We hope visitors enjoy the diversity of new plantings along the lakeshore," said Kirschner. "The renovated design highlights plants of seasonal interest and offers habitat for migratory birds."
Fact sheets with guidance for those who would like to create a similar area on any scale are available at the Information Desk in the Visitor Center.
A Sustainable landscape
The Garden's programs to reduce soil erosion and nutrient runoff improve water quality in the downstream Skokie Lagoons, Chicago River, and beyond. In addition to enhancing water quality, the North Lake serves as a living laboratory for Garden conservation scientists and their colleagues studying urban water resources.
interesting Facts
6,400 feet (1 1/4 miles) of the 20-acre North Lake's shoreline restored and protected

more than 120,000 plant plugs representing 167 native taxa to stabilize shoreline soils and enhance wildlife habitat; this represents the largest perennial planting project in the Garden's history

more than 1,000 shrubs representing 30 native taxa chosen to benefit wildlife, especially birds

54 million gallons of water drained from the North Lake (draining began December 16, 2011 and ended mid-January 2012)

33 days to refill the North Lake using the Garden's deep-aquifer groundwater well (lake refill began June 13 and concluded July 18, 2012)

64 largemouth bass, 419 bluegill, and 2,497 native mussels were rescued from the North Lake before it was drained and moved to other Garden lakes. These fish are now making their way back into the North Lake naturally via Garden waterways.

368,000 pounds (34 tons) of Marshfield, Wisconsin granite boulders for turtle and amphibian habitat

Click to view a visual simulation of the North Lake Shoreline
Project construction process.

Funding for the North Lake Shoreline Restoration Project is provided by the U.S. Army Corps of Engineers' Section 206 Ecosystem Restoration Program, State of Illinois Capital Program grants, and an individual Chicago Botanic Garden donor.