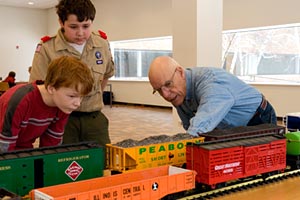 Boy Scouts
railroading merit badge workshop
Saturday, November 8, 2014
9 a.m. – 1 p.m.
in the Learning Center
Please join us for the Railroading Merit Badge at the Chicago Botanic Garden. This is a great opportunity to meet professionals in the railroad industry and learn from their experience. We will be working with model railroads; they are very realistic and you will be able to complete most of the requirements during the session.
Scouts must bring a signed Blue Card from their Scoutmaster.
Prerequisites — Scouts should fill out the Railroading worksheet available at www.meritbadge.org to the best of their ability before the workshop. Scouts must complete Requirement #8 – Select ONE of the following special-interest areas and complete the requirements (Model Railroading or Railfanning).
Parking is included for every registered Boy Scout — this is not a drop-off program; please plan to spend the session with your Scout. If you are a group leader registering multiple children, please be sure to have at least one actively involved adult for every five Scouts and duplicate your confirmation e-mail to serve as a parking pass for drivers.