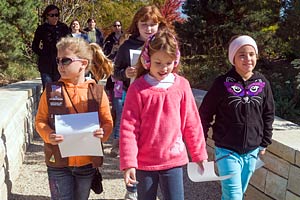 Scout programs are available on Saturdays only for the rest of 2020. Please call (847) 835-8239 to schedule your outdoor program today.
Scouts can participate in fun, outdoor, educational activities all year long. Programs take place throughout the Chicago Botanic Garden, enabling Scouts to explore different environments. Scouts will participate in a wide range of challenging activities designed to help them advance through scouting levels. Hands-on activities range from seed planting to native habitat walks to insect exploration and more!
Scout badge workshops will be held on the Regenstein Learning Campus. Book your Scout group's badge workshop today by calling (847) 835-8239.
CUB Scout Programs
(Revised to meet 2016 BSA standards)
Scouts can work toward earning their badges year round.
Scout Seasonal Workshops are a great opportunity for both Girl and Boy Scouts to work together and learn about the environment. All participants earn a Chicago Botanic Garden patch.
Come and pitch your tents on the Regenstein Learning Campus for a low-stress camping experience—with flushing toilets and running water. Enjoy nature games and activities, go for a night hike, and cook s'mores. Campouts fill quickly, so book yours early.