Saturday & Sunday, April 13 & 14, 2019
10 a.m. – 4 p.m.
What would happen if a science fair came to life?
With a full weekend of science activities, the second annual Unearth Science festival celebrates science and nature in ways that will encourage you to explore. Participate in drop-in activities, in-depth workshops, film screenings, and special events. This year's themes and activities feature pollinators, flowers, fruits, and seeds. All programs and activities (except science workshops) are free; usual parking fees apply.
Friday, April 12, 2019, 6 – 9 p.m.
Adults get their chance to explore the world of science and take part in festival activities in a fun atmosphere with themed drinks and food available for purchase.
Advance: $8/$10
Day-of: $11/$13
Usual parking fees apply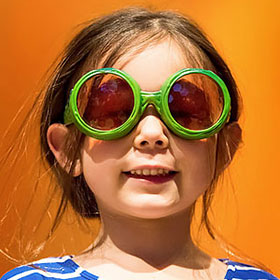 Science Workshops
Please check back for date and time details.
Go in-depth with Garden staff and scientists and explore all kinds of topics.
Workshops are $10 ($8 members) per person; preregistration is required, and space is limited. Children must be accompanied by an adult.
Night Sky Viewing
Saturday, April 13, 7:30 – 9 p.m.
Explore the universe with an expert from the Adler Planetarium. Gather in the Esplanade to look through a telescope at the moon and evening sky. Our program coincides with the year-long celebration of the 50th anniversary of humans landing on the moon for the first time. Join us for a close-up look at earth's closest neighbor in space.
Free; usual parking fees apply.
Catch a Film
Please check back for date and time details.
Be the first to see The Guardians, a new documentary showing in the auditorium that interweaves the lives of the iconic monarch with an indigenous community in Mexico. Both depend on the same ancient forest for their survival and now face an uncertain future. Take a cinematic journey through the butterfly-dense mountaintops of Michoacan as the community works to build a sustainable path forward. Produced by Ben Crosbie and Tessa Moran, the film is a visually dazzling meditation on the delicate balance between human and nature.
Free; usual parking fees apply.