Garden scientists, horticulturists and other experts host activities for kids of all ages
Event Date:
Friday, April 12, 2019

to

Sunday, April 14, 2019
Release Date:
Wednesday, March 13, 2019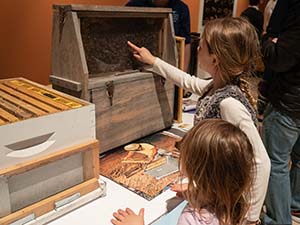 Children can cultivate their curiosity about science and gain a greater appreciation for the wonders of our planet during the second annual Unearth Science festival at the Chicago Botanic Garden on Saturday, April 13, and Sunday, April 14. The two-day event celebrates science and nature in ways that encourage exploration with more than 40 hands-on activities geared towards children ages 7 to 12. 
This year's festival will include activities that facilitate learning about the plant life cycle, and how important connections are made between flowers and pollinators, resulting in fruits and seeds. Feature learning opportunities include an interactive pollinator challenge, dissecting a coneflower, and constructing an art installation that will serve as a home for native bees.
Additional events taking place during the festival include the following:
·      Science After Hours—Friday, April 12 (6 p.m. to 9 p.m.)
The festival opens for adults to geek out on science in a fun atmosphere with themed drinks and food available for purchase. Attendees can mix their own scientific potion, grab a bite to eat, and mingle with Garden scientists.
·      Science Workshops—Saturday, April 13, and Sunday, April 14 (10 a.m. to 3:30 p.m.)        
Go in-depth with Garden staff and scientists to explore all kinds of topics, including fungi, native bees, and citizen science. Programs are designed for adults to attend with children and preregistration is required.
·      Lecture—Saturday, April 13 at 2 p.m. (This event has been canceled)                                                               
WGN-TV's chief meteorologist and Chicago Botanic Garden board member, Tom Skilling, shares, "What's New with Climate Change". 
·      Night Sky Viewing—Saturday, April 13 (7:30 to 9 p.m.)                                    
Look through a telescope at the moon and evening sky with the Adler Planetarium. This program coincides with the year-long celebration of the 50th anniversary of humans landing on the moon for the first time. Event is weather permitting. 
·      Documentary Screening—Sunday, April 14 at 2 p.m.                                                  
The Guardians is a new documentary that interweaves the lives of the iconic monarch with an indigenous community in Mexico. Film is recommended for ages 14 and up. 
Hours are from 10 a.m. to 4 p.m. on Saturday, April 13, and Sunday, April 14.  The Unearth Science festival is free; regular parking fees apply. Additional fees apply for Science After Hours and Science Workshops. Visit chicagobotanic.org/sciencefestival for more information. 
An image gallery for media download can be found here.