Exhibition and Events Encourage Visitors to Fall in Love with the Prairie
Event Date:
Saturday, May 1, 2021

to

Sunday, September 12, 2021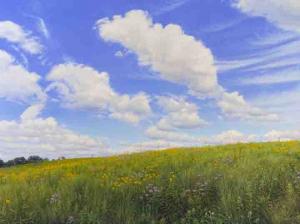 Fall in love with the prairie this summer at the Chicago Botanic Garden. A new exhibition, Picturing the Prairie: Paintings by Philip Juras, celebrates prairies and their vital role in our midwestern heritage. Picturing the Prairie reveals these rare, complex, diverse natural habitats and the conservation, restoration, and stewardship work to protect the remaining prairies and restore others.
Philip Juras's exhibition of 15 large studio canvases and many smaller field paintings—depicting remnants, restorations, and imagined re-creations—takes visitors on a journey of prairie landscapes throughout the state of Illinois.
"At first it looks like a big grassy area that's got some flowering plants in it," said Philip Juras of the prairie. "But with a little bit closer observation, you really get to see a lot of nuance and complexity. When you see a place like that, you're also getting a small picture of what the experience of Illinois used to be like."
There once were 22 million acres of tallgrass prairie in Illinois; now, one hundredth of one percent of high-quality prairie remains in Illinois. The small prairie remnants that currently remain require conservation, restoration, and stewardship to survive. Prairie plants have deep root systems that are adapted to hot summers and cold winters. Prairies evolved in the presence of fire, periodic drought, and grazing.
Illinois is in the tallgrass region of prairies because we have enough rainfall to support tall grasses. Tallgrass prairies are places of high biodiversity that are rich in beauty and bright with more than 300 native plants such as purple coneflowers (Echinacea) as well as birds and pollinators such as monarch butterflies that depend on this habitat to survive. The tallgrass prairie landscape is filled with 10-foot-tall grasses, and dozens of wildflowers throughout the growing season.
Picturing the Prairie: Paintings by Philip Juras is open through September 12, 2021. Exhibition hours are from 9 a.m. to 7 p.m. This summer, visitors can explore Picturing the Prairie events and exhibitions at the Chicago Botanic Garden and with partners: the Forest Preserve District of Cook County, Field Museum, The Nature Conservancy, and Openlands.
Picturing the Prairie events at the Chicago Botanic Garden include:
Prairie Walks on June 26 and August 28, 9:30 to 11:00 a.m.
After Hours Buzz on July 8, 22; August 5, 19, 6 to 8 p.m.
A series of evening events where Garden conservation scientists illuminate the most fascinating prairie stories with interactive demos, light hors d'oeuvres, and drinks on the Visitor Center Deck (North). Admission fee required. 
All visitors—including Garden members—must preregister for timed entry. Visit https://www.chicagobotanic.org/picturing_prairie for more information and to purchase tickets.
An image gallery for media download can be found here.