Binge Watch Blooms at the Chicago Botanic Garden now through June
Event Date:
Saturday, March 20, 2021

to

Saturday, June 19, 2021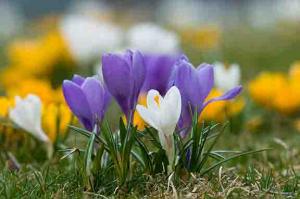 GLENCOE, IL (March 23, 2021) – Celebrate the warmer days outside by viewing more than one million blooms, unfurling throughout the season, during It's Showtime: Spring 2021 at the Chicago Botanic Garden. The first flush of spring is subtle—a tiny purple bud, a flutter of native bees, and then voilà—the season rolls out, in huge waves of color, scent, motion, and wonder. 
"We are excited to welcome visitors back to experience spring at the Garden after everyone had to stay home last year," said Fred Spicer, the Garden's executive vice president and director. "Spring is truly a spectacular time to walk around our 385-acres and see what's blooming each day throughout the season."
Visitors will be able to take a break from staring at a screen and view a selection of spring superstar blooms, including a lawn filled with crocuses at Evening Island in April, sunny daffodils and vibrant tulips throughout the grounds from late April through May, and a cathedral of hundreds of fragrant flowering crabapples at the Lakeside Gardens starting in early May.
The Garden is open daily from 8 a.m. to 5 p.m. now until April 1, and beginning April 1, will remain open until 7 p.m., giving visitors more time to fall in love with spring again. All visitors—including Garden members—must preregister for timed entry. Visit https://www.chicagobotanic.org/spring for more information and for updates on spring's superstars.
An image gallery is available for media download here.