20,000 Square Feet at McCormick Place West Provides SAVOR Foodservice with Produce
GLENCOE, Ill. (Aug. 6, 2013) The Chicago Botanic Garden has planted the largest farm-to-fork rooftop garden in Chicago and the Midwest as part of its ongoing mission to promote local sustainable agriculture and train city residents for careers in urban agriculture. The site's soil-based garden is located at McCormick Place West, part of the largest exhibition and meeting facility in North America. The new garden will provide SAVOR…Chicago, the convention center's food service provider, with fresh produce for McCormick Place catering and restaurant operations, reducing their need to transport produce to their operations.
The phase one 20,000-square-foot vegetable and herb garden is expected to yield up to 4,000 pounds of fresh produce, equivalent to 5700 servings, during the first year of production. In following years, yields from that location are expected to reach 8,000 – 12,000 pounds of produce.
"The partnership with SAVOR…Chicago is an unprecedented opportunity to both reduce our environmental impacts and also meet economic goals," said Sophia Shaw, president and CEO of the Chicago Botanic Garden. "This rooftop garden will have positive ripple effects as it expands our local agriculture production capabilities, saves harmful gas emissions by eliminating the need to transport some of our food needs, creates additional hands-on training and job opportunities for our Windy City Harvest students, and serves as a local source of fresh produce to a major convention center catering provider. All of this from a single rooftop garden."
The garden has been designed and planted by staff from the Chicago Botanic Garden's Windy City Harvest (WCH) urban agriculture program. Over the past five years, WCH has planted and maintained five acres of vegetable gardens at six locations in Chicago. WCH offers the state's first accredited urban agriculture certificate—the nine-month instructional and internship program utilizes greenhouse and outdoor growing space at Daley College's Arturo Velasquez Institute.  The Chicago Botanic Garden plans to add the McCormick Place rooftop garden to the certificate program's living laboratory, offering hands-on experience to WCH students who wish to earn an additional certificate in rooftop gardening, further advancing their urban agriculture expertise.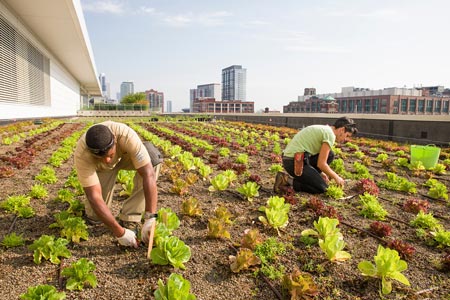 Stacey Kimmons and Audra Lewicki harvesting lettuce at the Chicago Botanic Garden's
20,000-square-foot vegetable garden atop McCormick Place West in Chicago.
"This new workspace adds to the Garden's ability to serve the citizens of Chicago," said Angie Mason, director the Chicago Botanic Garden's urban agriculture programs. "Our workforce training programs offer a model that successfully engages career changers and underemployed individuals, providing professional development that leads to job placement. The WCH program has placed 89 percent of graduates in part-time or full-time positions in the green collar sector in the Chicago area," Mason said.
Crops and herbs grown during the first season at the McCormick Place West roof include kale, collards, carrots, radishes, green and red romaine lettuces, peppers, yellow, red and green bush beans, golden beets, cherry tomatoes, bulb fennel, garlic chives, dill, cilantro, and parsley. These staple ingredients in SAVOR…Chicago's kitchens were selected because they can easily be grown in a rooftop garden setting and also grow rapidly, giving SAVOR…Chicago's patrons a steady supply of fresh, local produce.
"Partnering with the Chicago Botanic Garden underscores SAVOR…Chicago's commitment to support efforts to grow and source products locally on the city's largest rooftop farm, right here on McCormick Place West," said Connie Chambers, General Manager, SAVOR…Chicago at McCormick Place. "We share the Garden's passion for hands-on job training and are excited to help Chicago residents prepare for jobs in the agriculture industry while helping us serve the nearly three million visitors we feed annually," Chambers said.
The first harvest of vegetables and herbs is expected in early August. The Garden's staff will also plant a second, late-summer round of cool season crops, that will be harvested, weather permitting, through late fall.
To download images of the McCormick Place West garden, click here.