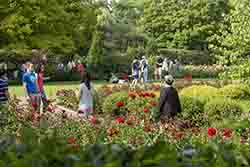 GLENCOE, IL (June 18, 2021) – In less than 50 years, the Chicago Botanic Garden has become recognized as one of the world's best living museums and plant conservation science and learning centers. The Garden welcomes more than 1 million people every year. Over the last 10 years, the Garden has seen a 43% increase in visitorship, and with that growth comes increased costs.
To keep up with growing public demand and expectations; maintain and sustain the exceptional gardens, visitor experience, and science and learning programs; and meet increasing operational expenses, including ongoing maintenance, the Garden will implement an admission fee beginning early 2022.
"Nature is in demand," said Jean M. Franczyk, the Garden's president and CEO. "We know that people live happier, healthier lives when they spend time in nature. People come to our Garden to surround themselves in beauty, find respite from the stress of today's world and be inspired by nature. Updating our admission structure will help us maintain the Garden and meet that growing demand, while providing significant accessibility to the Garden."
The Chicago Botanic Garden's admission fees will align with comparable gardens nationally, and the Garden remains one of the most affordable and attractive options in Chicago. The world-renowned Garden features 27 gardens and four natural areas on 385 acres.
The new admission structure will encourage people to make advanced plans and purchases. Ticket prices will range from $9.95 to $25.95 per person. Admission fees will always be discounted when purchased in advance of a visit and will not exceed $23.95 for a Cook County resident adult ticket in 2022, or $25.95 for a non-Cook County resident.
Because accessibility is a priority, the Garden will offer 52 free admission days per year in alignment with major Chicago-area museums and Brookfield Zoo. Free days will be spread throughout the year, with 14 offered within the peak season, from April through October and on several national holidays.
The Garden's new pricing structure sustains accessibility to the Garden by significantly reducing the parking fee and introducing an all-inclusive admission. Guest parking fees will be reduced beginning early 2022 from the variable rate of $20 to $30 per car to a flat $8 fee, year-round. Members will continue to enjoy free parking. In addition, guests can enjoy seasonal experiences like the Grand Tram Tour, Butterflies & Blooms, and the Model Railroad Garden: Landmarks of America at no extra cost.
The Garden will offer numerous additional opportunities for free and reduced admission tickets and parking to the following guests:
Active-duty U.S. military personnel and/or their families, reservists, and former prisoners of war (POW). Veterans of the armed forces on select days.
Illinois teachers and self-guided school groups.
Illinois LINK card holders.
Chicago Museum Library Pass Holders. In addition, additional admission passes are being shared with 198 Chicago and suburban libraries.
The Garden is supported by one of the largest membership bases of any U.S. botanic garden. The Garden aspires to continue to grow membership by offering valuable benefits, including free parking, free admission, priority access to ticketed events, discounted admission to special exhibitions and holiday events.
An image gallery is available for media download here. 
Video footage is available for media download here.