Marsala: The "It" Color of the Year
How to use it in your garden
Last year it was "Radiant Orchid;" in 2012, "Tangerine Tango" was hot; and 2008 pulsed with "Blue Iris."
Every year, the folks at the Pantone Color Institute® designate a particular color that, as they explain it, is "not necessarily the hot fashion color of the moment, but a color crossing all areas of design." And that, of course, includes your garden.
In this month's Smart Gardener, we share something very special: a plan for using the color of the year that took our breath away.
But first: What color is marsala?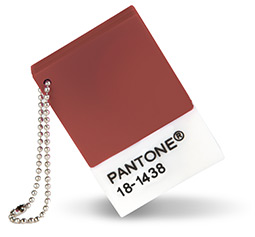 Described as "a naturally robust and earthy wine red" by Pantone®, marsala has a hint of tawny brown—like the Spanish wine for which it is named—that separates it from the more common burgundies or berries. It's a stunning color in the world of makeup (beautiful against the skin, it's a great choice for lipstick or nails this season, too). In decorating terms, it's a warm yet earthy tone that makes neutrals come alive and is surprisingly beautiful with pale blue…or any shade of green. Which brings us to your garden.
Chances are you already have a perennial plant or two in your garden that comes close to Pantone® 18–1438 TCX (similar to 7523C). The "smoke" on your purple smoke tree (Cotinus coggygria 'Royal Purple')? That's a puff of marsala. Got the charming checkerboards of Fritillaria meleagris? They match marsala. Some coral bells (Heuchera 'Amethyst Mist'), sedum (Hylotelephium 'Xenox'), and purple fountain grass (Pennisetum setaceum 'Rubrum') all shade through marsala as they change tones during the season.
Purple smoke tree
(Cotinus coggygria 'Royal Purple')

Fritillary
(Fritillaria meleagris)

Wood trillium
(Viride luteum)
How can you add more marsala without disturbing your beds and borders too much? Consider containers.
When we saw the plan for the containers on the north staircase of our Regenstein Center this year, we knew it was something that smart gardeners would want to know about. Marsala is the star of a minimalist approach that still makes a big color statement: containers large and small each carry a single, duo, or trio of marsala-colored plants. Contrast is provided by pale pink—delicate, lighter hues from the same rosy family. Repeated occasionally in the containers, which are then clustered down the steps, this is a grouping that shows why marsala is "it." Here's the lineup:
Japanese maple: Acer palmatum 'Bloodgood'
Summer snapdragon: Angelonia angustifolia Archangel™ Raspberry
Canna lily: Canna 'Intrigue'
Burgundy scarlet sage: Salvia splendens 'Van Houttei'
Euphorbia: Euphorbia cotinifolia 'Burgundy Wine'
Fuchsia: Fuchsia spp. 'Pink Marshmallow'
Mandevilla vine: Mandevilla × amabilis 'Pink Velvet'
Laurentia: Isotoma hybrid 'Tristar Pink'
Mexican petunia: Ruellia brittoniana 'Southern Star Pink'
Astelia: Astelia nivicola 'Red Devil'
Spiderflower: Cleome hassleriana 'Spirit Appleblossom'
Strawflower: Bracteantha bracteata 'Mohave Dark Rose'
While that dramatic presentation is perfect for containers, you'll find marsala used in very different ways in our other gardens: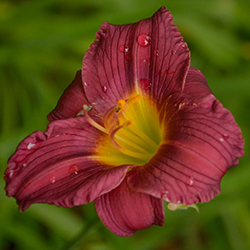 Hemerocallis 'Little Grapette'
In the Krasberg Rose Garden arbor, summer baskets feature foliage in berry-colored hues: coleus from the Stained Glassworks™ series ('Trailing Plum' and 'Trailing Rose') are paired with a basic, easy-to-find container plant, Dichondra repens 'Emerald Falls'.
In the Regenstein Fruit & Vegetable Garden, spring's entrance beds welcome visitors with Viola cornuta 'Carmine Rose', a yummy-colored violet (yes, it's edible!) that pairs with clear pink violets to surround blue-green cabbages.
In the English Walled Garden, May foxgloves punch up the front perennial beds with spiky, bold color: 'Illumination Raspberry' and 'Berry Canary' are knockouts, with a lick of yellow at the center of their wine-colored flowers.
In the Waterfall Garden, Little Grapette daylily (Hemerocallis 'Little Grapette') reminds you to plant bulbs this fall to guarantee marsala in your garden next year.
---
Karen Zaworski is a garden writer and photographer who lives and gardens in Oak Park, Illinois.