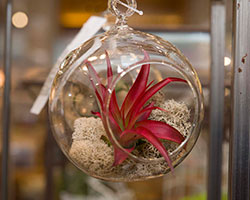 A. Tillandsia plants, commonly called air plants, can be used quite creatively, and many different species are available. They will last longer than many plants sold this time of year, and they are relatively inexpensive. Tillandsia make great holiday, teacher appreciation, or hostess gifts.
To hold the plants, you can use a variety of containers, such as clear glass bowls, teacups, holiday ceramics, seashells, driftwood, and ornaments. Use moss in your chosen container to help anchor the shallow roots of Tillandsia. To make magnets, glue a magnet to the back of a seashell and secure moss and a Tillandsia to the inside of the shell.
Care for air plants is easy. Mist the leaves with water and an occasional diluted fertilizer, maintain at average home temperatures, and place in a bright spot away from direct sunlight. Repotting is not usually necessary.