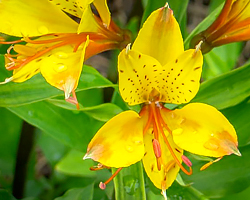 Q: Can I transplant perennials in the fall?
A: Although most perennials become available and are transplanted in the spring, they may be planted throughout the growing season—including early fall—as long as they have not gone dormant. Root growth can continue at lower temperatures until the ground freezes.  Some plant species prefer to be transplanted from late summer to early fall (through mid-October). Fall transplanting is especially recommended for peony plants because it gives them time to develop a good root system before the ground freezes while preparing them for a spring bloom. Other species that respond well to fall planting include daylily (Hemerocallis), iris (Iris), tulip (Tulipa), and other spring-flowering bulbs, corms, and tubers. Follow the recommended planting practices for each specific plant species.
Please contact Plant Information Service at (847) 835-0972 or plantinfo@chicagobotanic.org for additional information.