Fruit, Vegetable, and Herbs Checklist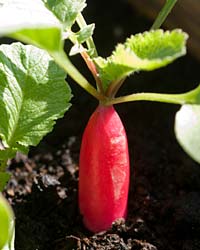 Plant corn, snap beans, summer squash, and New Zealand spinach in mid-May.
Thin carrots, beets, and late lettuce.
Harvest green onions, lettuce, and radishes. Any of the mesclun mix or cut-and-come-again lettuces can be harvested to a few inches three separate times before the plants have exhausted themselves.
Harvest mature asparagus and rhubarb.
Spread several inches of aged compost on vegetable and herb beds, if not done yet.
Remove flowers of June-bearing strawberries as soon as they appear. This is necessary just for the first growing season. The plants will now develop a stronger root system.
Remove flowers for everbearing and day-neutral strawberries as soon as they appear. Flowers that develop after July 1 can be left on the plants to set fruit for later in the season.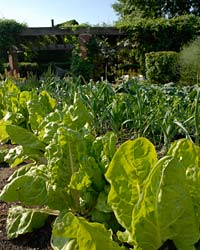 Harvest peas, raspberries, and all cool-season lettuces and vegetables as they ripen.
If squash vine borer has been a problem in your garden, cover small transplants of squash, cucumbers, and zucchini with row covers to prevent moths from laying eggs on vines. Remove row covers when plants begin to flower. Consider planting resistant varieties next year.
Pinch top growth of herbs to encourage branching and keep them from flowering. Snip or cut off sprigs of herbs to use in cooking all season.
A fascinating nature project for families is to plant dill or fennel to attract swallowtail butterflies to lay their eggs. Watch for tiny eggs to develop into plump caterpillars that will feed on the herb foliage before pupating into butterflies.
Plant pumpkins at the first of the month. Large varieties require a 100-day growing season. If you gently carve names in developing pumpkins, the letters will enlarge as pumpkins grow.
Stake or cage tomatoes and peppers as they continue to grow.
Mulch your vegetable garden with straw to retain moisture.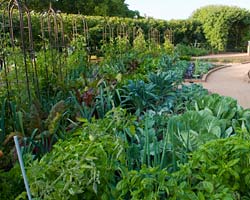 Continue to harvest herbs to use fresh, and dry or freeze them in small batches in an ice cube tray. Pinch off developing flowers to retain essential oils and flavor in the plants' foliage.
Monitor tomatoes during hot weather. Tomatoes appreciate an even supply of moisture rather than a heavy soaking and then a drought. Straw mulch is helpful in these beds.
Many hot-weather-loving veggies, such as peppers, tomatoes, eggplants, and cucumbers, might be delayed in fruit production due to a cool, wet spring. Side-dress these vegetables with a nitrogen fertilizer, taking care not to spread it on the plants' foliage. Water in well.
Monitor vegetables for symptoms of fungus or blight: soft, darkened areas; yellow and dropping leaves; or sunken dark spots on otherwise green foliage.
Harvest onions and garlic as they are ready, and begin the drying process.
Seeds for fall crops may be sown toward the end of the month. These include beans, broccoli, spinach, cool-season lettuce crops, and cabbages.
Monitor all plants for insects. The return of sunny, hot weather will bring a bumper crop of insects. Hand-remove large insects such as tomato hornworms and other caterpillars.
Caterpillars on fennel, dill, and carrots might likely be those of swallowtail butterflies, which lay their eggs on these favorite host plants. Consider planting a special herb crop just for them next year.
Monitor apples during late July when apple maggots are laying their eggs. Visit Plant Information for current control methods. Some gardeners place red decoy apples in trees to trap these pests. When the insect count reaches a high level, control steps are then taken.
Espaliered fruit trees should be pruned for the second time once their spring flush of growth is over. The first pruning is done in late winter when plants are dormant.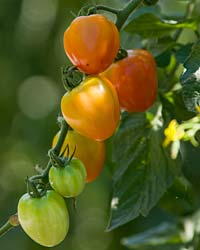 During the first week of August, plant short-season snap beans, broccoli, cabbages, cauliflower, carrots, mustard greens, spinach, and radishes for fall harvesting.
Cool-season lettuces, mesclun mixes, and unusual greens that were planted in early spring can be planted again this month. If weather is unusually hot, plant these greens in partial shade.
The best quality and best tasting salad greens come from plants that were watered frequently and lightly rather than infrequently but deeply. This advice is the exact opposite to what is recommended for watering trees, shrubs, perennials, grass, and other plants.
When harvesting lettuces, cut every other plant to the ground. This practice allows each lettuce head to develop fully.
In hot weather, lettuces and cabbages can bolt quickly and form seed stalks. These stalks render the leaves bitter. Remove any stalks as soon as they begin to grow.
When buds form on Brussels sprouts, remove the lower leaves. Taller plants with more sprouts will result. Sidedress plants with balanced fertilizer when sprouts are marble-sized.
Keep vegetables picked so the plants will keep producing.
Avoid letting squashes, zucchini, etc., become giant-sized. They may win county fair prizes, but they will have little flavor.
Monitor for blossom end rot on tomatoes. Tomatoes are very moisture-sensitive. Mulch garden beds and keep moisture evenly available for these plants. They don't grow well when exposed to cycle of rain, drought, rain, drought.
Keep records of harvest dates to help plan next year's garden.
Continue to harvest herbs by either snipping foliage, drying entire sprigs or plants, or freezing individual portions in ice-cube trays. Pinch off developing flowers to retain essential oils and flavor in the plants' foliage.
Herb plants that can be brought inside for a windowsill garden will be dug and transplanted next month.
Continue to monitor edible crops for disease or insect problems. Avoid spraying strong insecticides or fungicides on food products.
Hand removal of caterpillars is recommended.
If hot, dry weather persists, some fruit trees might abort their crop. Apple trees require deep watering for maximum fruit production.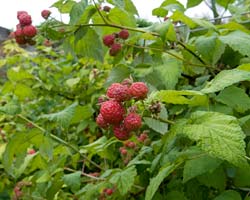 The next six weeks will provide an abundance of produce. Continue to harvest vegetables as they ripen. Warm-season crops like peppers and tomatoes must be picked as soon as possible. If an early frost threatens, cover these plants with baskets or light blankets. Refrigerating tomatoes causes them to lose their flavor. Store in a cool, 60- to 70-degree room for a few days.
Begin to harvest late-season squash and early pumpkins. Full-sized pumpkins need to remain on the vine as long as possible to achieve their maximum size.
Allow collards, kale, and Brussels sprouts to be hit with frost before harvesting. This improves their flavor.
Begin to harvest a second crop of any cool-season lettuces, spinach, peas, radishes, or chard that were planted in August.
Continue to snip herbs to use fresh, to dry, or to freeze. If herbs have gone to flower or seed, discontinue harvesting, since the flavor has then left the foliage.
Everbearing raspberry bushes will produce their fall crop on the top half of the canes. After harvest, prune out the top half of the plants. The lower half of the canes will produce fruit early next summer. After harvesting the summer crop, prune the canes to the ground.
Maintain good sanitation throughout the vegetable garden. Remove diseased plants immediately as well as those that have finished their growth cycle for the year. Compost only healthy plant material.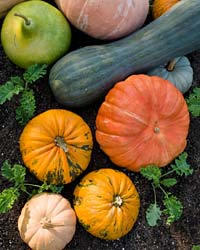 Harvest pumpkins before a killing frost.
Continue to harvest vegetables. If hard frost threatens, pick all tomatoes, including the unripe ones, and store in cardboard boxes or paper bags in basement.
Cut back any remaining herbs and bring them indoors to use fresh or dry.
Cover tender plants from light freezes at night by covering them with sheets, plastic, or upturned bushel baskets.
Apply a heavy mulch over leeks, Jerusalem artichokes, carrots, beets, and turnips to continue the harvest into early winter.
After a hard frost, remove all dead plant material from the vegetable garden and compost. Rototill 1 to 2 inches of organic material, composted manure, or shredded leaf mold into garden soil. Add granulated sulfur according to package directions.
Remove all fallen fruit from your garden and yard. Maintain proper sanitation throughout entire garden area.
Prune grapevines according to selected method. For detailed information on pruning grapevines, contact plant information at (847) 835-0972 to order Plant Information Fact Sheet #36, Pruning Grapevines.
Prune raspberry bushes and reattach canes to support system, if necessary. Some gardeners mow their raspberry patches to the ground this month to encourage one big crop during summer. Everbearing bushes should not be mowed down.
When soil temperatures are consistently in the 50s, sow seeds of cool-season vegetables directly into the garden. If seeds were started indoors, small transplants can be moved outside after a period of adjustment. Cool-season vegetables that can be direct-seeded include the root crops of beets, carrots, radishes, parsnips and turnips; the leaf crops of chard, loose-leaf lettuces, spinach, mesclun mix, mustard and collard greens, and kale. The crops that should be started indoors and moved outside as transplants are broccoli, the cabbages, and cauliflowers.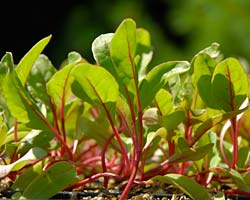 Plant small transplants of asparagus, early potatoes, lettuce, radish, mustard, onions, peas, rhubarb, spinach, turnips, cauliflower, carrots, and all other cool-season crops as weather permits. Plant midseason potatoes in mid-April.
Plant strawberries and pinch off first-year flowers to develop strong root systems.
Later in the month, begin to harden off warm-season vegetable and flower transplants in a cold frame, or bring flats of small transplants outside to sunny, protected areas — but bring them back in at night.
If necessary, spray fruit trees with dormant oil for insect control. If apple scab was a problem last year with crabapple or apple trees, be ready to start spraying with an approved fungicide as soon as the leaf buds begin to swell and open. Spray routine will last until two weeks after petal drop. Wet weather will only aggravate the problem. Call Plant Information for exact timing and recommended fungicides.Fertilize fruit trees and brambles. If growing fruit trees for their fruit yields, begin a spray program for insects and disease. Call Plant Information for exact timing and approved chemicals.