Bungalows and Arts and Crafts-inspired houses can be found in cities and suburbs across the country. Their popularity can be traced to their charming designs, which were meant to be in harmony with nature and outdoor living.
Say the word "bungalow" to Chicagoans and most will think of the squatty, solid brick Chicago bungalow. It's a no-nonsense architectural mix of Prairie School style and the Arts and Crafts movement. Although there are many kinds of bungalows and craftsman cottages, the terms are sometimes used interchangeably.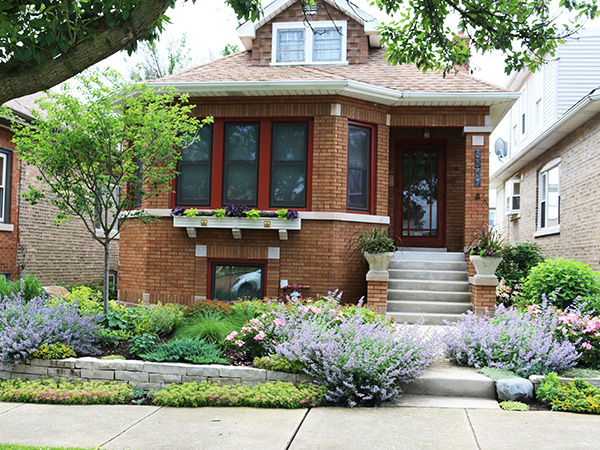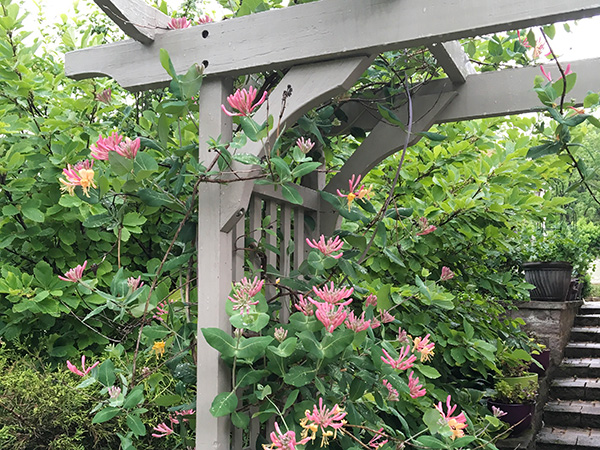 Early On
In garden books and magazines from the early 1900s through the 1930s, the bungalow garden was an intimate outdoor room—an extension of the house with seating that provided places to read, eat, and socialize. Some porches feature half-pillars intended for plant pots. Others have arbors and trellis panels sporting rambling roses, morning glories, or clematis as well as borders filled with irises, nasturtiums, petunias, peonies, and many of the flowering shrubs like panicle hydrangeas, weigela, and lilacs that are popular today. Some larger bungalow gardens featured pergolas and random stepping stones leading through the garden. And window boxes appeared on many homes.

Urban bungalows tend to sit on narrow lots and typically feature a plot of grass in the back that's edged with a ribbon of sidewalk to the garage and alley and a narrow planting bed along the fence. Some of these gardens are due for a facelift. You've probably seen the look: tired, overgrown evergreens along the front foundations, left to creep up and over the windowsills. Some of these aging shrubs get weekly summer haircuts, painstakingly trimmed into balls, cones, cubes, and things that resemble a double helix. That type of foundation planting did not exist when bungalows were built. There's so much more that can be done with these spaces, whether small or large.
Perennials and Annuals
A border of four o'clocks, zinnias, snapdragons, and other old-fashioned annuals, a small vegetable garden alongside the garage, and a clothesline—all were commonplace in backyards. Bungalow gardens today can embrace ornamental plants reminiscent of an Arts and Crafts-era planting—tall hardy phlox, peonies, bearded and dwarf iris, lilies, asters, butterfly bush, shrub roses, rugosa roses, anemones, lady's mantle, daylilies, salvia, and dahlias.

Take advantage of window boxes and containers and fill them with annuals. Some Chicago bungalows have limestone brackets for window boxes. Look at the home's color and material—whether it's brick, stucco, or wood, and let that dictate the color and material of the planters and window boxes.

Before 1930, it was unusual to see evergreen foundation plantings in front of homes. Bungalows may have had a bridal wreath-spirea or rose bush at the corners of the house. In the narrow "gangway" that ran between houses, ostrich ferns or hostas sometimes filled the narrow bed next to the sidewalk.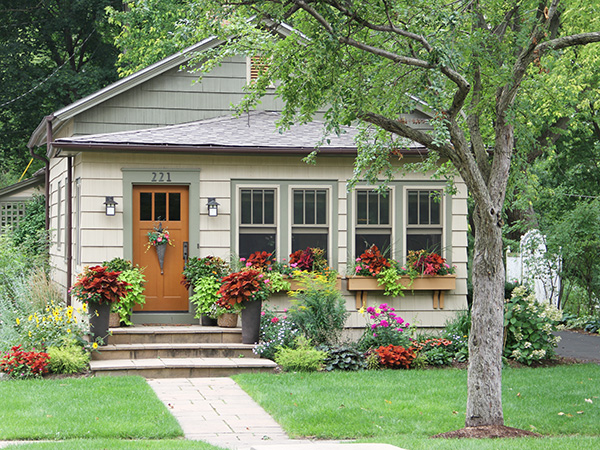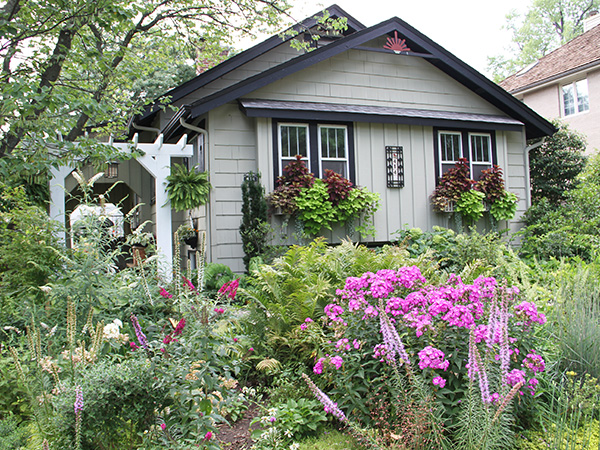 Hardscape
Although bungalows did not have decks when they were first built, many had porches or seating areas paved with flagstone. These features were sometimes set away from the house rather than adjoining it. There were arbors and benches made for cozy spots in the garden, and a swing, sandbox, or playhouse for children. Rustic pole structures, chairs, and benches were sometimes made of local Eastern red cedar.

Bungalow gardens were more casual and informal rather than high style. Other common elements included canvas awnings and sling-back chairs, planter boxes, wind chimes, weathered concrete birdbaths, sundials, shallow concrete ponds, birdhouses, pebble-mosaic pots, and pretty shells and rocks collected at the beach or on family trips. All are suitable touches for today's bungalow garden.

You'll find more inspiration at the Lenhardt Library, which boasts an extensive collection of gardening books, including those published in the early 20th century. Many of the library's books are available for online checkout by Garden members.
A Little History
Some bungalows were sold through the catalogs of Sears, Wards, Aladdin, and others as prefabricated kits from about 1908 to 1940. The kits included everything needed to build the house: instructions, lumber, nails, flooring, roofing, bathroom fixtures, and plumbing. Some prefabricated walls of Sears bungalows came from the factory with wooden window boxes and brackets already attached!

Bungalows designed in the Craftsman style may have wood clapboard siding and exposed roof rafters. Others designed in the Prairie style may have wide eaves and stucco cladding. They are typically a story-and-a-half tall with a gently pitched gable or hip roof, a dormer, and partial or full front porches. All of them are common in cities, towns, and rural areas throughout the Midwest.


There's a jingle in the jungle,
'Neath the juniper and pine
They are mangling the tangle
Of the underbrush and vine,
And my blood is all a-tingle
At the sound of blow on blow,
As I count each single shingle
On my bosky bungalow.

"Bungal-ode" by Burgess Johnson, Good Housekeeping magazine, February 1909
---
Nina Koziol is a garden writer and horticulturist who lives and gardens in Palos Park, Illinois.