It's rare that a plant's cultivar name makes it into everyday conversation—'Peace' comes to mind for roses, or 'Stella d'Oro' for daylilies. But say "'Annabelle'," and everyone knows you're talking about hydrangeas.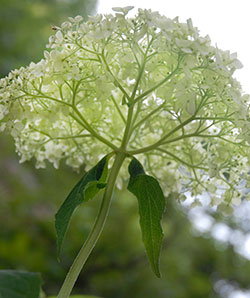 A smooth or wild hydrangea, (Hydrangea arborescens), 'Annabelle' blooms on the current season's growth, just as panicle hydrangeas (H. paniculata) do.
A hydrangea with a great backstory (more about that in a minute), 'Annabelle' has become a synonym for the genus itself, the iconic hydrangea, the shrub you can find in every neighborhood and that people still ask for by name—even decades after it first became popular.
In this month's Smart Gardener, we look at the recent explosion of new hydrangea cultivars, and ask Andrew Bunting, who recently joined us on staff as assistant director and director of plant collections, the question that smart gardeners want to know:
What's next after 'Annabelle'?
Bunting has a lot to say on the subject; he recently wrote two hydrangea cover stories for The American Gardener magazine, one in May/June 2015, the other a year earlier in May/June 2014.
"'Annabelle' has been planted—maybe even overplanted—with good reason," Bunting says. "It's winter hardy to USDA Zone 3, it's good for cut flowers, it's relatively cheap, and every nursery carries it. To top it off, it's a native cultivar—or 'nativar'—from Illinois.
"Now there are a massive number of new cultivars, new hybrids, and new series in all categories of hydrangeas," Bunting adds, "and many would work as an 'Annabelle' update."
The smooth hydrangeas: H. arborescens
Topping his list are two close cousins of 'Annabelle', Incrediball® and Invincibelle® Spirit. The former has been bred for stronger stems—the better to hold up its even-larger-than-'Annabelle' flower heads. Compare them easily at the Garden: 'Annabelle' surrounds the north steps of the Regenstein Center, while Incrediball® can be seen in the front bed of the English Walled Garden, at the pepper pot.
Invincibelle® Spirit represents a major breeding breakthrough: starting with a Hydrangea arborescens that showed a touch of pink, it was carefully bred over and over until fully pink. Now it's called "the pink 'Annabelle'", and its lovely color can currently be seen at the Regenstein Fruit & Vegetable Garden, under the grape arbor.
Bunting says to watch for more to come in the Invincibelle® Spirit series—including hydrangeas with a deeper maroon color.
The panicle hydrangeas: H. paniculata
Two hydrangeas in this category are already popular: 'Limelight', with its pointed, lime-white-pink flowers and 'Grandiflora', the old-fashioned classic fondly known as PeeGee (short for paniculata grandiflora). Because size and pruning can be issues ('Limelight' can top out at 8 feet tall), the news in the panicle category is dwarf stature.
Think of Little Lime™ as a mini 'Limelight'. Topping out at a manageable 3 to 5 feet, it blooms on new wood, as panicles do, and is hardy to USDA Zone 3. Lime in summer, pink in fall, it's a lovely garden shrub. See a nice patch of them just over the Trellis Bridge in the Bernice E. Lavin Plant Evaluation Garden.
"'Dharuma' is a favorite of mine," Bunting says of this dwarf panicle. It's one of the earliest bloomers, with airy white-to-pink flowers covering it in July. After five years, it will reach just 4 feet in width and 3 in height. Get a good look at it just outside the Regenstein Center, in the sitting area across from the Circle Garden.
The oakleaf hydrangeas: H. quercifolia
The best of the best in this popular group is Snow Queen™. Regal in size at 6 feet tall, with the handsome oak-shaped leaves that distinguish this category, it blooms profusely—white flowers that fade to pink—all the while attracting butterflies. They have great fall foliage color, too—one reason we planted them along the parking lot at the Daniel F. and Ada L. Rice Plant Conservation Science Center.
As with panicles, the oakleaf hydrangeas are growing smaller in size. Just outside of the Graham Bulb Garden, you can see two of the smaller hybrids: 'Pee Wee' is known for its 3-by-3 size and interesting winter seedheads, while 'Alice' stands a bit taller, and catches all eyes with its arching flowers and fantastic leaf color, especially in fall.
To watch for at nurseries: 'Ruby Slippers', a dwarf hybrid of Snow Queen™ and 'Pee Wee', which has white flowers that mature to a stunning ruby red.
The mountain hydrangeas: H. serrata
A bit more tender for our area, these are the lovely and delicate lacecap hydrangeas. Just before crossing the Fruit and Vegetable Garden bridge, look to your left: 'Tiara' and 'Beni gaku' are both planted in the shade there. Smaller in size (about 4 feet), they are smaller in leaf and flower size, too—making them perfect for shady garden beds and borders. 'Tiara' has mauve-to-blue flowers and new foliage with a purple-red blush; 'Beni gaku' has showy white lacecaps that take on reddish-pink edges as they age.
Out in the west collection, along the outer road, several H. serrata cultivars are planted under the trees. Two of them are particularly beautiful.
Tiny Tuff Stuff™ is a knockout, though only 2 feet tall, with brilliant pink flowers here (they'd turn blue in more acidic soils). Nearby is 'Miyama-Yae-Murasaki', another Bunting favorite, a double-flowered lacecap with a lovely floating effect.
The bigleaf hydrangeas: H. macrophylla
Bunting credits these mopheads with the resurgence of hydrangeas. "Bigleaf hydrangeas were quite popular during the 1930s and 1940s but subsequently came to be viewed as 'old-fashioned,' he writes in The American Gardener. "The resurgence in their popularity over the last decade or so is probably attributable to two converging events. About 15 years ago, the plant was featured in Martha Stewart Living magazine. Literally overnight, there was an explosion of new interest in hydrangeas. And in 2004, Bailey Nurseries, based in St. Paul, Minnesota, introduced a selection called Endless Summer® ('Bailmer')."
Bunting calls the Endless Summer® series of bigleaf hydrangeas tailor-made for Chicago gardens. Nicely proportioned for city gardens at 3 to 5 feet, they are all remontant, or re-blooming—thus their name. All bloom on both old or new wood—a boon in harsh winters or for overzealous pruners. Here are several cultivars to investigate: Bloomstruck™, Blushing Bride, and Twist-n-Shout.
At the Lavin Evaluation Garden
The five-star site to see hydrangeas is in the Lavin Evaluation Garden beds. There, plant evaluation manager Richard Hawke is comparing many of the newest and best cultivars—and they're all in bloom this summer. It's a remarkable chance to see pinks and whites and blues, big shrubs and small hybrids, all side by side. Here's just a short list of what you'll see:
Honeycomb™ (H. paniculata 'Revival')
Tickled Pink® (H. paniculata 'Hypmad II')

White Diamonds® (H. paniculata 'Hypmad I')
Passionate™  (H. paniculata var. tardiva 'Paszam')
Mega Mindy™ (H. paniculata 'ILVOMINDY')
Phantom (H. paniculata 'Phantom′)
'Silver Dollar' (H. paniculata 'Silver Dollar')
Pillow Talk® (H. paniculata 'Pillow Talk'®)
'Mega Pearl' (H. paniculata 'Mega Pearl')
Hawke also wrote about his first hydrangea trail in Fine Gardening magazine in October 2011. (Click here to download the article.)
---
Karen Zaworski is a garden writer and photographer who lives and gardens in Oak Park, Illinois.