Plant Information
Have a question? Contact Plant Information Service.
Use the search box below to search plant information. Or choose a month from the drop down menu to view monthly garden checklists.
Select any filter and click on Apply to see results
Smart Gardener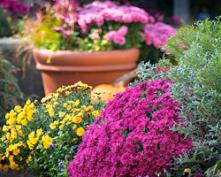 Right about now, some gardeners are thinking about putting their gardens to bed and stowing the trowels and pruners. Before you do that, think about popping a few fresh plants into your containers to take your garden's display into fall. Garden centers are awash with pumpkins, mums, pansies, decorative stems, and kale in celebration of autumn. Take a stroll through one of our 27 beautiful display gardens for inspiration and ideas. Here are some things to do now before your garden winds down.