Plant Information
Have a question? Contact Plant Information Service.
Use the search box below to search plant information. Or choose a month from the drop down menu to view monthly garden checklists.
Select any filter and click on Apply to see results
Smart Gardener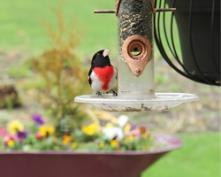 The American naturalist John Burroughs traveled widely to observe birds. He celebrated their beauty, behavior, and songs in many of his essays and books. There's no need to travel far this month to see an assortment of tiny songsters, as we're right in the middle of the great spring migration. Millions of birds will pass through the Chicago area this month. Given good weather, tens of thousands of these spring migrants may fly over in one night alone. You might not see them right away, but at dawn and dusk, they put on a great performance with myriad melodies and courtship calls.