Plant Information
Have a question? Contact Plant Information Service.
Use the search box below to search plant information. Or choose a month from the drop down menu to view monthly garden checklists.
Select any filter and click on Apply to see results
Smart Gardener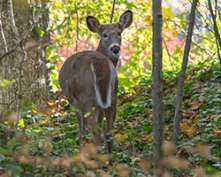 Along with all the joys that come with spring—daffodils, magnolia blossoms, blue skies, and warm sunshine—are the four-legged critters that irk gardeners. Take your pick: squirrels, chipmunks, rabbits, woodchucks, meadow voles, and deer. You may not have all of them in your garden, but even one or two in search of a meal may eye your plants throughout the year.