Plant Information
Have a question? Contact Plant Information Service.
Use the search box below to search plant information. Or choose a month from the drop down menu to view monthly garden checklists.
Select any filter and click on Apply to see results
Smart Gardener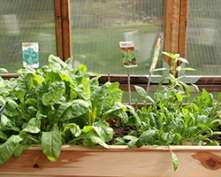 Sow seeds in March and April for a fast, flavorful harvest.
It will be a few months before we can safely plant tomatoes, peppers, beans, and squash—those heat-loving plants that turn to mush when hit by a spring frost. But you can start a crop of cool-season greens such as spinach, lettuce, collards, mustard greens, Swiss chard, and kale as soon as the soil thaws. Lettuce and Swiss chard seeds, for example, start to germinate when the top inch of soil reaches about 40 degrees Fahrenheit. (This is when an inexpensive soil thermometer comes in handy.