November 1, 2021 – January 2, 2022
8 a.m. – 3 p.m. (last entry 2 p.m.)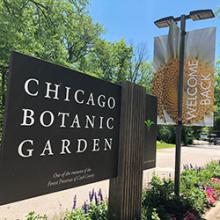 Nonmembers must preregister:
$25 per car
$10 per car for senior citizens on Tuesdays (age 62+)
Discount for Cook County residents
Nonmembers must preregister for a specific date and time. There is no entry without a reservation.
You only need to register for your car, not the number of people who will be visiting.  Your visit must start within the time frame on your ticket, and you may stay as long as you would like but you must leave by closing time. Seniors receive a discount on Tuesdays.

Garden members no longer need to preregister; they can visit any time.
We are limiting the number of cars, and people, to create a better visitor experience for all.
Note: If you see a time slot that is grey on the drop down menu, that time has been sold out.
For more information, see our FAQs. No exchanges; no refunds. Tickets are valid rain or shine.