Saturday and Sunday, March 11 – 12, 2017
10 a.m. to 4 p.m.
Come join the Illinois Orchid Society at its spring show and sale, in which individual orchids in 128 classes will vie for ribbons. Entries will receive "best of class" green ribbons, and the best-appointed plant in the show will receive the Chicago Horticultural Society Award from the American Orchid Society judges. Displays of orchids will be artistically arranged, and repotting services will be available. Vendors will also be on-site to sell orchid plants and related products.

Click here for more information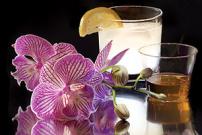 Thursday, March 16, 2017
6 – 8 p.m.
Advance: member/nonmember: $25/$30
Day-of: member/nonmember: $28/$33
Must be 21 or older to attend event; valid ID card must be shown.
Standard parking fees apply.
Ticket price includes tasting glass, wristband to participate in tastings, tasting guide, and access to the Orchid Show.
Try some of these innovative cocktails being served this evening:
Oppidan Spirits Whiskey Smash
Malted rye whiskey, ginger syrup, lemon wedge, and mint