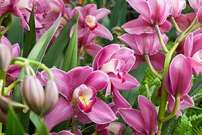 Friday, February 19, 2016
6:30 – 8:30 p.m.
$125 per person

Valet parking
Cocktail Attire
Delight in 10,000 brilliantly beautiful orchids, hors d'oeuvres, and specialty cocktails created by the house mixologist from Sepia—the Michelin-starred restaurant. Leave winter far behind as you enter a warm floral oasis at the Orchid Show.

Co-chaired by Kate Fitzgerald, Jen Kasten, Jennifer Keenan, and Steffie Madigan.