Prehistoric Plants Uncovered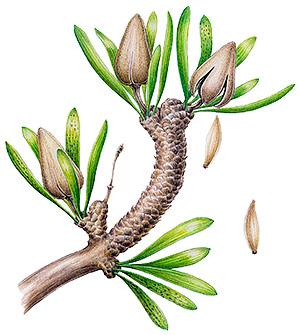 Illustration of Umaltolepis mongoliensis by Pollyanna von Knorring
Open during Garden hours through 2018
Daniel F. and Ada L. Rice Plant Conservation Science Center, Grainger Gallery
Admission is free; regular parking fees apply
Take a short walk over to the Plant Science Center to enter a prehistoric world highlighting research by Chicago Botanic Garden scientists.
Mongolia is well known for spectacular dinosaur fossils, including velociraptors and the first dinosaur egg fossils. But we know almost nothing about what plants lived alongside Mongolia's dinosaurs. Garden scientists Patrick Herendeen and Fabiany Herrera, together with colleagues, are studying plant fossils to learn more about Mongolia's plants and how they've evolved.
Interpretive panels, a video, modern day specimens related to prehistoric species, and remarkable fossilized plants collected in Mongolia welcome visitors into this intriguing world. Learn how our scientists uncovered these specimens and what they may tell us about environments of the past and plant evolution.
One of the plants, Umaltolepis mongoliensis, is a newly discovered extinct species of plant from the Early Cretaceous period (ca. 100 –125 million years ago). This plant appears to be distantly related to living Ginkgo biloba. The fossils were collected from ancient peat deposits at the Tevshiin Govi lignite mine in the steppes of central Mongolia.