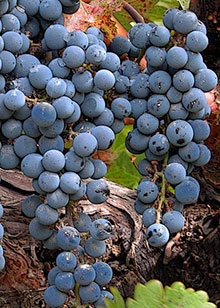 In 2014, according to the U.S. Department of Agriculture, the California grape crush equaled 4,142,934 tons or 8,285,868,000 pounds. Of that total, 8.6 percent (or 356,292 tons or 712,584,648 pounds) was zinfandel (a.k.a. zin), the classic California grape (chardonnay was the leading California grape last year, followed by cabernet sauvignon, with zin third). With an average price of $623.70 per ton of zinfandel, the 2014 California crop was—amazingly—worth $222,219,320.
How did zinfandel find its way to California? It seems the answers reside in the gardens of two leading American horticulturalists thousands of miles to the east, Charles M. Hovey (1810–87) of Cambridge, Massachusetts, and William Robert Prince (1795–1860) of Flushing, New York, in the nineteenth century.
Charles Hovey started his gardening business in 1832 at the age of 22 with his older brother Phineas on an acre of land in Cambridgeport—at that time a rural area along the Charles River west of Boston. According to B. June Hutchinson's biographical essay on Hovey, Charles was quite a successful hybridist, and his experiments led to a rapid expansion of his business and reputation. By 1833, Hovey was a member of the four-year-old Massachusetts Horticultural Society (MHS). Charles and Phineas saw real opportunities with the Society's botanical-inspired members, a kind of catalytic synergy. In 1834, the Hoveys opened a seed business in Boston at 81 Cornhill Street, which is now the site of City Hall Plaza. Not surprisingly, the second floor of 81 Cornhill was the first headquarters for the MHS.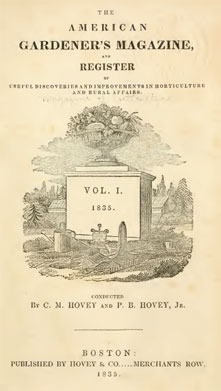 Figure 1: The American Gardener's Magazine, and Register of Useful Discoveries and Improvements in Horticulture and Rural Affairs
With all of the horticultural talent filling 81 Cornhill, Charles Hovey decided to imitate a British horticultural journal, J.C. Loudon's (1783–1843) The gardener's magazine and register of rural & domestic improvement, to spread botanical news across New England and the rest of young America. In 1835, Charles Hovey released the first issue of the very first American horticultural magazine, entitled even more verbosely than its British counterpart in order to truly cover all bases botanic: The American Gardener's Magazine, and Register of Useful Discoveries and Improvements in Horticulture and Rural Affairs (Figure 1). In a few years, Hovey's journal changed its title to simply The Magazine of Horticulture. Recruiting contributors from the MHS, this publication became the leading impetus for gardening in the United States. As a byproduct, The Magazine greatly increased a demand for plants and seeds from Charles and Phineas Hovey's ventures. By 1840, they needed to add 40 acres to their Cambridgeport operation; by 1848, four of the largest greenhouses in the country were filled with plants, as well as staff to maintain them.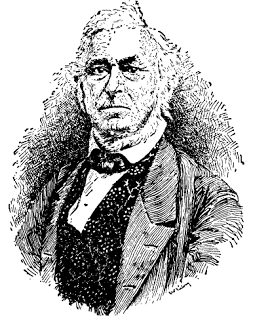 Figure 2: William Robert Prince
Hovey's operation, and his professional interest in hybridization, led him to seek out new stock wherever he could find it. His operation was focused on fruit, but included ornamentals and other plants. As a shrewd businessman, he certainly kept an eye on the competition, which would have included most prominently William Robert Prince (1795–1860, Figure 2) and his nurseries in Flushing, New York. Founded in 1725, Prince's nurseries were known to both royalty and presidents. Prince's connections brought plant material from the best gardens of Europe, testing plants for their suitability for American gardens and farms.
According to several historians, George Gibbs of Ravenswood along the East River in Queens on Long Island imported grape stock in 1829 from Europe, including something he called Zierfandler or black zinfardel from Vienna's Schönbrunn Palace. According to Charles Sullivan's masterful work Zinfandel: A History of a Grape and Its Wine (University of California Press, 2003), labels were probably mixed up, since Zierfandler is definitely not zinfandel. Gibbs knew Prince in Flushing, hence leading Prince to mention this new grape in his Treatise on the grape (1830, Figure 3, title page; Figure 4, mention of  "Black Zinfardel" on p. 343 of Treatise). Prince certainly recommended distributing the new grape stock among the usual suspects, especially grape enthusiasts such as members of the MHS. Jancis Robinson, in her Oxford Companion to Wine, notes that by 1834 "zinfindal", as it was called at that point, was on exhibit at the Massachusetts Horticultural Society in Boston. Hence it was in the hands of Prince, Hovey, Gibbs, and others, ready to experiment with this grape that was new to America. As horticultural businessmen, they were also ready to distribute the grape far and wide. Keep in mind that in New England and New York, zinfandel was being cultivated for producing table grapes, not wine.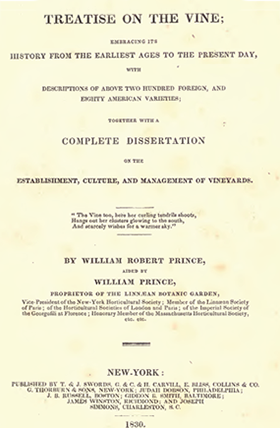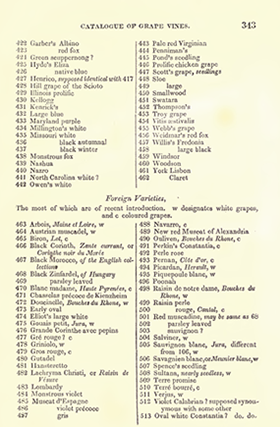 Figure 3: title page; Figure 4: mention of  "Black Zinfardel" on p. 343 of Treatise
The first grapes for wine production appeared in California at Mission San Juan Capistrano in 1779, yielding sacramental wine by 1783. Into the nineteenth century, California wines were largely confined in the south; there were no Napa Valley wines as we know them today. However, there was a considerable trade connection between the northern part of California, especially San Francisco, and Boston. Whaling ships often stopped in San Francisco to deliver goods from Boston, and to restock supplies before heading into the Pacific and Arctic oceans for whales. This connection was amplified by the California Gold Rush, starting in 1848, when hundreds of thousands of individuals traveled west, largely by sea, to try their luck as forty-niners.
Frederick William Macondray (1803–62, Figure 5) was a sea captain and entrepreneur. When not at sea, he was an enthusiastic gardener at his home in Dorchester, Massachusetts, and a member of the MHS. No doubt zinfandel found its way from the exhibit halls of the Society and the nurseries of Hovey and Prince to his garden. When the Gold Rush started, Macondray saw business opportunities in San Franscisco. Late in 1849, Macondray & Co. was operating as an export-import operation, bringing goods from Boston. Business expanded, and Macondray brought his entire family from Dorchester in 1852. The family settled in San Franscisco on Stockton Street, in a large home with a garden. Macondray had a second home in San Mateo with 260 acres for his nursery, which included grapes, like zinfandel, imported from Massachusetts.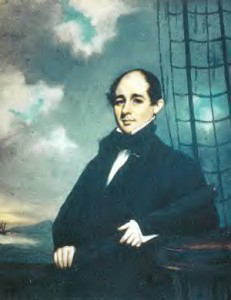 Figure 5: Frederick William Macondray
Macondray represented one source for zin in California. Another avenue was Prince himself, who left Flushing, New York, after some questionable business ventures with mulberry trees (Morus alba) and silkworms failed. Prince's nurseries fell into the hands of his brother-in-law for financial reasons, and Prince decided to take his chances in California with the Gold Rush. He settled in California as one of the founders of Sacramento, setting up a dry goods store for miners. As a recognized authority on grapes, he probably distributed stock locally. Hence Prince provided another route for zinfandel to reach California.
Joseph W. Osborne, another Massachusetts transplant and mariner, obtained zinfandel from Macondray and planted it at his Oak Knoll winery in Napa Valley. The first zinfandel produced in northern California appeared in 1857. By the 1880s, zinfandel had become one of the most important grapes for wineries in California.
Zinfandel's mysterious origins finally were solved in the past few decades thanks to DNA testing. Geneticist Carol Meredith and her colleagues at the University of California, Davis, tracked down a Croatian grape called Crljenak kasteljanski, genetically identical to zinfandel. With this discovery, there has been some experimentation in California, leading to the planting this year of some Croatian vines in the Lytton Springs vineyard of Ridge Vineyards.
Zinfandel, that most famous Californian grape, had a convoluted journey from the Dalmatian coast of Croatia to Vienna to New York to Boston to California. Its story is told in some of the earliest reports published in young America on grapes, as well as in accounts of forty-niners and finally DNA analyses.
Edward J. Valauskas, Curator of Rare Books
August 2015