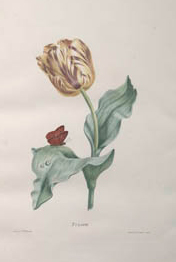 There is a special rarity in the Rare Book Collection of the Lenhardt Library, a work so unusual that you might have to travel to the Bibliothèque nationale in Paris to see another copy, because of its unique illustrations.
Its 48 plates are so beautiful that many copies were guillotined by print dealers to sell, one by one, this book's heart. Entitled Études de fleurs et de fruits: Peints d'après nature, this incredibly scarce work was created around 1820, the graphic effort of a Madame Vincent, who tellingly noted that her magnum opus is "dédié aux jeunes demoiselles."
Madame Henriette Vincent (1786–1834) was one of the most outstanding students of one of the most famous French artists of the nineteenth century, Pierre-Joseph Redouté (1759–1840). She excelled at creating paintings like Redouté, with fine detail and naturalistic touches. The coloring of her stipple engravings is superlative, rivaling her teacher. Madame Vincent represents the apex of women as artists in the first half of the nineteenth century. Her ability was her own, but her opportunities were created by other women, working in the eighteenth century, to make art by women more acceptable.
Drawing flowers was seemingly always an activity acceptable to girls and young ladies. To move from art as a hobby to a profession was difficult, although there was precedent in Europe. In medieval western Europe, women were often found as illuminators and colorists of manuscripts. Indeed, there is evidence from guild records that in some cases women represented up to a quarter of all members in those guilds specializing in manuscript work.
Still life painting provided ample opportunities for women to demonstrate their skills, especially in seventeenth century Netherlands. There were unique individuals, such as Maria Sibylla Merian (1647–1717), who demonstrated her special observational skills and artistic talent, culminating in her Metamorphosis Insectorum Surinamensium, published in 1705. Merian's abilities were recognized by many, not the least Peter the Great (1672–1725), who acquired some of her painting in Amsterdam after her death.
Henriette Vincent's opportunities were created by well-connected former students of Redouté, Marie Antoinette (1755–93) and Empress Joséphine de Beauharnais (1763–1814), Napoléon Bonaparte's first wife. These powerful women, with their personal interests in botany, horticulture, and art, made it fashionable and proper for girls and women to pursue scientific curiosity in natural history as well as artistic ventures. But to make it possible for Madame Vincent to repeatedly exhibit in the Paris Salon in 1814, 1819, 1822, and 1824 was largely due to the efforts in the late eighteeenth century of Adélaïde Labille-Guiard (1749–1804), a talented French painter, member of the Académie de Saint-Luc at the age of 20, as well one of the few women elected a member of the Académie Royale de Peinture et de Sculpture.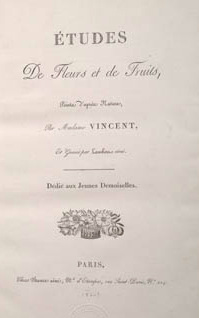 Title page of Études de fleurs et de fruits.
Labille-Guiard's training is unknown, since male masters were not encouraged to take on female students. Her considerable skills certainly received some special guidance, with her pastels and oil paintings earning considerable praise. Like Redouté, Labille-Guiard avoided condemnation by the Revolution, campaigning for the rights of women and wisely painting portraits of members of the Assemblée nationale, such as Maximilien de Robespierre (1758–94). Labille-Guiard's political acumen and artistic talent were a powerful combination, and set the stage for women to have a more recognized role in the French artistic world. Prominent individuals such as Redouté could have glamorous students such Empress Joséphine but also talented individuals such as Henriette Vincent. Redouté, like Labille-Guiard, was politically savvy in his own way, surviving the Revolution, playing a prominent part as an artist and instructor among the wealthy and powerful. At the age of 23, he had left his home in Belgium to join his older brother in Paris. Within a few short years, his talent was recognized by botanist Charles Louis L'Héritier de Brutelle (1746–1800). Thanks to L'Héritier, Redouté found his way to Versailles and make her an impression on Marie Antoinette, leading to an official appointment in the Court. His connections and talent later brought him to Empress Joséphine, acting as her artistic advisor. Joséphine gave Redouté many opportunities, especially to educate talented women as painters and illustrators.
Examining the plates in Études de fleurs et de fruits, we might see on the surface stunning representations of flowers, fruit, and insects. With a magnifying lens, we can examine details in stipple engravings and a delicacy of colors and shading. To me, however, I see these images as a window to another time, to a world dedicated to describing the natural world with new eyes and tools. Études de fleurs et de fruits takes us to a lost and distant world of Adélaïde Labille-Guiard and Henriette Vincent, women with vision for all time.
Edward J. Valauskas, Curator of Rare Books
January 2013