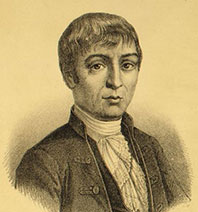 Botanical stories appear in the most unexpected places—even novels!
I've been long a fan of Arturo Pérez-Reverte's historical novels because of their bibliographic tendencies (such as The Club Dumas) and strong women (for example, The Queen of the South). One of the books that I am currently reading is Arturo Pérez-Reverte's recent historical novel The Siege. I've been happily surprised by occasional references in it to eighteenth- and nineteenth-century botany.
The Siege takes place during the Napoleonic blockade of Cádiz (below), between 1810 and 1812. It affects everyone in the city, especially Lolita Palma, the chief of a significant export-import firm called Palma e Hijos. Lolita is initially described by Pérez-Reverte in this fashion:
"It is common knowledge that, thanks to her father, Lolita … was taught arithmetic, international exchange, weights and measures, foreign currencies and double-entry bookkeeping. She reads and writes English fluently and has excellent command of French. People say she knows a lot about botany—plants, flowers and suchlike. Such a pity she is still a spinster … ."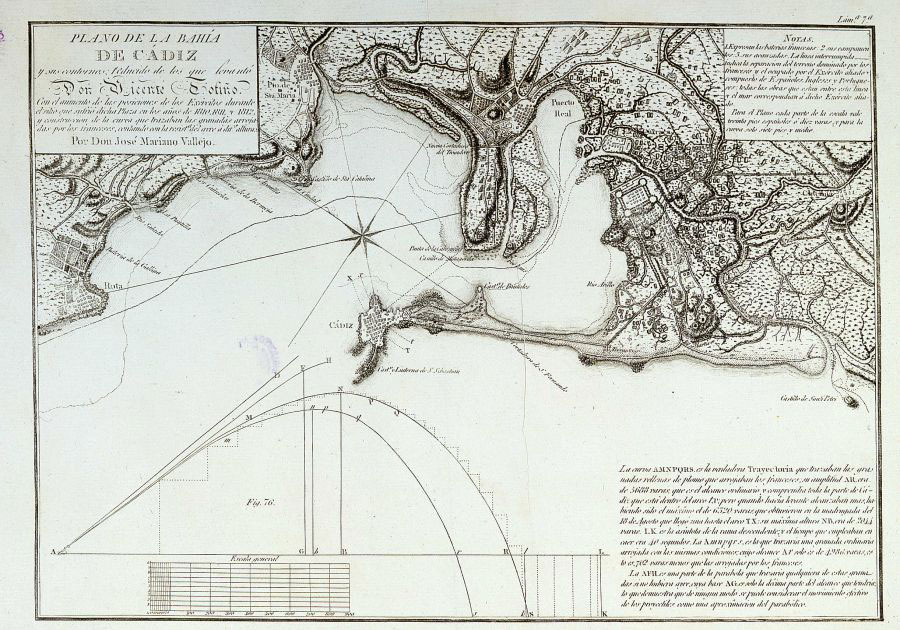 Map of Cádiz in 1813
Pérez-Reverte repeatedly describes Lolita in terms of her successful business, threatened by the French barricade, as well as by her dedication to plants and books (if she is not in her office tending to the vagaries of business, she is in a bookstore). For example, while many residents of Cádiz take a siesta on warm afternoons, Lolita works in her botanical study near her office:
"The study containing her botanical collection, next to her office on the first floor, is small but sufficient to the needs of an amateur collector: cozy, well-lit by a window overlooking the Calle del Baluarte and a second that opens onto the interior courtyard. In the study are four large chests with drawers carefully labeled according to their contents, a worktable with a microscope, magnifying glasses and various other tools, and a library of reference books including Linnaeus, copies of Cavanilles' Description of Plants, Rabel's Theatrum Florae, Icones Plantarum Rariorum by Nikolaus Joseph von Jacquin and a large, color folio of Merian's The Plants of Europe. Growing in pots on the glassed balcony are nine different species of fern shipped back from the Americas, the Southern Isles and the East Indies."
Her botanical interests were stimulated in her youth, when she would spend her summers in the family summer home in nearby Chiclana. As Pérez-Reverte noted, Lolita would take "quiet walks through the countryside, collecting and identifying plants with old Professor Cabrera, who taught her botany." Pérez-Reverte perhaps was referring to Antonio Cabrera y Corro (1763–1827), a priest and botanist born in Chiclana.
Lolita's botanical pursuits also were encouraged by the expedition of Hipólito Ruiz (1754–1816, see illustration above) and José Antonio Pavón (1754–1840) to the New World. Directed and financed (at a cost of three million pesetas) by enlightened monarch Carlos III (1716–88) and scientifically inspired by Linnaeus (1707-78), Ruiz and Pavón spent a decade in Peru and Chile (1778–88), collecting thousands of specimens. Lolita would have been have been fascinated by this New World adventure—given that the party departed from Cádiz, its crates of plants and drawings appeared routinely on the wharves in Cádiz, and Ruiz, Pavón, et al. eventually returned from their strenuous efforts to Cádiz. Her interest in Ruiz and Pavón were revealed in The Siege in her conversation with privateer Pepe Lobo. Lobo reveals to Palma that he was first mate on the Dragón in 1788, one of two ships that brought Ruiz and Pavón back to Cádiz. Lolita exclaims to Pepe, "I can't believe it … twenty-three years ago, you brought Don Hipolito Ruiz to Spain from El Callao!"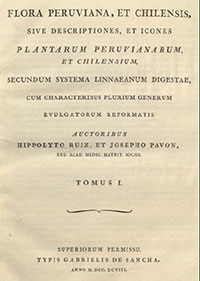 For the rest of their lives, Ruiz, Pavón, and their colleagues processed their enormous collections in Madrid at the Real Jardín Botánico. In their lifetimes, the magisterial Flora Peruviana, et Chilensis (at right) was published. The Lenhardt Library at the Chicago Botanic Garden has this stunning set of text and illustrations in its collection, providing insight into the magnitude of Ruiz and Pavón's efforts. However, with the death of Carlos III and the war with Napoleon, financial support for science diminished sharply in Spain, meaning that the collections were never completely described in the nineteenth century.
In the 1920s, the Field Museum started an enthusiastic examination of the flora of Peru under J. Francis Macbride (1892–1976). This project was the first systematic approach to Peru's plants since Ruiz and Pavón's royal expedition. Thousands of plants have been collected, resulting in more than 8,500 pages of taxonomic descriptions. The Field Museum's efforts in the field were balanced by studies in the collections of European museums and gardens for specimens originally collected centuries ago as well as manuscripts, notes, and journals. These efforts led to the publication in 1940 of an English translation of the diaries of Ruiz, Relation del Viaje. These records (below) assuredly flesh out the taxonomic accounts found in Flora Peruviana, et Chilensis. Written originally in 1793, they were unpublished for a century and a half. How much Lolita Palma would have enjoyed reading the honest accounts of Ruiz in the Peruvian hinterland!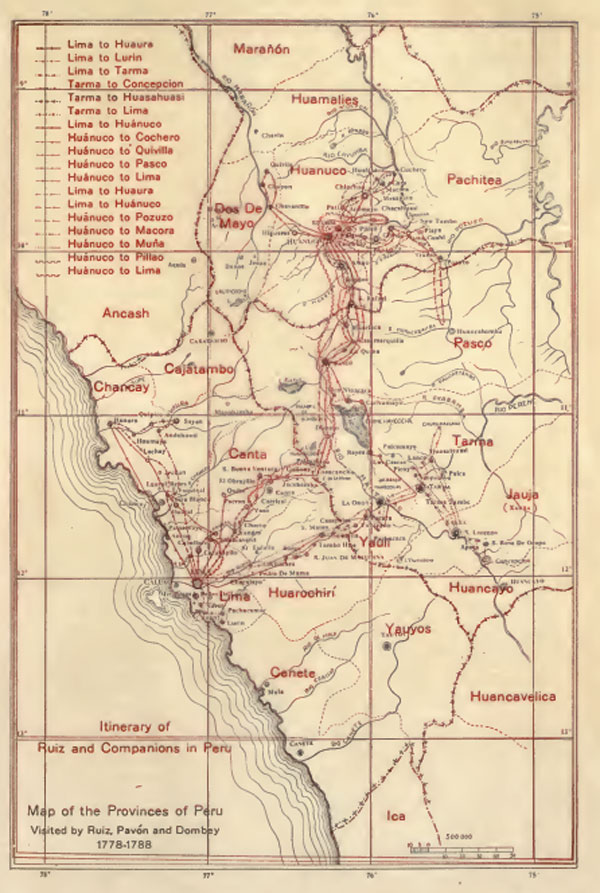 Map of Ruiz and Pavón's travels in Peru
Ruiz points out almost immediately in Relation del Viaje that their approach to the flora of Peru was Linnaean (this text is taken from the Field Museum's 1940 translation):
"… we dried, described, and sketched various new plants and some already known to botanists, but observed and described in a hurry and with less care and exactness than by the method used by Linnaeus, which was the one we had adopted as the most approved in all Europe for determining and describing plants, new as well as those already known, being satisfied to indicate the generic, specific, and trivial names of the best described, and to record their local names and their virtues."
They encountered not only plants, interested locals, helpful local bureaucrats, but also bandits:
"We spent the night of the 23rd in the tambo or inn of Copacabana, where we were attacked, a little after evening prayers, by robbers whose chief, named Uracan, came in disguise to the tambo to ask for alfalfa for his horses. He … entered into a dispute with the innkeepers for the purpose of surprising us and taking our arms and everything that could be found where we were lodging; but having seen through his trick, we surprised him by pointing two pistols at his chest, and the five of us surrounded him, making him give up a long sword with which he scared the poor muleteers and passengers that he met, robbing them of whatever gold and silver they had."
Much of Relation del Viaje describes therapeutic uses of various plants encountered in the Peruvian countryside. As such, it acts as an excellent extension of Flora Peruviana, et Chilensis. In some cases, Ruiz recounts local medicinal humor with certain fruit:
"Castiglionia lobata, pinoncillo: this shrub grows almost to 5 yards; it has leaves four months of the year; the rest of the time it is bare, but not of fruits, for these stay a long time afterwards, and each one of the fruits encloses three seeds called pinoncillos, a little larger than pine-nut kernels; they contain a small almond, white and sweet but very laxative, and for this reason people use them to play mean tricks, preparing them as candies or extracting the milk and mixing it with cow's milk so that the deceit cannot be detected."
Castiglionia lobata actually is Jatropha curcas, a spurge widely used as a source for biodiesel in Brazil and other countries. Its fruit contains toxalbumins, toxins similar to those found in some snake venom. Toxalbumins were not isolated until the end of the nineteenth century.
Like Relation del Viaje, many of Ruiz and Pavón's specimens have waited for centuries for proper taxonomic treatment. For example, both Ruiz and Pavón had planned an extensive examination of Peruvian orchids. It was not until 2012—or 224 years after the arrival of Ruiz and Pavón in Cádiz—that Franco Pupulin described in several papers published in Anales del Jardín Botánico de Madrid these orchids. Many botanical discoveries still remain in the archives and collections in Madrid and elsewhere.
Only time will tell when the prodigious collections of Ruiz and Pavón will be completely examined. In the meantime, we can appreciate Flora Peruviana, et Chilensis and Relation del Viaje for their insights into a time now best described in historical novels like Arturo Pérez-Reverte's The Siege.
Edward J. Valauskas, Curator of Rare Books
March 2015