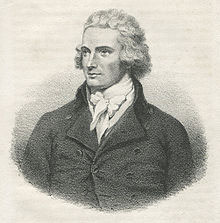 Mungo Park (1771–1806), a Scottish physician and explorer, is best remembered for his plain-spoken and non-judgmental descriptions of Africa at the end of the eighteenth century.
His tales, collected under the lengthy title, Travels in the Interior Districts of Africa: Performed Under the Direction and Patronage of the African Association, in the Years 1795, 1796, and 1797, were first published in London in 1799. Some regard this book as the first great travel story, and indeed it is a wonderfully written, thrilling, and heartbreaking tale.
In Park's lifetime, this book appeared in three editions within its first year of publication, and was quickly translated into other languages. It inspired future generations of explorers and writers, such as Joseph Conrad (1857–1924). Thanks to Park, Conrad eventually captained a steamboat on the Congo in 1889. Conrad's adventures eventually led to his best-known novel, Heart of Darkness (1903).
Park's first journey to Africa germinated in his youth, thanks to his training in medicine as an apprentice to a physician and eventually classes at Edinburgh University. He demonstrated more interest in plants than patients, and thanks to his sister's husband, James Dickson (1738?–1822), Park began to make connections to explorers and scientists. Dickson was a well-connected and successful seedsman in London. One of his contacts, Sir Joseph Banks (1743–1820), was impressed by Park. Banks recruited Park for a trip to Sumatra in 1793, technically as surgeon's mate, but actually as a plant collector. Park completed this assignment impressively in Banks's estimation, and argued to the African Association that Park should head an expedition to search for the source of the Niger.
The African Association (whose formal title was the Association for Promoting the Discovery of the Interior Parts of Africa) was dedicated to learning more about the geography of Africa, including details about the Niger (which no European had seen) and the specific location of Timbuktu (never witnessed by a European either). Members of the Association were against slavery and argued for purely intellectual reasons for their interests. The Association's motives appealed to Park, who headed to Africa in 1795 to look for the Niger on his own.

Map image courtesy of the University of Texas Libraries, The University of Texas at Austin.
Click here to view a larger image.
Heading off into terra incognita (with just two natives as assistants) was bold, rash, and perhaps fortunate for Park. He survived countless losses, including his servants and clothes. Fortunately, his beaver hat survived, for his hat stored his notes, which were the basis of his book. He was threatened, imprisoned, starved, dehydrated, and generally mistrusted. Park survived, thanks to good luck and the kindness of strangers. As George Sand (1804–76) noted, "Guard well within yourself that treasure, kindness. Know how to give without hesitation, how to lose without regret, how to acquire without meanness." Park certainly would have agreed with Sand!
In the most memorable passage in Park's Travels, Mungo attempts to enter Sego, the capital of Bambarra (in what is now Mali). By now, Park had seen the Niger and had noted that it flows east, not west, as some had assumed. Mansong, the King of Sego, refused to allow Park to enter the city proper or even to take a ferry across the Niger. He was banished to a "distant village," where, as Park related, "to my great mortification no person would admit me into his house." (Travels, p. 197) He huddled under a tree, deeply concerned for nightfall and its "wild beasts." The locals regarded Park with "astonishment and fear."
At sunset, a woman returning from her "labours in the field," stopped to talk to Park, recognizing his status as a pariah. Clearly, Park was starving and thirsty; she took the weary explorer back to her family's hut and gave him water and fish. He was given space to rest, while women and girls in the family spun cotton. At some point in the evening, as Park recovered from his close encounter with death, the women invented a song in honor of Park, the lyrics of which he recorded in his Travels (p. 198):
"The winds roared, and the rain fell;
The poor white man, faint and weary, came and sat under our tree;
He has no mother to bring him milk; no wife to grind his corn;
Chorus:
Let us pity the white man; no mother has he."
In the morning, penniless, Park gave his hostess all that he had — two brass buttons from his waistcoat, as a small but grateful payment for her help.
This story of Park's survival, thanks to one woman's unexpected kindness, became legendary. In the nineteenth century, it reached new generations thanks to readers designed for children, such as the 1836 edition of Lindley Murray's Introduction to the English Reader (pp. 144–148 has a retelling of Park's encounter with a kind woman). In its own way, that story became a powerful weapon against oppression and slavery, and slowly helped to develop new attitudes about Africa and its natives.
For Park, Africa was a relentless addiction. He returned for a second expedition to find the origins of the Niger and the location of Timbuktu in 1804. Outfitted with a much larger party, Park attempted to retrace his steps. Bogged down by a collection of more than 40 individuals, equipment, and donkeys, the expeidition succumbed to disease, exhaustion, accidents, and disputes. All of the members of this expedition were killed, including Park, who was one of the last survivors hundreds of miles inland from the coast.
Mungo Park might be surprised to know that his book is still in print today, even in ebook editions. It is still regarded as one of the greatest adventures of all time. The original 1799 edition is a prized work in those few libraries lucky to claim it, such as the Lenhardt Library of the Chicago Botanic Garden. Our copy, acquired from the Massachusetts Horticultural Society in 2002, is beautifully bound, complete with engravings and a large map. A bookplate indicates that this copy was once in the personal library of Robert John Verney (1809–62), the 17th Baron Willoughby de Broke.
Just a few pages past the title page, you will find a "song from Mr. Park's travels." Set to music by composer G.G. Ferrari (1759–1849), the opening lines read "The loud wind roar'd, the rain fell fast, the white man yielded to the blast … ." Indeed, to paraphrase Tennessee Williams, Park will always be remembered because of the kindness of strangers.
Edward J. Valauskas, Curator of Rare Books
April 2012