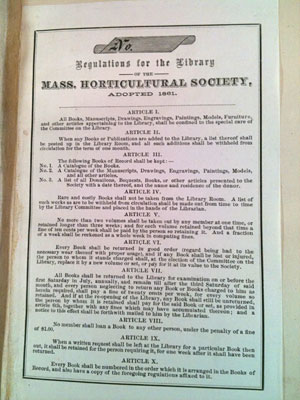 Henry Alexander Scammell Dearborn, Chairman of the Library Committee at the Massachusetts Historical Society, writing in the New England Farmer, bewailed a vexing problem. Library patrons had not been returning books and journals that they had borrowed!
Hidden on page 26 of the August 10, 1831, issue of the weekly New England Farmer, among remedies for red ants, warnings of poisonous cheeses, and cures for hydrophobia, is a brief list—less than one page—of books in the library of the Massachusetts Horticultural Society. This catalog is impressive even though it merely lists slightly more than 130 titles of books and journals. The Society at this point was just over two years old.
As a prelude to this first printed catalog of the Library, there is a short note from the Chairman of the Library Committee (and first President of the Massachusetts Horticultural Society), Henry Alexander Scammell Dearborn (1783 – 1851). Henry Alexander was the son of Henry Dearborn (1751 – 1829), a veteran of the American Revolution who fought in the Battle of Bunker Hill, Secretary of War in Thomas Jefferson's cabinet, and American ambassador to Portugal for President Monroe. Henry Alexander was a lawyer and politician, serving in the Massachusetts General Court and U.S. Congress. He probably is best remembered today for his work with the Massachusetts Horticultural Society as well as his designs of the Forest Hills and Mount Auburn cemeteries.
Despite Henry Alexander's legal and political experiences, as well as his inherited skills as a warrior, there seems little he could do about errant patrons of the Horticultural Society library in Horticultural Hall. He dryly notes in the New England Farmer that "It appears, on a thorough examination, that several books have not been returned, in conformity to a resolution passed several months since..."
He continues that a number of issues of magazines and journals are also missing, preventing the librarian from sending collected issues for specific volumes to the binder. Many librarians, before and since, have bemoaned the loss of books and journals to patrons for whom time and "date due" have no meaning.
It is not surprising that Henry Alexander's plea appeared in the New England Farmer, the leading magazine of its kind in the country. Its editor and founder, Thomas Green Fessenden (1771 – 1837), was not a successful lawyer or businessman, but had a fine reputation as publisher, editor, and even poet. He was well connected and well acquainted, counting Nathaniel Hawthorne (1804 – 64) among his friends. Indeed, it is from Hawthorne's sketch of Fessenden that we learn much about him. Hawthorne was a guest at Fessenden's home for several months early in 1836. He recalled that:
"While Mr. Fessenden read, I had leisure to glance around at his study, which was very characteristic of the man and his occupations. The table, and great part of the floor, were covered with books and pamphlets on agricultural subjects, newspapers from all quarters, manuscript articles for The New England Farmer and manuscript stanzas for "Terrible Tractoration." There was such a litter as always gathers around a literary man."
No wonder that Fessenden prominently published Dearborn's plea for the quick return of missing books and magazines to the Library at Horticultural Hall in Boston!
A quick search of the Chicago Botanic Garden catalog indicates that these missing works were returned in response to this printed request. In the Garden's library, we have complete volumes of the Transactions of the London Horticultural Society and Annales de la Société horticulture de Paris, just to mention two titles reported lost to busy patrons by Dearborn and publicized by Fessenden.
Obviously, the Society and Library could not continually report transgressions in the local press, no mater how sympathetic editors and publishers might be to the cause. In 1861, the Society adopted "Regulations of the Library" and duly pasted a printed version of these rules into every bound volume in the collection. Article V of the "Regulations" clearly states the consequences of temporal errors on the part of members and patrons:
"No more than two volumes shall be taken out by any member at any time, or retained longer than three weeks; and for each volume retained beyond that time a fine of ten cents per week shall be paid by the person so retaining it. And a fraction of a week shall be reckoned as a whole week in computing fines."
All of these hints, suggestions, printed declamations, and regulations worked. Examining printed catalogs of the Library at the Massachusetts Horticultural Society finds that the unfortunate AWOL titles in 1831 were part of the collection in 1852, 1918, 1962, and today as part of the Lenhardt Library of the Chicago Botanic Garden. Hundreds and perhaps even thousands of library patrons in Boston and Glencoe have enjoyed these works for almost two centuries. In spite of technological innovations, geography, and changing attitudes and fashions, these important works continue to be available to the intellectually curious.
Edward J. Valauskas, Curator of Rare Books
March 2012