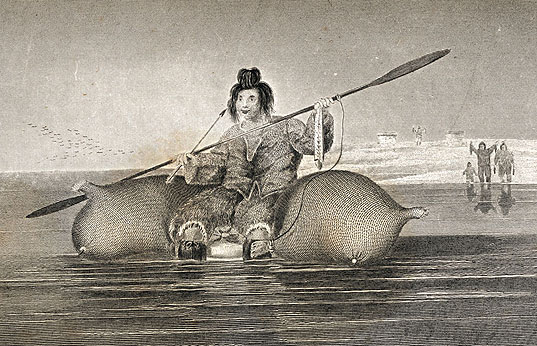 In the century of exploration, few hardy souls survived treks in both Africa and the Arctic. An even smaller number braved the heat of the Sahara and frozen seas of the Arctic going native, learning local dialects, donning wardrobes to blend in, dining on local fare. George Francis Lyon (1795–1832) was that rare adventurer, testing his personal limits while straining his professional relationships with British bureaucrats. A century before T.E. Lawrence's (1888–1935) escapades thrilled readers, G.F. Lyon adopted an alias, Said-ben-Abdallah, in North Africa. Among the Inuit in Arctic Canada, Lyon was decorated with tattoos, dining on raw salmon, seal, and caribou.
The Lenhardt Library of the Botanic Garden has one of Lyon's important accounts on the Arctic, entitled A Brief Narrative of an Unsuccessful Attempt to Reach Repulse Bay: Through Sir Thomas Rowe's "Welcome," in His Majesty's Ship Griper, in the Year MDCCCXXIV. Published in 1825 by John Murray in London, this record of survival in the North was popular in its own time, while providing important anthropological observations to later students of the Arctic.
This work is part of the Library's collection thanks to Lyon's observant nature. He and the crew of the Griper spotted plants on a few exposed islands as well as the leaves of an oak and whortleberry on an iceberg floating in Hudson Strait. This material was eventually sent to the foremost expert on the Arctic flora in Great Britain, William Jackson Hooker (1785–1865). Hooker, at the time, was professor of botany at Glasgow University. He had survived an earlier expedition to Iceland, eventually writing of his experiences in his book Tour of Iceland, despite losing his specimens, notes, and nearly his life to a catastrophic fire. Hooker would eventually leave Glasgow for London and Kew, which he transformed utterly to even mesmerize Queen Victoria, her family, and her entourage.
Why was Said-ben-Abdallah, a.k.a. George Francis Lyon, commanding the Griper on an almost disastrous trip? Lyon was certainly ambitious, transparently so, as he demonstrated in 1819 and 1820 as a member of Joseph Ritchie's (c.1788–1819) failed expedition in North Africa. In spite of Lyon's adoption of native habits and language, the African trip was doomed, largely because of Ritchie's inexperience and mismanagement, and not Lyon's ego. Nevertheless, Lyon's reputation for risk-taking probably influenced the Admiralty to send Lyon on another expedition to find the fabled Northwest Passage to the Bering Sea.
There had been repeated attempts to discover this shortcut to the Pacific by William Edward Parry (1790–1855) and many others; Lyon was commander of the Hecla (a companion ship) on Parry's second attempt between 1821 and 1823. Lyon befriended the Inuit and gathered vital geographic details. The Inuit seemed to impress upon Lyon that the open sea was relatively close at hand, no more than three miles away from Repulse Bay. Hence, the Admiralty's choice of Lyon commanding the Griper was an optimistic one, given Lyon's ability to work tactfully with the natives, gathering information while carefully observing his Eskimo friends. Thanks to weather and bad luck, Lyon's expedition was unsuccessful in the larger goal of finding that mythical route to the Pacific. He had left England in June 1824, returning in November, with a badly damaged ship and little new geographic knowledge. His real victory was in sympathetically understanding Inuit life in the Arctic, which he happily described in A Brief Narrative of an Unsuccessful Attempt to Reach Repulse Bay (1825).
For example, Lyon describes one native encounter in August 1824:
"While yet a mile from the beach, a native was seen coming off to us, and as he approached, we observed, that instead of a canoe he was seated on three inflated seal-skins, connected most ingeniously by blown intestines, so that his vessel was extremely buoyant [see Figure 1]. He was asti'ide upon one skin, while another of a larger size was secured on either side of it, so that he was placed in a kind of hollow. His legs, well furnished with seal-skin boots, were immersed nearly to the knee in water, and he rowed with a very slender soot-stained paddle of whale's bone, which was secured to his float by a thong.

On approaching, he exhibited some little signs of fear; his teeth chattered, and himself and seal-skins trembled in unison. It was evident from the manner of this poor fellow, that he had come off as a kind of herald from his tribe, and as I felt for his alarm, I threw him a string of beads, which he received in great trepidation, and placed, with trembling fingers, across a large bunch of hair which protruded from his forehead. A few friendly signs which accompanied my gift, gave him a little more confidence, and he soon came alongside, after having, as a peace-offering, thrown me a couple of dried salmon and a very rude arrow headed with a roughly-chipped flint."
In spite of the details about the Inuit and their diplomatic interactions with Lyon and the crew of the Griper, the Admiralty was not pleased with Lyon's rapid return. Most of these futile trips lasted years, not months, in the Arctic, so an early return was not greeted with cheer.
Lyon left the British Navy to pursue a new career testing English mining interests in Mexico. Alas, a shipwreck in 1827 disposed into the sea Lyon's notes and mineral specimens (he nevertheless produced a book about his activities south of the border in 1828). He survived this disaster only to discover that his wife, Lucy Louisa—daughter of Lord Edward Fitzgerald (1763–98)—had died. They had been married for only a few short years, much of time while Lyon was searching for silver and other precious metals.
Lyon headed back across the Atlantic to South America to pursue new mining opportunities. Years of optical stress in the Sahara and Arctic caused his vision to weaken. He decided to leave Argentina to secure medical advice, but died en route home in 1832.
George Francis Lyon's friendly and warm accounts in A Brief Narrative of an Unsuccessful Attempt to Reach Repulse Bay prove that he was a different kind of explorer, ready to extend a helping hand and integrate himself into local communities. If weather and circumstances had provided different opportunities, Lyon indeed might be the exemplar of nineteenth century explorers, a kinder and more cooperative geographer and scientist. His books, like A Brief Narrative, provide us with only a tantalizing hint into this captivating character.
Edward J. Valauskas, Curator of Rare Books
September 2013