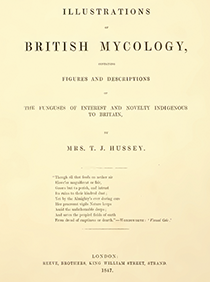 "Full many a flower is born to blush unseen,
And waste its fragrance on the desert air."
— Jane Austen,  Emma. 
Ah, dear Emma, Jane Austen's most aristocratic character—a symbol of nineteenth century British society. Women like Emma might spend their spare time on their watercolors, perhaps with flowers as subjects. It was entirely appropriate for someone of Emma's position to dabble in art, to know a little about botany, or especially to understand local flowers grown in gardens or found in the wild.
The real-life antithesis of fictional Emma was certainly Anna Maria Hussey (1805–53), married to a rector in Kent, mother of six children, artist, and most remarkably, mycologist. Unlike Emma, she preferred executing portraits of mushrooms. Anna delighted in the mud and rot, searching for unusual and exotic fungi. She recognized that the distinctive perfumes of some fungi might not be for everyone, especially the Emmas of the world. Anna understood that perhaps she was cut from a different cloth than other women in her time. She wrote, quite revealingly, in an undated letter:
"I am always under the uncomfortable impression that the thing that I am doing is not the right thing to be doing."
Born in Leckhampstead, West Berkshire (just west of Reading and south of Oxford), we know little about Anna's childhood or education. Her father, a rector, probably encouraged an interest in science as part of her home schooling. There were plenty of books around the home, since Anna's father collected Bibles printed in various languages. Her sisters Henrietta (1807–60) and Frances (1810–72) stimulated an interest in botany and art, although Anna's diaries indicate that at first she was intrigued by geology.
At the age of 26, she married Thomas John Hussey (1797–1854), a rector in Kent but, most importantly, a scientist in his own right. Anna's interests in natural history and art, as well as her theological roots from her father, must have made her fascinating to an intellectually curious rector like Thomas.
Dr. Hussey was no weekend scientist, like some of his colleagues. He built a personal research center dedicated to astronomy with three telescopes and assorted supporting instruments. He compiled a detailed star map and was one of the first in England to see the return of Halley's Comet in 1835. He argued for the existence of Neptune over a decade before its discovery. Dr. Hussey frequently visited Charles Darwin (1809–82) and was well connected with leading scientists of his time, such as Sir John Herschel (1792–1871) and Charles Babbage (1791–1871). It is not surprising that Anna maintained her interest in botany and art, supported by her husband's scientific research.
What turned Anna Maria to fungi? She wrote in a letter dated April 10, 1849, that:
"[I] feel sure Mycology was never intended for women, who love jumping to conclusions better than such patient research."
In spite of her misgivings, Anna Maria was one of the leading mycologists of her day. Her collections eventually led to the publication of her Illustrations of British mycology: Containing figures and descriptions of the funguses of interest and novelty indigenous to Britain in two volumes. Published between 1847 and 1855, this magnificent work includes 140 hand-colored lithographic plates. The Lenhardt Library at the Chicago Botanic Garden has a beautiful copy of this work in its collection, in its unique way a botanical and artistic landmark.
Illustrations of British mycology is not simply a taxonomic litany of fungi. It is instead a catalog of Anna's experiences with, and knowledge of, fungi. She hoped that her work would inspire future mushroom enthusiasts, especially young people. To that end, she provided instructions on hunting and caring for specimens caught in the countryside. In the introduction to Illustrations, she notes that:
"A basket is in the first place needful, and if the student should leave home without one, a profusion of lovely and rare objects will be certain to strew his path; in which case there are but two alternatives, to dissect on the spot, always an imperfect operation, or to carry away the spoil in hat or handkerchief, when on arrival at home, a heterogeneous mass of caps, stems, etc., presents itself—disjecta membra!"
For the taxonomically inclined collector, scattered fragments (or disjecta membra) meant impossible identification. In addition to the basket and a few fern leaves to protect specimens, Anna recommended a few tools:
"... place in this basket two tools, for taking up by the roots from the earth, or severing from bark of trees, equally efficacious, a long strong broad-bladed butchers' knife! start not, gentle reader, and a wrenching chisel! after much experience we find there is nothing too deep or too tight not to give way to these potent engines; the chisel should have an oval handle."
Anna's well-equipped collector might resemble a young woman portrayed in The Mushroom Gatherers by Henry Herbert La Thangue (1859–1929).
The quarry was certainly not attractive as a bouquet of wildflowers collected by Jane Austen's Emma and her colleagues. For example, Anna described Agaricus squarrosus (now known as Pholiota squarrosa) in this fashion in Illustrations:
"Those melancholy persons in whom Funguses produce disgust, would feel an instinctive dread of the one now represented; thrusting forth a snaky mass of heads from the stump of a decaying tree, with strange flexuous serpentine stems, and bristling scaly coat, it is a decidedly repulsive individual."
Mrs. Hussey certainly was aware that her mycological interests were not for everyone. In her description of Polyporus hispidus, Anna justified her botanical bent:
"Every object in Nature, however, which by its attractiveness of colouring, remarkable configuration, or other striking peculiarity, induces us to study Nature's works, is useful. That is an end for its existence, were there no other, and perhaps there is none: that suffices." (emphasis in original)
She continued her argument for an interest in "Nature" rather than an "excitement of romances," that is, an addiction to romance novels of the time. According to the author of Illustrations, children too often were controlled, rather than unleashed, in the wild. Anna, still in her analysis of Polyporus, insisted that:
"Children always take a strong interest in the pursuits of their seniors; and should early be taught the valuable lesson contained in "Eyes and no Eyes." In whatever district they may reside, some external pursuit, or object will present itself, and habits of observation, and amusing tastes may be formed, useful through life for the same end. But if Mama objects to the little fingers which present her a Fungus, that it has soiled the glove, or forget the Fossil because chalk pits make jackets dusty; if servants are allowed to walk with the children strictly in hand, and to scold at stepping across a ditch for the flower: Mama must not in reason complain if the 'Young Lady' be as vapid ... unamusable, delicate, repining, and should cause constant uneasiness and anxiety, instead of finding occupation and a charm in everything; 'The life of the house.'"
Illustrations of British mycology was not designed to be a field guide. Its lavish lithographs and delightful text, at times humorous, challenging, and instructive in turn, meant that this book was not a dusty tome. Much of the science in Illustrations was influenced by Anna's study of botanical texts as well as frequent correspondence with the father of British mycology, Miles Joseph Berkeley (1803–89). Berkeley in his lifetime named some 6,000 species of fungi, including a genus in honor of Anna, Husseia, now known as Calostoma.
After the publication of the first part of Illustrations in 1847, Anna turned her creative energies to writing anonymous stories. Not all of these works have been identified. One story, entitled "Matrimony," hinted at problems in her marriage to the astronomer vicar. Thomas Hussey suffered an injury that forced him to sell his telescopes to Durham University. A massive two-volume commentary on the Bible by Dr. Hussey was not well received; one critic tsked over its lack of footnotes! One of Anna's sisters died, probably adding to her own loneliness. Anna died in Paris in 1853, while her husband was away in Algiers. Dr. Hussey died the following year.
Anna Maria Hussey's unflinching pursuit of science, while balancing a busy life as vicar's wife and mother, certainly stimulated a growing interest in fungi in the nineteenth century. Had her circumstances been slightly different, she might have been as well known as her scientific colleague Miles Joseph Berkeley. Life unfortunately took her on another path, Anna the mycologist who felt that she was never doing "the right thing."
Edward J. Valauskas, Curator of Rare Books
April 2015