Cultural institutions suffer greatly during wars; animals die in zoos, art is looted from museums, books and manuscripts are stolen and sold on black markets. Gardens are particularly damaged during armed conflicts because it is difficult to relocate the contents of a living museum.
During World War II, in spite of regulations, international agreements, and even the requests of royalty, gardens and their buildings were bombed and destroyed (see below).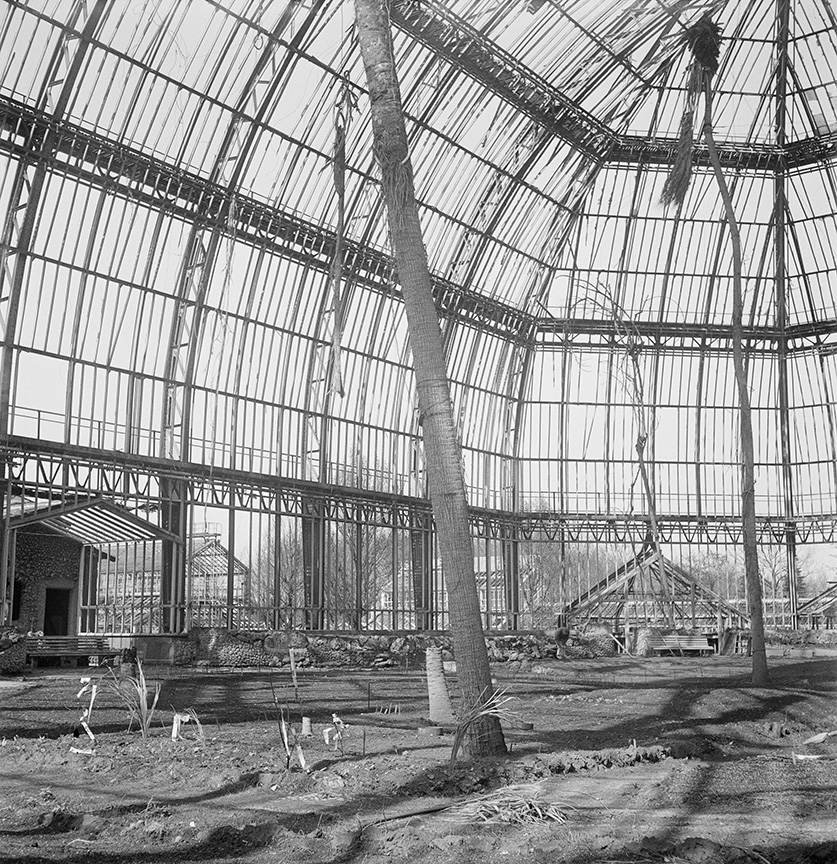 Ruins of the Grosses Tropenhaus (Large Tropical Greenhouse), Berlin Botanical Garden, Dahlem, Berlin 1947. Photograph by Roman Vishniac. © Mara Vishniac Kohn, courtesy International Center of Photography
In advance of World War II, many curators and museum staff worked to save precious collections by moving, storing, and hiding objects. Those that could not be easily carted away were hidden behind walls, sandbags, and other physical reinforcements. But for botanic gardens, how do you save acres of baroque geometric patterns and thousands of plants? The castle at Herrenhäuser Gärten in Lower Saxony was a target for British bombers in 1943, in spite of pleas from the British royal family.
Gardens also house important libraries as well as type specimens. The papers and notes of significant taxonomists are usually preserved as well in garden archives. If these documents are not dispersed to safe locations, they too can disappear in war.
The Lenhardt Library of the Chicago Botanic Garden has a large collection of the working papers of Friedrich Wilhelm Ludwig Kränzlin (1847–1934), one of the most important German orchidologists in the first quarter of the twentieth century. Kränzlin continued the taxonomic efforts of Heinrich Reichenbach (1823–89), one of the first great students of orchids in the nineteenth century. The Library's collection of notes and documentation by Kränzlin represent his efforts on his never-finished magnum opus, Orchidacearum Genera et Species.
Kränzlin, like Reichenbach, was an enthusiastic taxonomist, but unfortunately did not carefully follow taxonomic rules in designating type specimens (holotypes) or depositing these types in publicly accessible collections. Some specimens were placed in Kränzlin's own herbarium, a portion of which was destroyed in an Allied bombing raid in March 1943 on Berlin, along with some of his papers. Other portions of his herbarium were saved in Herbarium Hamburgense, thanks to that collection's relocation during World War II to a site near Leipzig. Other portions of Kränzlin's collection were secured before the War at Harvard's Orchid Herbarium, thanks to the efforts of Oakes Ames (1874–1950), one of most important American orchid specialists in the twentieth century.
The papers in the Lenhardt Library survived thanks to another orchid enthusiast, Bostonian Albert Cameron Burrage (1859–1931). Burrage was a successful businessman and one of America's most prominent orchid specialists, earning the Lindley Medal from the Royal Horticultural Society. He built a large library, which eventually found its way to the Massachusetts Horticultural Society after his death. There is no documentation indicating exactly how Burrage acquired Kränzlin's papers, but fortunately this cache has survived for future generations of students and scholars.
Kränzlin organized his work by genera, in packets filled with drawings, notes, illustrations (often culled from books and journals), and even maps. He was frugal, using all sorts of scraps for his commentary, perhaps a reflection of Germany's hyperinflation in the 1920s. This collection includes correspondence with other orchid specialists and hobbyists around the world as well as extracts of papers and illustrations from many orchid journals and magazines. It represents years of work by Kränzlin, and awaits a scholar to solve many of the puzzles left by Kränzlin and his incomplete Orchidacearum Genera et Species.
Certainly these documents would have been lost during World War II in a bombing raid or some other calamity. A few years ago, the Lenhardt Library acquired a few valuable eighteenth-century Italian horticultural and agricultural works. I noticed a slight smoky smell to the volumes and asked the book dealer why they were filled with this odor. He explained that books were stacked near a fireplace in an Italian villa, occupied by German troops during World War II. The extensive library at the villa was used as fuel by these soldiers for the fireplace; fortunately these volumes, now in the Garden's collection, were not incinerated, but retained evidence of their close call.
Thanks to the efforts of Burrage (who was probably encouraged to help Kränzlin financially by Ames at Harvard), the Lenhardt Library has a significant cache of Kränzlin's papers for future scholars and students of orchids. A portion of this collection will be on display next year in the Library as part of an exhibition dedicated to orchids in print.
Edward J. Valauskas, Curator of Rare Books
November 2013