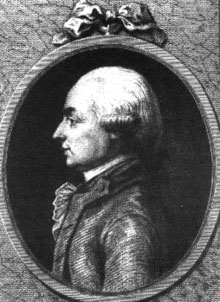 One of most remarkable books in the Lenhardt Library is also one of the first great fictional works created in America: a series of letters written by a J. Hector St. John. We now know that J. Hector St. John was a pseudonym for Michel Guillaume Jean de Crèvecoeur (1735-1813). His collection of fictional epistles provided early glimpses into Americans. When this book first appeared in print, it was incredibly popular in Europe, but not in the then-new United States.
The letters were written to an "F.B.," clearly an educated and well-traveled British gentleman. Crèvecoeur often positioned his letters as reflecting the opinions of someone not as refined and worldly as the recipient. Crèvecoeur's wife (the author admits that "I never do any thing without consulting her") makes it plain that the letters were directed to an inhabitant of Cambridge "where, they say, that worldly learning is so abundant, that people get it by breathing the air of the place." She continues this tone, by pointing out that:
"Wouldn't not thee be ashamed to write unto a man who has never in his life done a single day's work, no, not even felled a tree; who hath expended the Lord knows how many years in studying stars, geometry, stones, and flies, and in reading folio books? Who hath travelled, as he told us, to the city of Rome itself?"
In spite of these comments, Crèvecoeur persisted, constructing a dozen letters, describing a wide range of topics from life on Nantucket and Martha's Vineyard to slavery to hummingbirds. Collectively, these documents provide insights into an emerging culture on newly settled continent.
The earliest letters set the scene in describing America and Americans. It is clear that Crèvecoeur, a naturalized citizen, was quite fascinated with early settlers carving new lives in the American wilderness. His approach is quite holistic in letters two and three, describing a typical American farmer in letter two and answering his rhetorical question ("What is an American?") in letter three.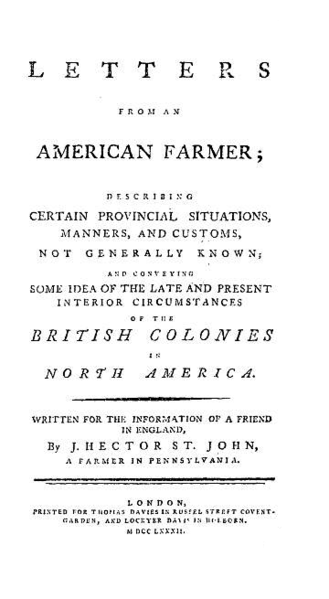 Crèvecoeur really sees Americans as being nurtured by their efforts with their land, and the sweat of their collective brows:
"What should we American farmers be without the distinct possession of that soil? It feeds, it clothes us, from it we draw ever a great exuberancy, our best meat, our richest drink, the very honey of our bees comes from this privileged spot. No wonder we should cherish its possession, no wonder that so many Europeans who have never been able to say that such portion of land was theirs, cross the Atlantic to realize that happiness … for this is what may be called the true and the only philosophy of an American farmer." (letter two, p. 26).
This organic notion of Americans, as beings created by their environment and their work, is expanded in the third letter:
"Men are like plants; the goodness and flavour of the fruit proceeds from the peculiar soil and exposition in which they grow. We are nothing but what we derive from the air we breathe, the climate we inhabit, the government we obey, the system of religion we obey, and the nature of our employment." (letter three, pp. 53-54).
To complete his point, Crèvecoeur, in the next letter, describes a recent Scottish immigrant, Andrew, to his imaginary epistolarian in England. Andrew arrived in Philadelphia with wife and son from Barra, the most southern island in the Outer Hebrides. Barra measures a little over 20 square miles, and at the time was under the control of the MacNeil clan. Cared for and encouraged, Andrew eventually carves out a life in which he can claim 100 acres as his own. It is not surprising that Crèvecoeur ends this tale with a financial tally of the dollar value of Andrew's labors (including the efforts of his wife and son) in four short years to be 640 dollars, a considerable sum at the time!
The sunny optimism of the first third of the book contrasts with the tone of letter nine, "Description of Charles-town."  Crèvecoeur is shocked by the contrasts in the south between luxury and poverty:
"While all is joy, festivity, and happiness in Charles-town, would you imagine that scenes of misery overspread in the country? Their ears by habit are become deaf, their hearts are hardened; they neither see, hear, nor feel for the woes of their poor slaves, from whose painful labours all their wealth proceeds. Here the horrors of slavery, the hardship of incessant toils, are unseen; and no one thinks with compassion of those showers of sweat and of tears which from the bodies of Africans, daily drop, and moisten the ground they till. The cracks of the whip urging these miserable beings to excessive labour, are far too distant from the gay Capital to be heard." (letter nine, p. 216).
Crèvecoeur clearly see slavery as a dividing issue, a conclusion soon to be reached in a few decades by other visitors to America, such as Victor Jacquemont (1801–32) and Alexis-Charles-Henri Clérel de Tocqueville (1805–59). Crèvecoeur indeed blames humans for their own failings:
"We certainly are not that class of beings which we vainly think ourselves to be; man an animal of prey, seems to have rapine and the love of bloodshed implanted in his heart; nay, to hold it the most honourable occupation in society: we never speak of a hero of mathematics, a hero of knowledge or humanity; no, this illustrious appellation is reserved for the most successful butchers in the world." (letter nine, p. 226, emphasis mine).
Crèvecoeur's last letter describes the state of the country during the Revolution against King George. ".. I was happy before this unfortunate Revolution. I feel that I am no longer so; therefore I regret the change." (letter 12, p. 276). Continuing in this theme, Crèvecoeur notes that "[g]reat events are not achieved for us, though it is by us that they are principally accomplished; by the arms, the sweat, the lives of the people." (letter 12, p. 277, emphasis in original). Crèvecoeur's solution? He plans to escape the Revolution by moving west into the wilderness with a group of Indians, isolating his family from the scars of war until the great events of his time pass.
So from optimist to escapist, Crèvecoeur created in Letters from an American Farmer a panoramic description of young America. It is among the first great American fictional works, one that, for decades, many believed to be an earnest and honest view of a new country and its citizens.
Edward J. Valauskas, Curator of Rare Books
November 2012