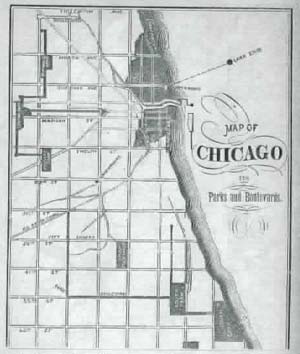 Historical descriptions of urban areas are often filled with misinformation, hearsay, myths, and occasional factoids. It was with some surprise that one of my students uncovered an overview of Chicago as it appeared more than 130 years ago in an obscure horticultural magazine. This horticultural review of Chicago in 1880 is quite refreshing, and it includes tidbits that I have not seen elsewhere. First let me describe the magazine.
The lead story in the April 1880 issue of L.B. Case's Botanical Index is entitled "Chicago — Its Parks and Boulevards." Case's Botanical Index was a short-lived magazine promoting L.B. Case's nurseries in Richmond, Indiana. A number of commercial horticultural operations distributed a magazine or journal to promote their own business under the guise of scholarship and edification. One of the most famous nineteenth-century horticultural magazines of this sort was Vick's Monthly Magazine (Rochester, N.Y.), which first appeared in 1878 and eventually became extinct in 1908. Vick's circulation climaxed at 25,000 copies per issue; each issue would often include a spectacular chromolithographic frontispiece. Vick's may have been a model for Case's Botanical Index, but Case's was not as successful, lasting just four years (1877-81).
L.B. Case was a leading promoter of the sciences in Richmond, Indiana. In 1875, Case was one of the organizers of the Scientific Association of Richmond, Indiana, acting as one of its charter directors, as well as the Association's librarian and custodian of its invertebrates department. Case's interests must have been broad, for at least one fossil was named for him: Dendrocrinus casei (now known as Plicodendocrinus casei), a fossil crinoid (an echinoderm related to starfish) found in Ordovician sediments (445-450 million years old) in the Richmond area.
Richmond itself was quite a hotbed (or perhaps hothouse) for horticulture in the nineteenth century. The earliest nursery in the area dates to around 1830. Wayne County organized a horticultural society in 1850 and started a fair, all of which eventually inspired Indiana to create a State Board of Agriculture and initiate a state fair in 1851. Case took advantage of quite fertile ground both literally and economically in Richmond for his own business.
"Chicago — Its Parks and Boulevards" does not list an author, so perhaps we can assume that it was L.B. Case himself who wrote the story, based on a business trip to Chicago early in 1880. He opens the article with a brief summary of the history of Chicago from the late seventeenth century. He devotes a large portion of this introductory text to the origin of the word "Chicago." Case writes:
"We think the most probable and reasonable translation is the one given by those who accept the words of the old Indian treaty ceding the Illinois country with certain boundaries to the French in 1773, which plainly says, Chicagou or Garlick creek. Now any one at all familiar with the dryer portion of the country around Chicago knows how abundant the wild onion or garlic, Allium cernuum and A. Canadense are found in the vicinity, and especially near the lake shore. Perhaps we might also add that they formed almost the entire source of food for Marquette and his party in their journey from Green Bay to Chicago in the fall of 1674." [uncorrected text as it appears on p. 34 of the April 1880 issue (volume 3, number 2) of L.B. Case's Botanical Index].
Many Chicagoans have read or heard of these references to garlic and Chicago. This entire garlic matter is best explained in a paper by John Swenson, which appeared in the Winter 1991 issue of the Illinois Historical Journal. John examines all of the evidence on garlic and early Chicago in this paper, concluding that historical references point to Allium tricoccum, not A. cernuum and A. canadense, as noted by Case.
After this historical setting, Case examines Chicago circa 1880. He is quite impressed with the Palmer House, only five years old on his visit (the original Palmer House was only 13 days old when it was destroyed in the 1871 Chicago Fire). Case was particularly impressed with the Palmer House's conservatory, measuring 64 by 76 feet, "in which are grown the many choice plants used every day in decorating the house and table." He continues by stating that the conservatory "is filled with choice palms, tree ferns, tropical fruit, rare foliage and flowering plants in great luxuriance. It is on a level and communicates with the fifth floor, so it is always easy of access and certainly makes a pleasant resort to while away an hour when time hangs heavily for the traveler." A visit to the current Palmer House will reveal that this haven for travelers disappeared long ago.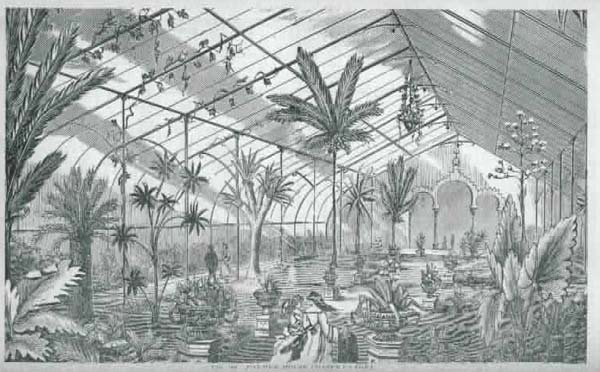 The original Palmer House conservatory
Case, as a visitor to Chicago residing in the Palmer House, next visited the nascent Grant Park, which on his visit was entitled Lake Park (see map above). Case writes: "This Park is, without doubt, the most popular resort for pedestrians of any about Chicago, and also convenient  to most densely peopled portions of the town, and the comfort and enjoyableness of the place, together with the charming and picturesque view of the lake, is admired by everybody." Case certainly needed an editor! Nevertheless, you can see from his description that Lake Park, a few steps from the Palmer House, charmed him, as Grant Park does today for millions of visitors.
This adoring description of Lake Park is followed by several paragraphs of admiring and verbose text on the boulevards of Chicago. Case certainly sees Chicago moving in the right direction in terms of building and enhancing parks and green spaces in the city. He predicts at the end of his description of Chicago that "these parks and boulevards are yet far from complete, but when finished will present the finest system of parks, all connected together by grand boulevards, in the world … ." L.B. Case certainly would be proud to see the city and its parks today, more than a century later, even though he might not recognize the remodeled Palmer House and the surrounding downtown area.
Edward J. Valauskas, Curator of Rare Books
August 2012