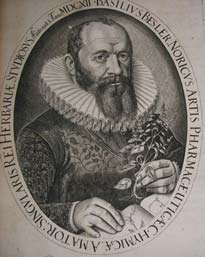 Once upon a time—long before football, baseball, basketball, and hockey—science was a sport, an intellectual adventure between collectors and their cabinets (imagine a miniature natural history museum in your rec room). Individuals would pursue exotic plants, animals, fossils, minerals, and archeological artifacts to illustrate in a very tangible way their wealth and intelligence. Science was the most intellectual sport in the sixteenth and seventeenth centuries.
One of my graduate students, Stephanie, is happily exploring the libraries of Bavaria this semester on a hunt for two books by Basilius Besler (1561–1629; see portrait above), one-time Nuremberg apothecary (a precursor to a modern pharmacist; in Shakespeare's Romeo and Juliet, it was an apothecary who provided the deadly potion to Romeo) and more widely known as an advisor on all things scientific to the rich and famous. You might think of Basilius Besler as a coach to those with the brains and surplus income to collect intellectual objects.
In a Renaissance home, one important way to display both your wealth and knowledge was to create a cabinet. Surrounding your estate, you would organize a garden filled with exotics collected carefully from around the world. In the spring, colorful tulips from the environs of Constantinople would bloom. In the summer, your garden might feature a rare sunflower or two from America. In the winter, you would study specimens kept in cases filled with seeds, gems, and fossils from Bavarian limestone quarries, plus ponder on the stuffed puffer fish and boa constrictor hanging from your ceiling (all designed no doubt to irritate your spouse).
Why have a room filled with strange creatures, odd fossils, and the occasional crystal or two? Why dedicate a portion of your property to a garden filled with plants that were not useful in the kitchen, that were not remedies for common aliments? Basilius Besler answers his critics in the introduction to his guide for creating a cabinet like his own, published in 1622 with the elaborate title Continuatio rariorum et aspectu dignorum varii generis quae collegit et suis impensis aeri ad vivum incidi curavit atque evulgavit:
"The objects which comes within this general category [of fossils], be they of animate species or inanimate, terrestrial or aquatic, and those rarer specimens, which do not occur here, there and everywhere, fascinated me from my earliest years and so inspired me that for many years I have devoted myself to collecting them. This not only seemed not to be alien to and incongruous with my [normal] studies and profession but even to be positively required of it."
[Translation from the Latin by James Smith]
So Besler notes that his creation of his own personal cabinet was for his own intellectual development. He needed to collect, to pursue his own curiosity about the natural world about him.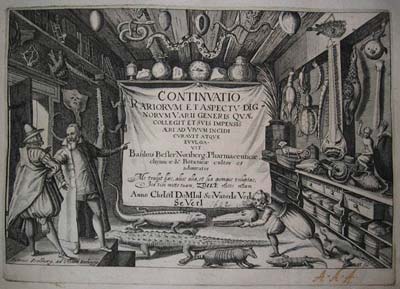 Besler (second figure from left) explaining his cabinet to a visiting dignitary,
on the engraved title page of Continuatio Rariorum (1622).
Besler recognizes that he will have critics of his cabinet, or home natural history museum. He writes in Continuatio Rariorum:
"It has never been my intention, nor would I ever have permitted myself to put as it were on a public stage and exhibit anything of an unsavory nature that is part of my painstaking collection. For I am well aware of the times we live in and of their moral code, and I know full well that this little book [this is, Continuatio Rariorum] will not be met immediately at first sight with universal approval ... I knew there would be some who would say that ... I had tried things beyond my strength and taken up a burden too heavy for my shoulders; others ... would say that I ought to be put in to the care of my relatives and family because I am not in my right mind but rashly waste the money spent in this private pursuit: Except that a very different point of view had taken root in my mind: that these objects should be saved from destruction, if not literally, at any rate by copper [that is, the objects in Besler's collection should be preserved in copper engravings]."
In Germany, Stephanie is pursuing Besler's creation of a cabinet in his home and a garden at the castle of the Prince Bishop of Eichstätt, Johann Conrad von Gemmingen. She is continuing the work of a number of my graduate students over the past half decade in trying to understand the origin of gardens and museums at the start of the seventeenth century, in terms of two important books by Besler in the Lenhardt Library, Hortus Eystettensis (1613) and Continuatio Rariorum (1622).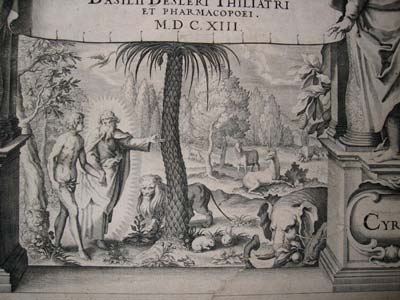 The Garden of Eden from the engraved title page of Hortus Eystettensis (1613).
So many questions to answer! Why, for example, in Hortus Eystettensis, do we see a small engraved insert on the title page of God providing a personal tour of the Garden of Eden to Adam? Is the garden at Eichstätt an imitation of Eden? Why do we see similarities in the way in which God and Adam are posed in 1613 and Besler and his visitor in 1622?
Rare books are living entities, windows into long-forgotten ideas, pursuits, and relationships. By allowing students and scholars access to collections like those found in the Lenhardt Library, we open intellectual paths that have long been hidden. Stephanie will continue her biblio–detective work in Bavaria and perhaps uncover the real reasons for Besler's cabinet and his involvement with the Prince Bishop of Eichstätt. I will keep you posted!
Edward J. Valauskas, Curator of Rare Books
October 2011