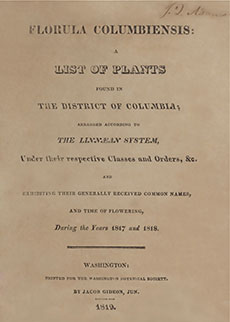 Florula columbiensis is the first list of plants growing in the District of Columbia, all summarized in a quickly printed pamphlet. Birders have their lists of avian friends spotted in a given locale, like the roll call for the Garden. Botanical enthusiasts create similar lists of plants in a given area.
An unassuming 14-page pamphlet, Florula columbiensis is one of the few remaining artifacts of an organization entitled the Washington Botanical Society, listing plants found in the District of Columbia during 1817 and 1818. It was published in June 1819 by Jacob Gideon, Jr., less than five years after the British had torched the Capitol, White House, and other structures in August 1814. We can only assume that the print run was small and aimed for and funded by members and friends of the Society. Jacob Gideon was certainly more famous at that time for publishing the Federalist papers in 1818, with the authors for each essay recognized for the first time. His operation was based at the corner of Ninth Street and Pennsylvania Avenue.
We can only guess at the membership of the Washington Botanical Society (not to be confused with the current "Botanical Society of Washington," established in 1901), a collection of botanical hunters assessing the natural world with Linnaeus's taxonomy (the long subtitle pointedly notes that Florula columbiensis is organized "according to the Linnaean system, under their respective classes and orders"), tramping about the environs of the American capitol, a place with fewer physical structures  and far less bureaucracy, a more open and inviting territory.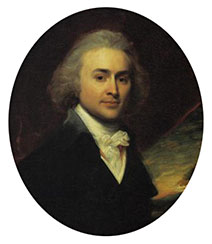 Tantalizingly, on the upper right corner of the Chicago Botanic Garden's copy of Florula columbiensis you will find the name of a previous owner of this document, signed in ink, "J Q Adams." Could this pamphlet once been in the hands of John Quincy Adams (1767–1849), sixth president of the United States (1825–1829)? What was Adams doing in June 1819 when this pamphlet first appeared in print? Was Adams yet another remarkable Renaissance-like figure in early American history, with broad scholarly interests in nearly every intellectual discipline of the time? Was he actually involved in the now extinct Washington Botanical Society? So many questions, so little evidence.
Adams in 1819 was acting as secretary of state for President James Monroe (1758–1831), a post he held throughout Monroe's tenure as president (1817–1825). Adams and Monroe were a formidable team in terms of foreign policy, given Monroe's experience as secretary of state under President James Madison (1751–1836). Some historians call Adams the greatest American secretary of state, given that he negotiated with Spain for the acquisition of Florida in 1819, settled the border with Canada in 1818, and most famously wrote the Monroe Doctrine (originally described in a speech in 1821 and formalized in 1823) over foreign intervention in the Americas. It might be difficult to imagine the ever-busy Secretary Adams hunting for plants in his free time.
Yet there is an excellent documentation for the interest of Adams in all things botanical and horticultural when he became president in March 1825. Barbara McEwan, in her well-researched and quite readable book White House Landscapes: Horticultural Achievements of American Presidents (New York: Walker and Co., 1992), dedicates an entire chapter to Adams. She notes that he was certainly interested in plants and horticulture while serving as a U.S. senator, representing Massachusetts from 1803 to 1808. He had acquired some property from his father, John Adams (1735–1826), and spent some time attempting to organize the land with plantings. As president, John Quincy Adams saw a real opportunity to take advantage of the grounds surrounding the White House, as a showplace of American trees and other plants. According to McEwan, he was impressed with plans by Thomas Jefferson (1743–1826), ultimately devising an ornamental garden on some two acres near the south entrance to the White House. Adams planted many seeds, acorns, and saplings; an elm originally planted by Adams survived until 1991!
Adams's passion for plants, but especially trees, was practical. He felt the need for a national arboretum that would not only display the finest examples of American timber but experiment with foreign trees and fruit, in an effort to diversify botanical offerings in the United States. He hoped that American timber would eventually be abundant and resilient for repeated use for expansion of the U.S. naval fleet. President Adams asked every American consul to gather a wide range of plants that would be returned to him via vessels visiting foreign ports. Although this initiative was unfunded by Congress, Adams was rewarded with periodic shipments arriving in Boston. McEwan describes how Adams's eldest son George (1801–1829) collected these shipments, dividing the plants so that some were planted on the home estate, while others were shipped to White House for planting.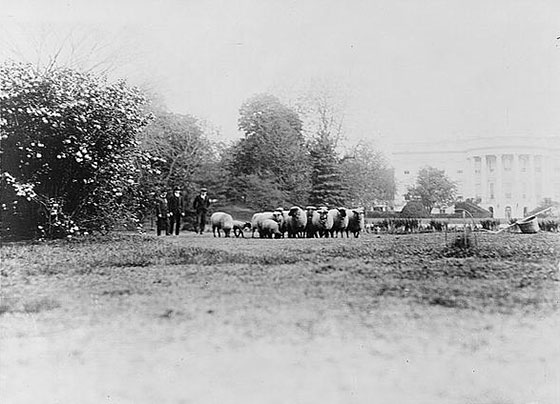 Above: Sheep being herded on the White House lawn, part of an expansive garden at the time.
The garden of John Quincy Adams at the White House was indeed impressive. It did not survive his political enemies, who saw it as a symbol of his presidency; allegedly Andrew Jackson's (1767–1845) supporters trampled the garden during inaugural festivities, for Jackson's presidential inauguration was the first in which the public was invited to attend the event and the White House ball. The crowds were quite unruly, to say the least.
Adams certainly had an interest in botany and horticulture in his long term of office as secretary of state and president. We cannot verify that the Garden's Lendhardt Library copy of Florula columbiensis was once part of Adams' library. We cannot make a claim that he signed it on the cover in ink. We can only guess that some unscrupulous book dealer could have signed it "J Q Adams" to sell the pamphlet for a higher price. Only a few copies of this work have survived to this day, with the Garden's copy the only one in a Midwest library.
Thanks to Florula columbiensis, we can at least think about the American capitol in its earliest form, with cattle and sheep roaming on the White House meadow, and botanizing men and women exploring the countryside for new and unexpected plants. Those individuals, with their multitudinous interests and formidable passions, initiated a national dedication to botany and horticulture that continues to this day, manifested in places such as the Chicago Botanic Garden; the U.S. Botanic Garden, not far from the current Capitol; and many other gardens and arboreta across the country.
Edward J. Valauskas, Curator of Rare Books
February 2013