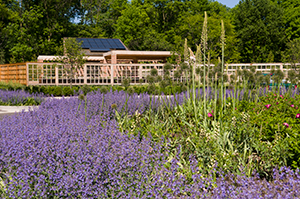 Try drought-resistant gardening, dry gardening, or just plain old gardening with less water. As our climate continues to change and expanding populations strain water supplies around the globe, drought is one of our biggest concerns. Whether or not there are sufficient or adequate water sources, there will always be gardens and gardening.
The concept of xeriscaping was born in 1981, following the 1977 drought that affected California, the Great Plains, and the Rocky Mountains. That year, a task force consisting of members of the Denver Water Department, Colorado State University, and the Associated Landscape Contractors of Colorado was formed to focus on water conservation through creative landscaping.
Here in Illinois, we live near the world's largest freshwater system. The Great Lakes provide water for tens of millions of people, so why should we give a ripple? The truth is, no matter where you live, water is extremely precious, and even though the earth's surface is approximately 70 percent water, only 3 percent is potable.
The optimal and most intelligent way gardeners can conserve water is to consider drip-irrigation systems and choose plants that require little water or can tolerate drought-like conditions. Choose plants that are well adapted to the region; non-invasive; and need little or no soil amendment, fertilizer, or ongoing care. Finally, if the plant offers food, cover, or nesting places for creatures, then it's a win-win situation!
To learn more about xeriscaping, check out these resources at the Lenhardt Library.
Waterwise Plants for Sustainable Gardens: 200 Drought-Tolerant Choices for all Climates

Lauren Springer Ogden and Scott Ogden

Portland, Or: Timber Press, 2011
SB439.8.O53 2011

Drip Irrigation for Every Landscape and All Climates; Helping Your Garden Flourish while Conserving Water! Outwit Droughts with Expert Guidance

Robert Kourik

Occidental, CA: Metamorphic Press, 2009

S619.T74K67 2009

The Dry Gardening Handbook: Plants and Practices in a Changing Climate
Olivier Filippi
London: Thames & Hudson, 2008
SB439.8.F5513 2008

Dryland Gardening: Plants that Survive and Thrive in Tough Conditions

Jennifer Bennett
Buffalo, N.Y.: Firefly Books, 2005

SB439.8.B46 2005

Xeriscape Handbook; a How-to Guide to Natural Resource-wise Gardening

Gayle Weinstein
Golden, Colo: Fulcrum Publishing, 1999

SB439.8.W42 1999

Create a Mediterranean Garden: Planting a Low-maintenance,
Drought-proof Paradise Anywhere

Pattie Barron; foreward by Richard Mabey; photographs by Simon McBride

London: Lorenz, 1999

SB453.3.M48B37 1999

Xeriscape Plant Guide

Denver Water; Introduction by Rob Proctor

Golden, Colo: Fulcrum Publishing, 1999

SB439.8.P76 1998
Articles
"Water-Wise and Wonderful" by Anthony Tesselaar
American Nurseryman, July 2011, Vol. 211 Issue 7, pages 6–8
 Article focuses on environmentally friendly, water-wise, and sustainable plantings and containers.
"Water-Wise" by Randy Burroughs
American Nurseryman, July/August 2010, Vol. 210 Issue 7, pages 10–21
Article offers information on drought-tolerant and motsture-flexible plants in landscapes.
"Save Water, Plant Wisely" by Deena Wade
Herb Companion, May 2005, Vol. 22. Issue 4, pages 24–27
Article discusses the seven principles of xeriscaping, or low-water landscaping.
Websites for more information
Federal Energy Management Program
http://www1.eere.energy.gov/femp/program/waterefficiency_bmp4.html
Water Efficient Landscaping
Water Efficient Landscaping — Backyard Conservation
ftp://ftp-fc.sc.egov.usda.gov/CA/news/Publications/conservation/landscaping.pdf
USDA Plant List and Water Efficiency Brochure
Water Efficiency Program – US Environmental Protection Agency
http://www.epa.gov/owm/water-efficiency/outdoor/landscaping_tips.html
Water-Smart Landscape Design Tips