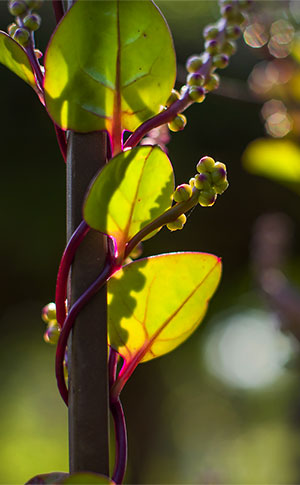 What is Vertical Gardening?
Vertical gardening is both innovative and highly productive. Its growing system utilizes bottom-up and top-down supports for a wide variety of vegetables, fruits, and flowers that can be trained to grow up in both small and large spaces. A number of climbers, vines, trellis plants, and even some small fruit espaliers are exceptionally suited for vertical gardening. Peas, cucumbers, tomatoes, melons, berries, grapes, morning glories, honeysuckle, and wisteria are just a few plants to consider growing vertically.
Vertical Gardens Need All the Support They Can Get
Hundreds of varieties of fruits, vegetables, and flowers can be trained to grow up trellises, bamboo scaffolds, wires, garden netting, fencing, arches, arbors, pergolas, hanging baskets, tiered containers, plastic pouches, upside-down planters, maypoles, and of course walls.
Green wall champion Patrick Blanc uses PVC foam for his living walls because it is waterproof, light, and it doesn't crack when you drill holes in it for screws, nails, or staples to hold different elements in place.
Space Saving
Space is a huge issue for many gardeners. With vertical gardening, you only need the bed to be as large as the root system. Even better, weeding, fertilizing, and pest control are greatly reduced, and you'll find vining vegetables are capable of higher yields than bush varieties. A little bit of space, planning, and planting, and you'll be growing up in no time.
Did You Know?
Vertical gardening, living walls, and hanging gardens seem up-and-coming, and yet there are written accounts of hanging gardens in Babylon dating back to approximately 605 B.C.E.
 
---
To learn more about planting heirlooms and saving seeds, check out these resources:
 
Gardening Vertically;
24 Ideas for Creating Your Own Green Walls

Noémie Vialard
London: W.W.Norton & Co., Inc., 2012

Get ideas from these 24 innovative themes, including aromatic herb, epicurean, and mosquito-repellent walls.

 

Vertical Gardening: Grow Up Not Out For More Vegetables in Much Less Space

Derek Fell
Emmaus, PA: Rodale, 2011

Derek Fell provides a hands-on, how-to for vertical gardening in compact areas.

 

The Vertical Garden:
From Nature to the City

Patrick Blanc
New York: Norton, 2012

Vertical Vegetables and Fruit; Creative Gardening Techniques for Growing up in Small Spaces

Rhonda Massingham Hart
Noth Adams, MA: Storey, 2011
---
Articles
"Grow Up: Smart Vertical Gardening for Small and Large Spaces"
By Rebecca Sweet and Susan Morrison.
Horticulture Magazine May/June 2011, Vol. 108, Issue 4: pp. 54 – 59
The author offers steps to take before planting a vertical garden.
"Just Grow UP!"
By Katie Walker
Organic Gardening April/May 2011, Vol. 58, Issue 3: p. 88
The article discusses the concept of vertical gardening, using trellises and tiered patio planters, ideal for growing vegetables.
Websites for more information
Chicago Botanic Garden
Vertical gardens elevate eyes and plants in the Regenstein Fruit & Vegetable Garden.
www.chicagobotanic.org/walk/fruitandveg
Vertical Garden Institute
This organization is dedicated to promoting vertical gardens through research, education, and sales of related items, as well as fostering vertical garden partnerships globally.
www.verticalgardeninstitute.org