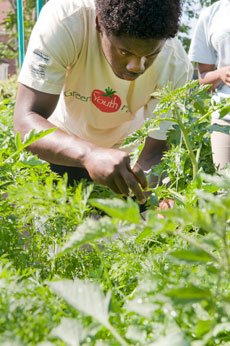 Whether you'd like to grow your own vegetables, curb your carbon footprint, or get involved in a community garden and bring about socio-economic change, urban farming may be for you.
Urban farming is the practice of growing or cultivating, processing, and distributing food in or around a village, city or town. Also called urban agriculture, it can involve animal husbandry or raising livestock, aquaculture, agro-forestry, and horticulture.
Although some communities involve themselves in urban farming for recreational benefit, it is becoming more vital to some communities as a food- and income-producing resource.
Chicago Botanic Garden programs like the Green Youth Farm and Windy City Harvest train teenagers and adults in sustainable horticulture and urban agriculture.
For more information about urban farming, check out these and other titles from the Lenhardt Library.
City Farmer: Adventures in Urban Food Growing
Lorraine Johnson
Vancouver, CA: Greystone Books, 2011

Read our Review in Current Books

 

Growing a Garden City
Jeremy N. Smith
NY: Skyhorse Publishing, 2010.

Your Farm in the City: An Urban Dweller's Guide to Growing Food
Lisa Taylor
NY: Black Dog & Leventhal, 2011.

Mini Farming:
Self-Sufficiency on 1/4 Acre
Brett L. Markham
NY: Skyhorse Publishing, 2010.
Articles
"Advancing Urban Farming"
Avant Gardener March 2009, vol. 41, issue 5: pp. 38 – 39
Article looks at programs and practices advancing urban farming.
"Urban Farming" by Sara Katz
Public Garden 2010, vol. 25, issue 1: pp. 21 – 23
Article considers the Bronx Green-up, the New York Botanical Garden's community outreach program.
"Vacant Lots Sprout Urban Farms" by Nora Goldstein
BioCycle October 2009, vol. 50, issue 10: pp. 24 – 26
Article discusses the strategies employed by urban areas in the U.S. to make use of vacant lots.
Websites
Green Youth Farm
www.chicagobotanic.org/community
www.chicagobotanic.org/greenyouthfarm
The Green Youth Farm program offers students the opportunity to learn all aspects of organic farming — from planting seeds and starts to managing a hive of bees, from cooking with the food they grow to selling it at farm stands and markets.
Windy City Harvest
www.chicagobotanic.org/windycityharvest
Windy City Harvest is an organic-method vegetable- and plant-growing enterprise that provides certificate instruction in sustainable horticulture. It is delivered by the Chicago Botanic Garden in partnership with Richard J. Daley College, one of the City Colleges of Chicago.
Growing Power, Inc.
www.growingpower.org
Nonprofit group based in Chicago and Milwaukee; focuses on training urban residents to grow their own healthful foods. Helps develop community food systems to facilitate sustainable growing and marketing organizations.