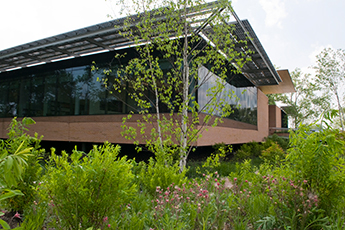 One may think a rain garden might only thrive in places like London or Seattle, where the average rain falls are 24 inches and 38 inches respectively. In actuality, Chicago gets more rain annually (34 inches) than London and almost as much as Seattle; therefore northern Illinois is a great place to have a rain garden.
Rain gardens are typically planted along a natural slope in your yard. The garden is designed to allow rainwater to follow its natural course, and temporarily hold and soak up rainwater when there is rainfall runoff from roofs, gutters, driveways, or lawns following or during precipitation.
Rain gardens are environmentally beneficial. Not only can they soak up 30 percent more water than a typical lawn, they minimize erosion. Through plant absorption, rain gardens also reduce water pollution by cleaning up 80 percent of its chemical composition, thereby minimizing and purifying the water that flows through the storm drains that are diverted directly into the nearest river or stream.
Rain gardens beautify your landscape. It's important to select plants that are able to tolerate short periods of standing water, and yet can also survive extended periods of little to no rainfall. Native plants work best because once established, they require very little maintenance; they are adapted to local soil and climate conditions; they provide habitat for birds, butterflies, and other beneficial insects; and as long as there's occasional precipitation, they need very little watering. If you also have a rain barrel connected to one of your downspouts, that's even better—you can reuse your rainwater for your lovely plants! And there's the beauty of it!
To learn more about rain gardens, check out these resources at the Lenhardt Library.
Creating Rain Gardens: Capturing the Rain for Your own Water-Efficient Garden
Cleo Woelfle-Erskine and Apryl Uncapher
Portland OR: Timber Press, 2012

Rain Gardens: Managing Water Sustainably in the Garden and Landscape Design
Nigel Dunnett and Andy Clayton
Portland, OR: Timber Press, 2007

Rain Gardens: Sustainable Landscaping for a Beautiful Yard and a Healthy World
Lynn M. Steiner and Robert W. Domm 
Minneapolis, MN: Voyageur Press, 2012

The Rain Garden Planner: Seven Steps to Conserving and Managing Water in the Garden
Terry Wallace
Atglen, PA: Schiffer Pub., 2009

Water-Efficient Gardening
John Marder
Ransbury: Marborough: Cromwood Press, 2009

 
Articles
"Rain Check" by Therese Ciesinski
Organic Gardening, Late Summer, 2008, Vol. 55 Issue 6, pages 62-65
The dos and don'ts of creating a rain garden
"Water: Vegetables on Broadway" by George Hazelrigg, ASLA
Landscape Architecture, April 2012, Vol. 102, Issue 4, pages 56-62
Landscape architects design rain gardens and bioswales for urban development.
"Rain Gardens, the Green Wave" by Gene Pouly
Arborist News, April 2010, Vol. 19, Issue 2, pages 26-27
Certified arborist discusses the importance of researching rain garden installation and plant specifications.
Websites for more information
Chicago Botanic Garden's Rainwater Glen
chicagobotanic.org/explore/pcsc.php
chicagobotanic.org/plantinfo/faq/rain_garden
chicagobotanic.org/conservation/rain_garden
Wisconsin Department of Natural Resources' Rain Gardens: A How-to Manual for Homeowners
chicagobotanic.org/downloads/wed/WI_DNR_homeowners.pdf
Illinois Wildflowers
illinoiswildflowers.info/index.htm
illinoiswildflowers.info/flower_insects/insects/moths.htm
Rain Garden Basics
prairierivers.org/Projects/VolunteerOpportunities/eNewz/RainGardenBasics.html
Illinois website for rain garden basics, the benefits of rain gardens, and where to get plants.
USDA NCRS Illinois Native Plant Guide
www.il.nrcs.usda.gov/technical/plants/npg/