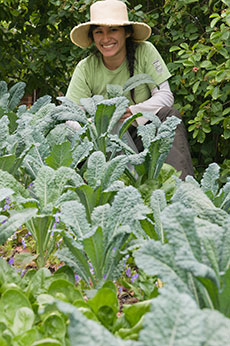 The word "potager" comes from the Middle English word pottage, circa 1175–1225, that means something in or from a pot; potage is from the Old French, meaning thick, meatless, vegetable soup. Historically, the term carried with it the ideal of a self-sustaining, isolated garden, such as the medieval herb, medicinal, or monastic garden. Today "potager" means kitchen garden.
Kitchen gardens are undergoing a rebirth, "le renaissance du le potager jardin," due to rising costs of food, concern with food safety, and food sourcing. Other advantages of having your own kitchen garden include being able to grow vegetables year-round and the reward of self-sufficiency.
 To learn more about kitchen gardening, check out these resources at the Lenhardt Library.
American Grown: The Story of the White House Kitchen Garden and
Gardens Across America
Michelle Obama
New York: Crown Publishers, 2012
SB466.U7W4835 2012

Designing the New Kitchen Garden: An American Potager Handbook
Jennifer R. Bartley
Occidental, CA: Metamorphic Press, 2009
S619.T74K67 2009

The Family Kitchen Garden: How to Plant, Grow, and Cook Together
Wagner & Wendland Liebreich
Portland, OR: Timber Press, 2005
SB321.L54  2009

The Kitchen Garden, Month by Month
Alan Buckingham
New York: DK Press, 2010
SB321.B53 2010

The Kitchen Gardener's Handbook
Jennifer Bartley
Portland, OR: Timber Press, 2010
SB321.B285 2010
Articles
"How to Plan Your Perfect Kitchen Garden" by Alys Fowler
Gardens Illustrated, March 2011, Issue 171, pages 64–69
Article offers tips on planning a vegetable garden.
"Kitchen Gardens" by Arne Maynard
Gardens Illustrated, March 2012, Issue 183, pages 88–91
Article offers information on the significance of organizing space and crop rotation for a kitchen garden.
"Proper Potager" by Martin Stern
Northern Gardener, November/December 2010, Vol. 138. Issue 6, pages 36–38
Article focuses on a kitchen garden that combines the pleasure of food and aesthetics.
Websites for more information
Kitchen Gardeners International
http://kgi.org/
Nonprofit global network celebrating homegrown foods and promoting their role in a sustainable and secure food system.
Watch Your Garden Grow
http://www.urbanext.uiuc.edu/veggies/
Guide to growing, storing, and preparing vegetables, from the University of Illinois Extension.