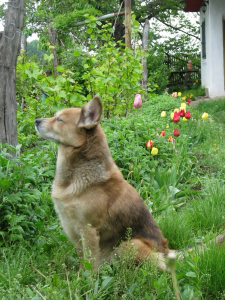 Gardening is always fun, but think about how much more fun it can be when you add your pets into the mix; especially since they probably spend as much time in the garden as you do, if not more.
Read before you weed!
Your pet's safety is of utmost importance. Chemicals and even some mulches, such as cocoa mulch containing theobromine, can be highly toxic to animals. If you use any type of pesticides or weed killers, and your pets — as well as your kids — love rolling and playing in the grass, it's time to go organic.
Make it safe!
Selecting durable fencing and plants that are non-toxic to animals are key to a healthy environment for your four-legged friends. There are a number of plants, groundcovers, and woody shrubs that are hardy enough to handle what doggies do. But some plants, such asmonkshood (Aconitum), dogbane (Apocynum), or trumpet vine (Campus radicans) can be highly toxic to dogs if they ingest any parts of the plant. Check out plant toxicity lists before you invest.
Cats love catnip and they also eat different grasses to help aid in their digestion. Other kitty favorites include alyssum, heather, catmint, and of course parsley, sage, rosemary, and thyme. Bunnies love lettuce and other crop plants, so keep what you don't want nibbled safely separated.
To learn more about pet-friendly gardening, check out these resources at the Lenhardt Library.
Petscaping: Training and Landscaping With Your Pet in Mind

Scott Cohen and Carolyn Doherty

Atglen, PA: Schiffer Publishing, Ltd., 2011

Dogscaping: Creating the Perfect Backyard and Garden for You and Your Dog

Tom Barthel

Irvine, Calif.: Bowtiw Press, 2009

Dog-Friendly Gardening: Creating a Safe Haven for Your Dog

Karen Bush

Dorchestrer: Hubble & Hattie, 2012

Dog Friendly Gardens, Garden Friendly Dogs

Cheryl S. Smith

Wenatchee, Washington: Dogwise Publishing, 2004

Cats in Their Gardens

Page Dickey

NY: Stewart, Tabori & Chang., 2002

Dogs in Their Gardens

Page Dickey

NY: Stewart, Tabori & Chang., 2001

All You Ever Wanted to Know About Herbs for Pets
Mary L. Wulf-Tilford & Gregory L. Tilford
Irvine, Calif.: Bowtiw Press, 1999

 
Articles
"Pets & Plants" by Stephanie Polsey Bruner
Garden Gate, November/December 2005, Issue 66, pages 22–25
Tips on pet-friendly garden designs, handy products and training; using fencing; preventing cats from digging up mulch and installing a Doggie Dooley septic system for dog waste in the garden.
"Plant a Garden for Healthy Pets" by Randy Kidd, DVM
Herb Companion, July 2005, Vol. 17, Issue 5, pages 12–15
Article discusses the role of herbs in the role of treatment for pets.
"Dogscaping for Fun and Profit" by Dakota Star Benson
American Nurseryman, April 1, 1996, Vol. 183, Issue 7, page 4
Article discusses the importance of landscape designs for dogs, when working with clients and their furry friends.
Websites for more information
ASPCA/American Society for the Prevention of Cruelty to Animals
Toxic and Non-Toxic Plants
http://www.aspca.org/pet-care/animal-poison-control/toxic-and-non-toxic-plants
This list contains plants that have been reported as having systemic effects on animals and/or intense effects on the gastrointestinal tract. Please note that the information contained in our plant lists is not meant to be all-inclusive, but rather a compilation of the most frequently encountered plants. If you think that your animal is ill or may have ingested a poisonous substance, contact your local veterinarian or our 24-hour emergency poison hotline directly at (888) 426-4435.
Cornell University Department of Animal Science
www.ansci.cornell.edu/plants/index.html
This is a growing reference that includes plant images, pictures of affected animals and presentations concerning the botany, chemistry, toxicology, diagnosis and prevention of poisoning of animals by plants and other natural flora (fungi, etc.).