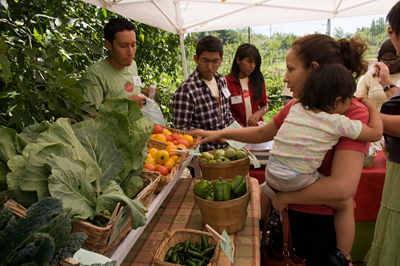 Everywhere you turn you hear the expression "Think globally, eat locally."
What does that really mean? Daydream about deliciously exotic foods and then eat the lonely turnip you managed to grow and harvest this summer?

The word locavore has been cropping up everywhere, too. In 2007, the Oxford University Press blogged that locavore was the New American Oxford Dictionary's chosen word of the year. Merriam-Webster's free online dictionary defines a locavore as "one who eats locally grown food whenever possible," and Webster cites 2005 as its first known use.
A locavore usually decides upon a certain mile radius within which to purchase food, dependent upon the proximity to the growers. Food choices are not limited to vegan or even organic. The purposeful thought process is that the foods, to be fresh and sustainable, should not have to travel long distances.
Buying locally means it takes less time to arrive from "farm to fork," resulting in fresher food. This saves transportation costs and fossil fuel, reduces the buyer's carbon footprint, and provides more economic viability to one's own community.
To take the locavore's challenge or for more information about this concept, check out these and other titles from the Lenhardt Library.
The Locavore's Handbook: the Busy Person's Guide to Eating Local on a Budget
Leda Meredith
Guilford, Conn.: ThreeForks, 2010.

Encyclopedia of Organic, Sustainable and Local Foods
edited by Leslie A. Durham
Santa Barbara, Calif.: Greenwood, 2010.

The Locavore Way: Discover and Enjoy the Pleasures of Locally Grown Food
Amy Cotler
North Adams, MA: Storey Pub., 2009.

Edible: A Celebration of Local Foods
Tracey Ryder and Carole Topalian
Hoboken, N.J.: John Wiley & Sons, 2010.
Newsletters
Growing for Market: News and Ideas for Market Gardeners
Fairplane Publications, Auburn, Kansas
Articles
"La Viva Locavore" by Matthew Benson
Organic Gardening August-September 2010, vol. 57, no. 5: pp. 32 – 34.
"Going Local: Finding Your Inner Locavore" by Nina Libby
Herb Companion September 2009, vol. 21, no. 6 (Sep 2009): p. 11.
"More Than a New Word" by Brain Sparks
American Fruit Grower January 2008, vol. 128, no. 1: p. 50.
Websites
FamilyFarmed.org
"Find a Chicago-Area CSA" (Community Supported Agriculture)
www.familyfarmed.org/find-a-chicago-area-csa/
PBS.org
"10 Steps to Becoming a Locavore"
www.pbs.org/now/shows/344/locavore.html