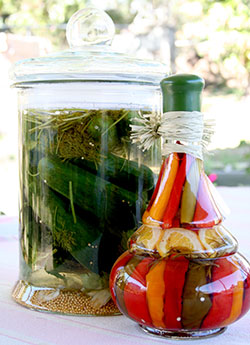 Canning and preserving fruits and vegetables are economical ways to ensure you have vitamin-rich, tasty foods throughout the seasons. Not only will you know where your homegrown fruit and veggies came from, they will taste better and fresher than if they were driven, carted, flown, or shipped from somewhere else; they'll most likely be free from chemicals and pesticides; they won't cost you $3.99 per pound; and they'll save you a trip to grocer, thereby making it one of the greenest things you can accomplish!
Once vegetables are harvested, they begin to lose some of their nutritive value. The USDA reports that "nearly half the vitamins may be lost within a few days unless the fresh produce is cooled or preserved. If vegetables are properly handled and canned promptly after harvest, they can be more nutritious than fresh produce sold in local stores."
From apples, berries, and cherries to figs, pears, and peaches, and from asparagus to zucchini—with plenty of information about tomatoes in between—these foods can be preserved for future use if you follow safe and simple canning and preserving guidelines found in the following resources.
Check out more resources at the Lenhardt Library.
The Big Book of Preserving the Harvest

Carol W. Costenbader

Pownal, Vermont: Storey Publishing, 1997

Preserving Summer's Bounty: A Quick and Easy Guide to Freezing, Canning, Preserving and Drying what You Grow

Susan McClure and Staff of Rodale Food Center

Emmaus, PA: Rodale Press, 1995

The Complete Root Cellar Book,
Canning, Freezing, Drying, Smoking, and Preserving the Harvest

Steve Maxwell and Jennifer MacKenzie

Toronto: Robert Rose, Inc., 2010

Put 'em Up! A Comprehensive Home Preserving Guide for the Creative Cook, from Drying to Freezing to Canning and Pickling

Sherri Brooks Vinton

MA: Storey Publishing, 2010

The Joy of Keeping a Root Cellar

Jennifer Megyesi

NY: Skyhorse Publishing, 2010

 
Articles
"Canning Preserving" by Emilee Gettle
Heirloom Gardener Fall 2011, Vol. 9, Issue 3: pp. 46 – 51
Article discusses the importance of heating foods to kill microorganisms that spoil food. Step-by-step canning instructions.
"Gardening and Canning Made Easier: Grow a Cornucopia
Garden and Learn to "Put Up" Bounty" by Bev Alfeld
Fruit Gardener July/August 2010, Vol. 42, Issue 4: pp. 20 – 23
Article discusses safe canning methods and offers recipes.
"Home Canning" by Linda Krohne Nitchman
Heirloom Gardener Spring 2010, Vol. 8, Issue 1: pp. 45 – 47
Article discusses the importance getting back-to-basics of home canning and vegetable gardening.
"Too Many Tomatoes" by Jason Mullett-Bowlsby
Fine Gardening October 2011, Issue 141: pp. 43 – 45
Article discusses step-by-step instructions for canning tomatoes.
Websites for more information
Download the Entire USDA Principles of Home Canning, 2009
http://nchfp.uga.edu/publications/usda/GUIDE%201%20Home%20Can.pdf
How Canning Preserves Foods – Excerpted from USDA Principles of Home Canning, 2009
The high percentage of water in most fresh foods makes them very perishable. They spoil or lose their quality for several reasons:
growth of undesirable microorganisms-bacteria, molds, and yeasts
activity of food enzymes
reactions with oxygen
moisture loss
Microorganisms live and multiply quickly on the surfaces of fresh food and on the inside of bruised, insect-damaged, and diseased food. Oxygen and enzymes are present throughout fresh food tissues.
Proper canning practices include the following:
carefully selecting and washing fresh food
peeling some fresh foods
hot packing many foods
adding acids (lemon juice or vinegar) to some foods
using acceptable jars and self-sealing lids
processing jars in a boiling-water or pressure canner for the correct period of time
Collectively, these practices remove oxygen; destroy enzymes; prevent the growth of undesirable bacteria, yeasts, and molds; and help form a high vacuum in jars. Good vacuums form tight seals that keep liquid in and air and microorganisms out.
National Center for Home Food Preservation - USDA
http://nchfp.uga.edu/how/can_home.html
The National Center for Home Food Preservation is your source for current research-based recommendations for most methods of home food preservation. The Center was established with funding from the Cooperative State Research, Education and Extension Service, U.S. Department of Agriculture (CSREES-USDA) to address food safety concerns for those who practice and teach home food preservation and processing methods.
Featured Video: Discover Canning by Ball Jars
http://freshpreserving.com/getting-started.aspx