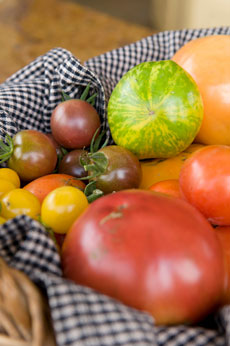 If you've ever gotten seeds from your grandparents or your neighbor's aunt twice removed, and were told they were from the sweetest tomatoes they'd ever eaten or the most beautiful columbine they'd ever seen, chances are these seeds were heirlooms. Heirloom seeds are those that have been passed down through generations. Quite often, they carry their own histories and stories, and unique delectability.
Over the millennia, people have moved from country to country or even continent to continent. As a way of ensuring the survival of their seeds, people carried them from place to place. Most heirloom seeds are open-pollinated varieties, meaning they can reproduce themselves from seed. Therefore the offspring grow true to type, resulting in plants that look like the parent plant. Finally, heirlooms have a tendency to adapt to the soil and climate they grow in, becoming disease and pest resistant. The seeds are known to produce sweet-scented blossoms and delicious fruits.
To learn more about planting heirlooms and saving seeds, check out these resources at the Lenhardt Library.
Gathering:
Memoir of a Seed Saver

Diane Ott Whealy
Decorah, Iowa: Seed Savers Exchange, 2011.

The Complete Guide to Saving Seeds

Robert Gough and Cheryl Moore-Gough
North Adams, Mass.: Storey, 2011.

 

The Complete Guide to
Preserving Your Own
Seeds for Your Garden

Katie A. Murphy
Atlantic Publishing Group, Inc., 2011

Gardening with Heirloom Seeds

Lynn Coulter
University of North Carolina Press, 2006
Articles
"Inherit the Earth: Why Treasure Heirloom Foods" by Teresa O'Connor
Horticulture Magazine May/June 2011, vol. 108, issue 4: pp. 30 – 35
This article explains the importance of growing heirloom foods.
"Saving Seeds" by Karen Lawrence
Herb Quarterly Summer 2007, issue 111: p. 46 – 49
The importance of heirloom seeds to the genetic diversity of plants is discussed.
Websites
One Seed Chicago is an urban greening project designed to bring Chicagoans to grow together.
www.oneseedchicago.com
Seed Savers Exchange is a nonprofit organization dedicated to saving and sharing heirloom seeds.
www.seedsavers.org