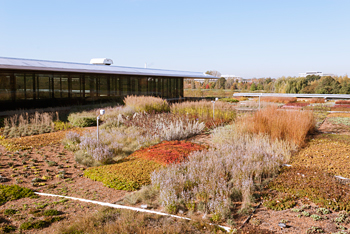 Green roofs, otherwise known as living roofs, eco-roofs, or planted roofs, are buildings covered by a roof that holds planting beds of multiple layers, beginning with waterproofing material, then insulation, a root barrier fabric, drainage tile, a filter fabric to keep the growing media from clogging the drainage holes, and growing media as the top layer. Vegetation is planted throughout the growing media. Green roofs come in all shapes and sizes, as well as different types.
Depending on the plants in a green roof garden, it may be a sustainable landscape, a habitat for migrating birds and pollinators, or a native plant garden. Green roofs are energy efficient and are a part of the LEED building initiative. For cities, the many benefits of green roofs include lowering air temperature and reducing the effects of urban heat islands in summer, collection of rain water, and improvement of air quality. The savings in energy and electricity translates into reduced costs.
Chicago is a leader in green roof infrastructure, with more than two million square feet of green roof space — including the top of City Hall. Did you know that the Lurie Garden at Millennium Park is a green roof garden? 
At the Chicago Botanic Garden's Daniel F. and Ada L. Rice Plant Conservation Science Center, the Green Roof Garden combines practical benefits with aesthetic appeal and serves as a living laboratory. Find videos about the Green Roof Garden on our blog, and get the "dirt" on the soil.
The Lenhardt Library at the Garden offers a number of books about green roofs, including these listed below.
Green Roof – A Case Study
Christian Werthmann
NY: Princeton Architectural Press, 2007

Small Green Roofs:
Low-Tech Options for Greener Living
Nigel Dunnett
Portland, OR: Timber Press, 2011

Planting Green Roofs and Living Walls
Nigel Dunnett and Noel Kingsbury
Portland, OR: Timber Press, 2008

Green Roof Plants:
A Resource and Planting Guide

Edmund Snodgrass
Portland, OR: Timber Press, 2006
Articles
Lucie L. Snodgrass, "Thinking About a Green Roof?" Fine Gardening 132 (March/April 2010: 74-6.
The author offers steps to take before planting a roof garden.

Frank Hyman, "Up on the Roof," Horticulture 107, no. 5 (June/July 2010): 52-5.
The author offers information on installing a green roof or a garden roofing on a doghouse.
Websites
Chicago Green Roofs: Guide for Building Green Roofs in Chicago
http://www.artic.edu/webspaces/greeninitiatives/greenroofs/main.htm
American Society of Landscape Architects
http://www.asla.org/greenroof/