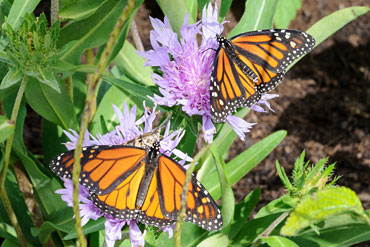 Know Your Butterflies
Butterflies are truly one of the most amazing insects on the planet. They go through four stages of transformation, otherwise known as metamorphosis: egg, caterpillar (larva), chrysalis (pupa), and adult winged butterfly. From country to country, state to state, and county to county,butterflies vary. If you're planning on creating a butterfly garden, it's good to know a few things before you get started.
Butterflies of Illinois
There are more than 90 butterfly species in Illinois. Identifying these beautiful pollinators will help you determine the plants you'll need in your garden. Butterfly species such as black swallowtails (Papilio polyxenes aterius Stoll), Eastern tailed-blues (Everes comyntas Godart), monarchs (Danaus plexippus Linnaeus) and American painted ladies (Vanessa virginiensis Drury), can be seen in more densely populated areas and cities in Illinois.
Different Food for Different Stages
Two of the stages—caterpillar and adult—are the insects' primary feeding stages. Caterpillars usually require leaves, and adults require nectar. Here are just a few species of butterflies found in Illinois, and what they eat, when:
Butterfly
Caterpillar diet
Adult diet

Black Swallowtail
(Papilio polyxenes)

the foliage of dill, parsley, carrot, and parsnips
nectar of milkweeds and composites

Eastern Tailed-Blue*
(Cupido comyntas)

clover and vetches
nectar of clover, milkweed, and dogbane

Monarch
(Danaus plexippus)

milkweeds
various flower nectars

American Painted Lady
(Vanessa virginiensis)

pussy-toes, burdock, pearly everlastings, thistle, and mallow
nectar from many kinds of flowers, sap flows, and even carrion
*By D. Gordon E. Robertson (Own work) [CC-BY-SA-3.0 or GFDL], via Wikimedia Commons
Did You Know?
Evidence of butterfly fossils dates back approximately 100 million years. To learn more about butterflies and butterfly gardening, check out these resources at the Lenhardt Library.
Design Your Own Butterfly Garden

By Susan Sales Harkins & William Harkins

Hockessin, Del: Mitchell Lane Publishers, 2009

Attracting Birds, Butterflies and Other Backyard Wildlife   

By David Mizejewski

Upper Saddle River, NJ: Creative Homeowner, 2004

An Obsession with Butterflies: Our Long Love Affair with a Singular Insect

By Sharman Apt Russell

Cambridge, Mass.: Perseus, 2009

 

The Butterfly Gardener's Guide

Claire Hagen Dole, Editor

Brooklyn, NY: Brooklyn Botanic Garden, 2003

Airplanes in the Garden: Monarch Butterflies Take Flight 

By Joan Z. Calder

Santa Barbara, CA: Patio Publishing, 2011

Field Guide to Butterflies of Illinois

By John K. Bouseman and James G. Sternburg

Champaign, IL:
Illinois Natural History Survey, 2001
Articles
"Butterflies Effect" by Julie Bawden Davis
Rock Garden Quarterly Spring 2006, Vol. 25, Issue 1: pp. 12 – 19
Discusses why native plants attract butterflies, and how to raise butterflies
"Butterflies in the Rock Garden" by Bernard S. Jackson
Rock Garden Quarterly Spring 2006, Vol. 64, Issue 2: pp. 115 – 118
Discusses designing rock gardens with the aim of attracting butterflies
"Butterflies Welcome!" by Jim Childs
Garden Gate August 2009, Issue 88: pp. 30 – 33
Article shares a list of tips and a perennial plant list guaranteer to attract butterflies
"Winged Wonderland" by Paul Demarrais
Horticulture Feb/Mar 2009, Vol. 106, Issue 2: pp. 46 – 49
More tips on attracting butterflies
Websites for more information
Chicago Botanic Garden
Butterfly gardening plant list
www.chicagobotanic.org/butterflies/gardening
Chicago Botanic Garden
Butterflies & Blooms exhibition
www.chicagobotanic.org/butterflies
The Lepidopterist's Society
www.lepsoc.org