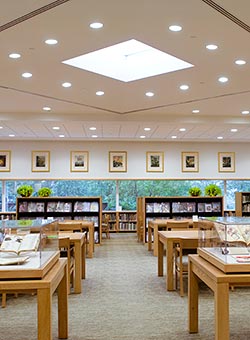 Come explore the hidden gems in this special library with your public library!
Guided program:
2 p.m. Gather in the Lenhardt Library, located in the Regenstein Center
2 – 2:30 p.m. Welcome, take attendance, Lenhardt Library tour, gallery talk on the Library Exhibition
2:30 – 3 p.m. View specially chosen rare books  (ages 10 and over) 
3 – Garden grounds closing time (check website for closing time) Explore all that the Chicago Botanic Garden has to offer
How to participate:
This program is only available for specific public libraries.

Register for this program at your public library. Registration is limited to 25 individuals.
On the specified day, from 1 to 2 p.m., stop at the Chicago Botanic Garden Gatehouse, give your registered name, and your parking cost will be waived.
Admission to the Chicago Botanic Garden is always free—365 days a year.
2018 Schedule
June 26: Wilmette Public Library
PAST PUBLIC LIBRARY PARTICIPANTS
If your public library is not listed, ask for this program at your public library!
April 28, 2017: Barrington Area Library
July 20, 2017: River Forest Public Library
July 25, 2017: Fremont Public Library
August 8, 2017: Three Rivers Public Library
June 7, 2016: Indian Trails Public Library District
June 21, 2016: Three Rivers Public Library District
June 28, 2016: Bartlett Public Library District
July 12, 2016: Helen Plum Library
July 19, 2016: Cortland Community Library
July 26, 2016: Heyworth Public Library
August 2, 2016: River Grove Public Library
August 9, 2016: Green Hills Public Library
May 3, 2015: Westchester Public Library
June 9, 2015: Oak Park Public Library
July 12, 2015: Blue Island Public Library
August 16, 2015: Des Plaines Public Library
September 20, 2015: Lincolnwood Public Library District
May 18, 2014: Chicago Public Library–Edgebrook Branch
June 22, 2014: Arlington Heights Public Library
July 27, 2014: Vernon Area Public Library District
August 24, 2014: Carol Stream Public Library
September 14, 2014: Niles Public Library
October 19, 2014: Lake Villa District Library
May 5, 2013: North Chicago Public Library
June 9, 2013: Ela Area Public Library
July 14, 2013: Northbrook Public Library
August 18, 2013: Palatine Public Library
September 22, 2013: Glenview Public Library
May 6, 2012: Evanston Public Library
May 20, 2012: Glencoe Public Library
June 3, 2012: Waukegan Public Library
August 5, 2012: Skokie Public Library
August 19, 2012: Highland Park Public Library
August 26, 2012: Wilmette Public Library
June 12, 2011: Deerfield Public Library